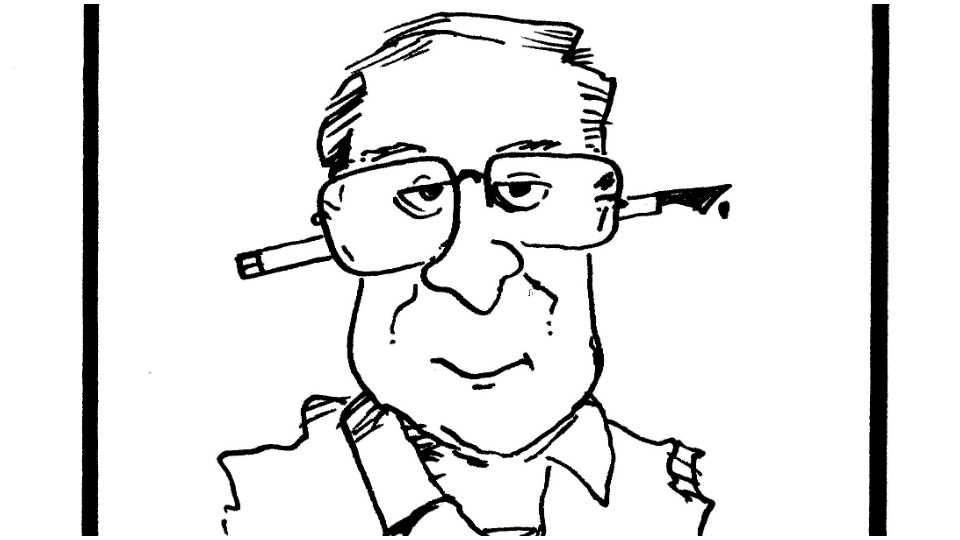 It takes courage to speak out against racism, bigotry in all its ugliness, especially if you live in regions dominated by Trump extremism.
Take Greg Kearney. He lives in Lawrence, Kansas, a town he describes as "a little dot of blue in a sea of red." Yet Kearney, a political cartoonist, uses his pen to skewer extremists, an urgent necessity these days. Kearney's cartoons now appear regularly in People's World.  I interviewed Kearney by phone recently.
Among his recent targets is Kris Kobach, the current Republican candidate for the U.S. Senate in Kansas to replace retiring Republican Senator Pat Roberts.
Kearney's cartoon, released just a few days ago, features a poster on the wall of a building that proclaims, "Kobach for Senate: A Proven Loser for Kansas." Underneath are two Republicans depicted as overweight elephants. One is saying to the other, "Perhaps it's our message" and down in the left corner is Vic, the cat, Kearney's mascot, who comments, "Or something like that."
One can only imagine Kobach's rage at this cartoon since it is so true. As Kansas Secretary of State, Kobach attempted to remove 20,000 registered voters from state's voter rolls. He dreamed up the nation's most draconian voter ID requirement and prosecuted scores of alleged "voter fraud" cases—convicting a measly nine people out of the 1,744,866 registered voters in Kansas. Every immigrant, he raved, should be required to sign on to a "national registry" of the foreign born.
In 1998, Kobach was defeated in a Kansas City race for the U.S. Congress by Dennis Moore, a liberal Democrat. In 2018, that district elected Rep. Sharice Davids, one of two Native American Indian women elected to Congress that year. It was an election of dramatic upset victories for women running as Democrats, especially in Kansas, where Democrat Laura Kelly defeated—you guessed it—Kris Kobach in the race for governor.
Kearney is reminding voters that Kobach is a "proven loser" and that Kansas voters may be shifting away from rightwing extremism.
Kearney was born in Maine, grew up there, and started cartooning as a teenager. He still pens cartoons for Maine newspapers. But he has spent most of his working career in the rural Midwest and Rocky Mountain west. It started in 1980 when the Star Tribune of Casper, Wyoming, hired him as an editorial cartoonist, a job that lasted 20 years.
Kearney describes himself as a "Franklin Roosevelt New Deal Democrat…a labor Democrat." He says he tells his neighbors, some of them hardscrabble family farmers, that the Republicans "are not your friends….They do not have your interests at heart."
He respects many "traditional Republicans," hardworking, honest, struggling to earn a living from the land they farm. He has a hard time understanding how these folks can accept Donald Trump, known as an abuser of women and a wage chiseler who has cheated building trades workers constructing his now bankrupt Taj Mahal casino. "I find it particularly startling that people of faith could follow this philanderer," he said.
Trump brags that he takes hydroxychloroquine to protect himself from COVID-19, brushing aside warnings that it is highly dangerous. "We have a doctor here in Kansas who says he is taking it, too. Remind me never to go to him. We have an election coming up that is going to be a test."
Trump, he charged, has struggled to minimize the COVID-19 catastrophe even as the death toll has risen above 100,000. "He tries to sugar coat it all. Think of President Franklin Roosevelt's speech after the attack on Pearl Harbor. He warned of heavy casualties. Going forward, I think we're going to have to have national health care. We are going to drape the flag of national security over it. National security requires that everybody have health insurance."
"My cartoons reflect my fundamental beliefs. I am in favor of life. I get queasy over abortions. However, I am equally agitated by a whole lot of hypocrisy in the 'pro-life' movement. These people who claim to be 'pro-life' seem to care more about the child in the womb than the child after it is born. If you believe as I do that life should be protected then you are going to favor things like universal health care, child care."
He also spoke of the need for all workers to be union members. "We need strong and effective unions…. The woman working in Walmart needs representation by an organization that looks out for her interests because employers are never going to do that."
Kearney is conscious of Kansas history. The Appeal to Reason, an early 20th century publication of the Socialist Party of America, was headquartered in Girard, Kansas, a coal mining town and a stronghold of radical immigrant miners. A quarter million workers and farmers subscribed to the Appeal, reflecting progressive populism among farmers, workers, and rural communities in the prairie states in those days.
"Anyone who does their job is influenced by those who came before them. The Worker had some really great cartoonists. Art Young was a genius," he said referring to a legendary cartoonist for the Daily Worker, a predecessor of People's World.
Kearney added,  "I'm remembering Vic Runtz, the Maine cartoonist who walked me through the trade, taught me how to get an idea, how to get it down on paper. He was really kind. He didn't go after people. I have more edge in my cartooning. I've done some cartooning that made editors cringe," he said. "When Vic Runtz died, I adopted the cat he always put down in the corner of his cartoons. He appears in every cartoon I draw. That cat has a name, 'Vic.'"
An extensive collection of Greg Kearney's work can be found at his blog, Drawing Attention.