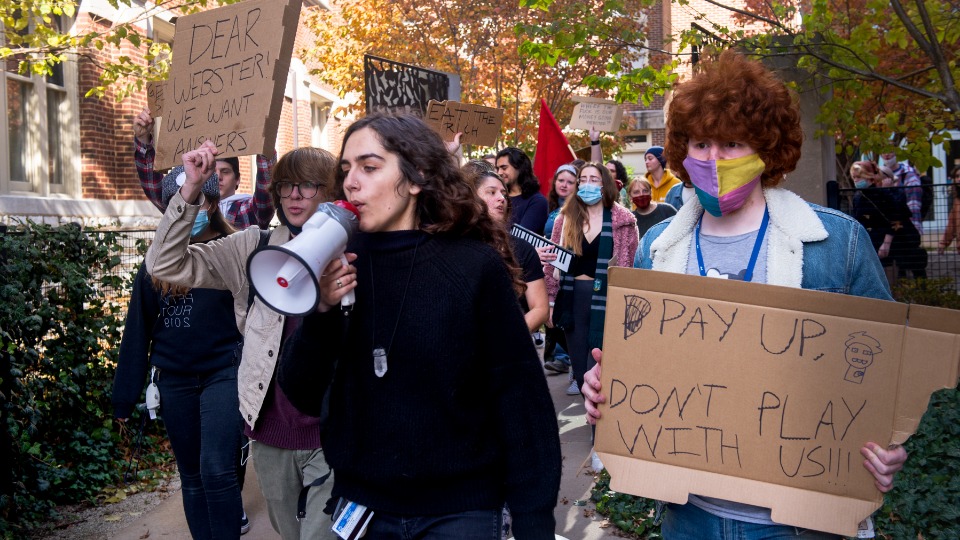 ST. LOUIS—At the campus of Webster University, a private college in St. Louis, students are fed up with the unilateral changes administrators have been forcing on them recently, and they've responding by organizing a new student union.
People's World visited the school on Tuesday, Nov. 30, to speak with some of those behind the effort. On this occasion, a sit-in was taking place in the University Center ("UNCT") building.
When this reporter arrived at the UNCT, dozens of students were already congregating on the floor with signs asking, "Where is our fucking money?" Recent changes to some of the students' crucial benefits—made by the university without negotiation or discussion—have raised tensions, but the most egregious insult in students' eyes relates to the distribution of COVID-19 relief funds.
The lead organizer, Kieron Kessler of Moore, Okla., rattled off the list of offenses. "We pay for our meals in a system called 'commuter points,' which we all pay as part of our tuition. After taking our money, the university switched the 'declining balance' system with a lottery, without notice—a lottery for food."
Kessler continued, "Teaching staff is also being reduced. If staff members resign or are terminated, they are not replaced. The university has also been merging departments and then relieving staff considered 'redundant.' The position of professor of Black Studies, an imperative piece of the curriculum, has been vacant for a year."
In 2015, an effort to organize adjunct professors failed at Webster. It was one of a very few unsuccessful drives by SEIU's "Faculty Forward" campaign. The tally was fairly close, 212 yes votes to 268 no, with 53 votes challenged. The "no" voters told the press at the time that they wanted higher pay and more say over their working conditions, but they did not believe that having a union was the right path. Now, six years later, the National Labor Relations Act's Section 7 would have secured those professors' right to bargain over changes to working conditions, including staffing.
Claire Martin, a student from Springfield, Mo., provided insight into problems with the university's cuts to technology. "Webster decided without notice to cease student access to Adobe programs (Photoshop, Premier, Illustrator, etc.) as a cost-saving measure. This caused two problems. At first, we paid for these programs with our tuition. Now, it is another expense that students have to pay out of pocket." A student subscription to the Adobe Creative Cloud programs costs $52.99 per month.
"Not everyone can afford it," Martin says. "The second issue is that students who are immuno-compromised have lost a resource that allowed them to safely work on their projects from home."
Kessler said the union members are also concerned for environmental services workers on campus. "Their department was recently subcontracted to Sodexo USA. Sodexo immediately cut their benefits and increased their workload. These are people we see every day, and we care about them. We also care about the quality of maintenance of the facilities. They are overworked simply to be more profitable."
As some sit-in participants got up for food or to go to class, other students took their place. The action was well-organized.
"What has really made us angry is the misuse of 'emergency relief funds' and the payouts," said Luke Adams, who comes to Webster from Festus, Mo. "Webster received $9.2 million in (COVID-19) funds specifically for students. This was for living expenses, loss of hours normally worked by students employed by the university, and to subsidize off-campus housing when the dorms were closed."
Students were to be given the chance to apply for either $1,000 in cash or for $7,000 credit toward student loans. However, the university withheld information about the latter option. "It was posted," Adams said, "but in an inconspicuous place on the university's newsletter. Most students did not find out about the student debt relief until after applying for the cash payout."
Recently, the president of the school, Beth Stroble, created the new position of "chancellor" for herself. With the new title came a $500,000 salary increase, amid all the cuts to staff and student benefits. This increase placed Stroble's total annual compensation at $840,000.
Under Stroble's leadership, Webster has accumulated a history of lopsided salary increases. In 2017 alone, a deficit year for the school, Stroble gobbled up a 9.83% increase for herself while faculty got a 0% raise. That same deficit year, Julian Schuster who has recently stepped into the president's office vacated by Stroble, received an astonishing 25.39% pay increase.
At the UNCT sit-in, it was immediately clear that the students' grievances had merit. Their list of complaints stretched on, ranging from gouging by parking ticket fine increases to reports of sexually predatory behavior by resident advisors taking six months to a year to be investigated.
Teachers have shown support for the formation of a student union, and other students have signed up to signal their backing for a formal organization in droves. The university's executives behave as though they have forgotten who pays for Webster to operate, and the feeling among students is that it's up to them to hold school leaders accountable.
Kessler put it simply: "Students here need representation."