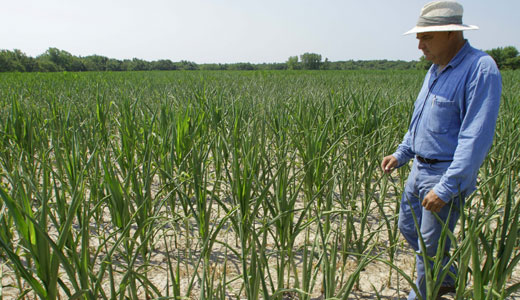 CHICAGO – Packages containing four small stalks of corn were selling for over $2.00 apiece last Saturday at a South Side Aldi's supermarket. And Aldi's is the place you go when you want to get things cheap.
This time last year there were ten or twelve stalks going for a dollar and even less at Aldi's and at grocery stores all over town. And just a few months ago, the U.S. Department of Agriculture was projecting a record corn crop of 14.7 billion bushels. Farmers sowed more acres than ever this year and the summer-like temperatures in March spurred many to plant corn early. But that was then.
One hundred miles south of the Aldi's supermarket last Saturday, as far as you could see in the cornfields, the plants were wilting under a blazing sun.
A little further south the farmers were getting ready to plow under countless tons of already-dead stalks. The sizzling temperatures combined with a record Midwest drought have done their damage.
Coming next is the premature mass slaughtering of animals, who will otherwise starve for lack of feed.
And the people, economists say, will suffer higher supermarket prices for everything from corn, vegetables and prepared foods to milk and meat. How high those prices will soar depends on how long the temperatures stay above normal and how long we continue to have no rain.
The only "silver lining" is that for several weeks, beginning soon, there will be a temporary drop in the prices of items most people put on their grills. The mass premature slaughtering of animals sold for meat, particularly cattle and pigs, will make for cheaper steaks, sausage and ribs, says Shawn Hackett of the agricultural commodities firm Hackett Financial Advisors, in Bouton Beach, Fla.
He told MSNBC's Bottomline this week that everything else, from milk to salad dressings, will cost more almost immediately and that in the long term the good meat deals will disappear as demand outstrips supply.
Even before the drought, however, consumers have been reeling under food price inflation, which, according to government figures, was 4.8 percent last year and was originally predicted to be around two percent this year. "The drought means above normal food prices in 2012 going into 2013," said Corinne Alexander, an agricultural economist at Purdue University.
As some of the prices were already going up at Aldi's last week and as the crops in southern Illinois were being plowed under the U.S.D.A. declared more than a thousand counties in 26 states to be natural disaster areas, the largest such designation ever made in history. "It's like trying to farm in hell," said Fred Below, a crop biologist at the University of Illinois at Urbana-Champaign.
The heat waves, the droughts, and the rising prices in grocery stores is giving millions yet another chance to grasp the importance of climate change as something that goes beyond melting ice on the north pole and rising sea levels along the coasts.
In Indiana, just south of here, temperatures rose last week into the triple digits for 11 days, reaching as high at 107 degrees.
In Colorado, wildfires raged for more than three weeks. Colorado TV stations described the situation as one in which the state, itself, seemed to be on fire.
While this was going on, a "derecho," a line of thunderstorms, developed over Chicago's western suburbs. It crossed the city and then turned into a "super derecho" that travelled all the way to the East Coast killing at least 13 and leaving many millions without power.
As the corn burns in the fields and as the farmers and millions of others pray for rain the country also has an opportunity to actually do something about the crisis. On Election Day this November it can deliver a resounding defeat to the Republican Party, a party that, in the face of everthing that has happened, continues to place a higher priority on the authenticity of the President's birth certificate than it does on climate change and global warming.
Photo: Illinois farmer Jimmy Ayers eyes his corn, the growth of which has been stunted by the current Midwest drought. Seth Perlman/AP