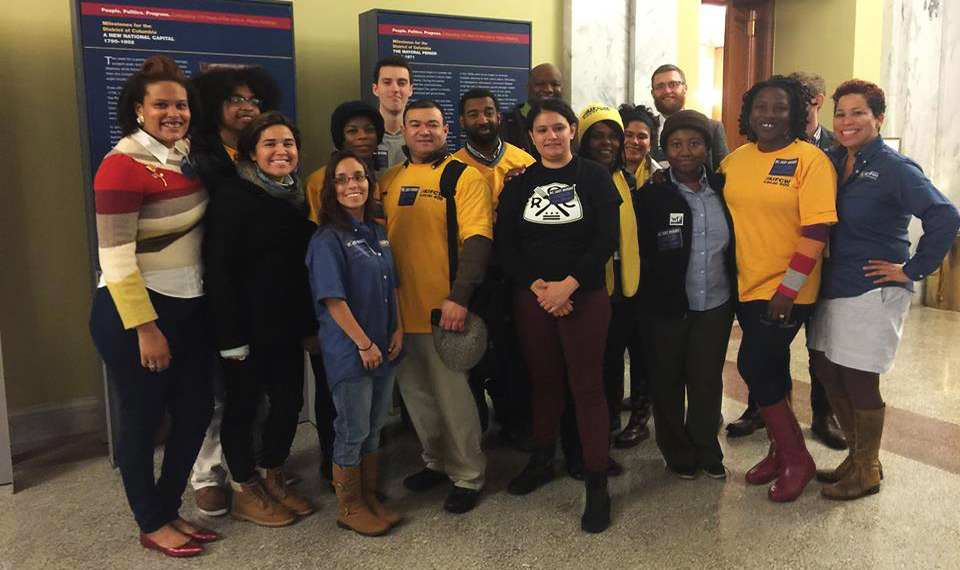 United Food and Commercial Workers (UFCW) Locals 400 and 27, who represent more than 25,000 workers combined at the Washington-Baltimore area's two dominant supermarket chains, Giant and Safeway, extended talks with the two firms on Oct. 29.
That's the day their old 3-year contract ran out. In the meantime, the unionists kept a campaign going on the ground and on the air, alerting shoppers of problems in the bargaining.
The two sides were far apart on key issues, the locals said. The workers demanded "retirement security, accessible and affordable health care" – for jobs that are often physically tough – "living wages, and fair schedules, but the companies continue to propose take backs."
But the unions decided not to walk out, yet. Instead they extended the current contracts, day-to-day and kept bargaining. "All of the benefits and protections of our current agreements remain in effect" as a result, the two union locals said in a joint statement.
"We agreed to these extensions because we have not yet reached a tentative agreement with either company. We have made some progress, but we still have a lot of work to do before we can reach agreements we could recommend for ratification. It remains our goal to get the best agreement possible, and we will not be rushed into a bad deal."
Local 400 President Marc Federici added that customer support "is being felt by the companies. The progress we have made is a result of both companies recognizing we are willing to do whatever it takes to get a fair contract. We will not slow down now."
That support included more than 4,000 signed cards from Safeway and Giant customers, hand-delivered to store managers demanding the two firms bargain fairly. It also included members of other unions, led by the Fire Fighters in front of a McLean, Va., Safeway, joining Local 400 members in hand-billing customers and carrying signs.
"We received such overwhelming support from customers that we literally ran out of cards," said Stephanie Pryor, who works as a receiver at a Giant in Silver Spring, Md. "We could have printed 4,000 more copies and we probably would still have run out."
The locals also said that though talks continued, their public pressure wouldn't let up.
"We know we can count on you to have our backs every day. We will continue actions in the stores and building our customer support, and we need everyone to continue to participate and keep up the good work. We will not stop until we get a fair deal for all of us," they pledged.