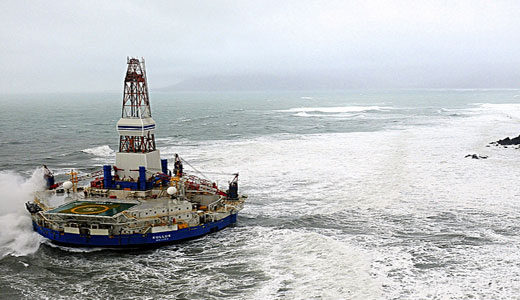 The Kulluk drilling rig, owned by oil company Shell ran aground off Alaska on December 31 after breaking away from tow boats due to near-hurricane condition wind and waves. After several failed attempts to retrieve it, the rig currently remains there – clear evidence, many believe, that oil companies cannot manage operations in the sensitive Arctic, and have no business tampering with it in the first place.
This example of Shell's ineptitude follows a similar fiasco last year, when the company had to cease all oil exploration plans for 2012 after a spill containment system was damaged during tests. That year was marked by vicious opposition from environmental activists, which repeatedly put pressure on the company for its recklessness.
The Kulluk rig, carrying 155,000 gallons of fuel, is still stuck in an area near Kodiak Island. According to Shell officials, there is no evidence of "sheening" in the area, meaning that for the time being, it seems no oil has leaked from the rig.
"This is just the most recent incident in Shell's attempt to drill offshore in the Arctic," said congressman Edward Markey, D-Mass. "It raises serious questions about the company's ability to conduct these operations safely and in a way that protects the environment."
"This string of mishaps with Shell makes it crystal clear that we are not ready to drill in the Arctic," said Chuck Clusen, the National Resources Defense Council's director of Alaska projects.
Fortunately for concerned activists, it seems this mishap will negatively affect Shell's 2013 timetable, with Shell currently clueless as to how long it will take to retrieve the rig. The damage done to it is still being assessed, with salvage experts having been flown to the site on January 2 and 3.
All in all, it looks as though Shell's Arctic project is having as little luck this year as during 2012. Moreover, activists and organizations plan to launch another fightback against Arctic drilling this year.
Greenpeace remarked that the Kulluk rig is "an aging, rusty vessel – not the state-of-the-art fleet that Shell has been boasting about."
Today, 45 House Democrats called on the Interior Department and the U.S. Coast Guard to conduct a formal investigation of the grounding of the Shell rig. The Democrats belong to the House Sustainable Energy and Environment Coalition; in a joint statement, they noted, "The recent grounding of Shell's Kulluk rig amplifies the risks of drilling in the Arctic. This is the latest in a series of alarming blunders." This is a "serious incident," they added, that warrants thorough investigation.
"Shell is not Arctic-ready," said Clusen. "We have lost all faith in Shell, and they certainly don't have any credibility left."
Photo: The Kulluk oil rig. Greenpeace.org