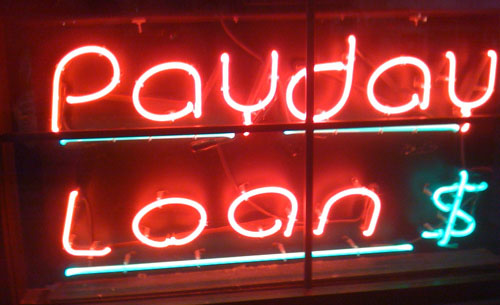 ST. LOUIS – As this year's elections cycle kicks into overdrive, the Missouri ballot initiative to cap payday loan interest rates at 36 percent is getting a lot of attention from an unscrupulous, pro-industry organization.
"Missourians for Equal Credit Opportunity" opposes the ballot initiative so much that it is willfully spreading misinformation and lies in an attempt to intimidate supporters.
The organization, with an $850,000 budget, is targeting faith and clergy leaders. It hopes to stop or slow down religious support for the initiative, which is being backed by a broad-based union, community and faith coalition, Missourians for Responsible Lending. In fact, a Texas-based law firm associated with the misleadingly named Missourians for Equal Credit Opportunity sent hundreds of clergy leaders in St. Louis and Kansas City a letter falsely implying that churches and religious organizations actively educating their congregations about the initiative could possibly lose their tax-exempt status or face other penalties.
Legally, tax-exempt organizations like churches cannot endorse candidates. However, they can support ballot initiatives and educate congregations on issues like the payday loan ballot initiative.
Martin Rafanan, an Evangelical Lutheran minister, says, "This is an insidious campaign to gum-up the works and slow down the process. They want to sow the seeds of doubt in an attempt to disrupt and stop a common sense solution to a problem plaguing many of Missouri's most vulnerable families."
Rafanan is the executive director of Gateway 180 Homelessness Reversed, the largest emergency shelter in Missouri for women and children, serving 110 residents daily.
"Twenty-five percent of the people serviced by Gateway 180," Rafanan added, "are there because of payday loan debt spiraling out of control."
The Texas law firm letter falsely claims that the initiative would "eliminate small, short-term loans in Missouri and drive borrowers to more expensive and credit damaging alternatives."
But the Rev. Teresa Danieley, from Saint John's Episcopal Church, says, "We want to regulate payday loan companies, not eliminate them."
Danieley, who also serves as the faith co-chair for St. Louis Jobs with Justice, compared current payday loan interest rates to usury, a biblical sin.
Missourians for Equal Credit Opportunity claim to be concerned about "more expensive" loan products. But right now interest rates for short-term payday loans average 444 percent. Currently, Missouri payday loan interest rates are capped at a whopping 1,950 percent.
According to the Missouri Division of Finance, in 2010 there were an estimated 1,040 payday loan stores in the Show-Me State, and an estimated 22,300 payday loan stores nationwide making $30 billion in loans annually.
Ballot initiative supporters need to collect around 200,000 valid, registered voters' signatures between now and May to qualify the initiative, which would then be placed on the November ballot. Polls currently show overwhelming support for the initiative.
If passed in November, Missouri would join 17 other states that cap payday loan interest rates at 36 percent, the federal limit for active duty service men and women. The initiative is seen as likely to help boost voter turnout among low-wage, working class families, benefiting President Obama in his re-election bid.
According to Montague Simmons, the St. Louis Jobs with Justice ballot initiative coordinator, "The fight for November starts right now with this campaign to cap payday loan interest rates."
Photo: rinkjustice // CC 2.0