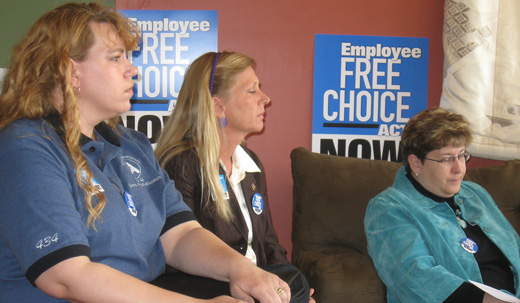 Labor and civil rights groups are urging the Senate to pass the Paycheck Fairness Act (S 182). The bill would help eliminate the wage gap between men and women. The House of Representatives passed a companion bill in January 2009 but the Senate, so far, has not acted.
Mike Hall writing on the AFL-CIO blog urges, "Call your senators today toll free at 1-877-667-6650 and urge them to pass the Paycheck Fairness Act before the end of September. Even if your senators are co-sponsors, they need to hear from you today, so the bill can be put on the Senate's to-do list before adjournment."
Wade Henderson, head of the Leadership Council on Civil Rights, wrote the Senate stressing "In today's economic climate, women's wages are critical components of working families' struggle to make ends meet. Women in particular are often forced to raise their families on incomes lower than male colleagues performing the same jobs."
The bill would enable women to receive the same remedies for sex-based discrimination as are available for victims of racial discrimination; stop employer retaliation, eliminate unfair defenses used by employers and allow for the collection of data.
According just released statistics women earn 83 cents for every dollar earned by men, amounting to almost $200 a week.
Economists credit the recession and other trends for the slight uptick in women's earnings.
"Men have been losing jobs at a faster rate than women in the recession because of troubles in manufacturing, construction and other industries," says economist Robert Drago, research director at the Institute for Women's Policy Research.
A racial dynamic remains present as well with the median weekly wage for black women rising 8.8% from 2000 to 2009 after adjusting for inflation, while wages for black men fell 2.4%.
Significant shifts in occupations are also a contributing factor, writes USA Today.
"Women have been moving into high-paying professional jobs such as accountants, lawyers and physicians. At the same time, men have been moving just as fast into relatively low-paying jobs – bank tellers, switchboard operators, librarians – long dominated by women."
Importantly ,women are receiving more post-graduate degree today than men, reports citytowninfo.com.
"Reversing a longstanding trend, female graduate students obtained slightly more than half (50.4 percent) of awarded doctorates."
Photo: (AFL-CIO/CC)