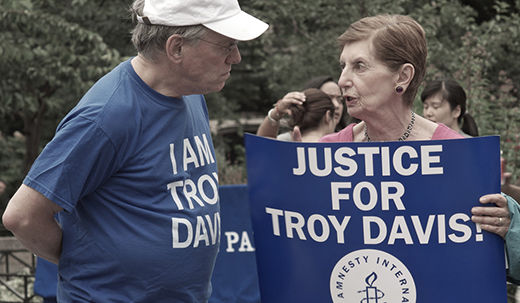 Troy Davis, an African American inmate on Georgia's death row, has been sentenced to die on September 21st. Davis was convicted in 1989 of killing Mark MacPhail, a white, off duty police officer. However Davis has maintained his innocence ever since.
A broad campaign involving civil rights, labor groups and a range of public figures including Pope Benedict, Bishop Desmond Tutu, former President Jimmy Carter, and FBI director William Sessions was formed and has been trying to prevent the execution of Davis.
In 2010 the Supreme Court granted Davis a new appearence in court. The death row prisoner however lost the hearing.
Having exhausted all appeals Davis's fate now lies in the hands of the Georgia Board of Parole and Appeals. The group Colorofchange.org is calling on supporters in Georgia to demand the parole board stay the execution.
A Global Day of Solidarity with Troy Davis has been set for September 16th. The Georgia Parole Board will hold a last clemency hearing the following Monday.
Urgent appeals to Georgia elected officials and parole authorities have been made by NAACP head Ben Jealous, Angela Davis and others. "There is very compelling evidence that Troy Davis may be innocent of the murder of Police Officer Mark MacPhail in 1989 in Savannah," said Angela Davis. "The case against Troy Davis has all but collapsed."
Georgia Rep. John Lewis has also added his voice noting, "This is one of those exceptional instances where adhering to the letter of the law could lead the state of Georgia to commit a grave injustice." Lewis added, "That is why it is important for people of goodwill to stand together and speak out in this case."
The NAACP is circulating petition that can be signed here.
This is Davis's fourth execution date since 2007. The gun used to kill the police officer was never found, nor any physical evidence linking Davis to the murder.
Contact information for Geogia officials can be found below.
Gov. Nathan Deal: phone (404) 651-1776, fax (404) 657-7332, email georgia.governor@gov.state.ga.us, web contact form
Georgia Board of Parsons and Parole: phone (404) 656-5651, fax (404) 651-8502
Photo: (Gribiche/CC)