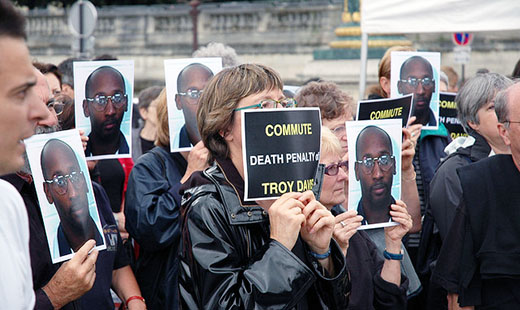 Civil rights groups have launched a final effort to prevent the state of Georgia from executing death row inmate Troy Davis, convicted in 1991 for the 1989 slaying a police officer, Mark MacPhail.
Several witnesses have recanted previous testimony and no physical evidence connects Davis to the crime.
In late March, the Supreme Court turned down the defendant's last appeal.
A worldwide campaign to free Davis has drawn support from a range of public figures including the Pope, Bishop Desmond Tutu, former President Jimmy Carter, and FBI director William Sessions.
Colorofchange.org is urging letters, phone calls and emails be directed at the Georgia Board of Pardons and Parole.
To sign a petition and take other action to support Davis, click here.
In an earlier hearing before the Supreme Court, Davis was granted an evidentiary hearing before a federal judge. Instead of proving reasonable doubt however, defense lawyers had to meet an even higher standard and prove Davis innocent.
Colorofchage.org writes, "In light of this, it was sad — but no surprise — when the judge rejected the new evidence and cleared the way for Davis' execution. However, even he acknowledged lingering doubt, noting that the case against Davis was not 'ironclad.'"
The NAACP and Amnesty International and many others have joined the campaign. Tragically, Davis's mother, Virginia Davis, died in her sleep last Tuesday and is being buried today in Atlanta.
Photo: Creative Commons 2.0