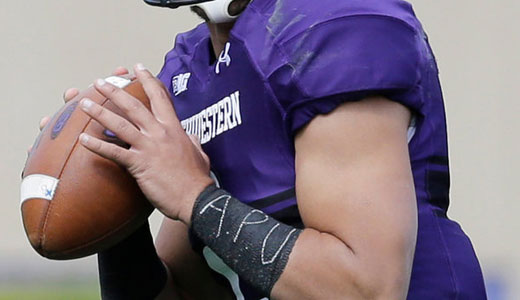 CHICAGO – With college athletes generating $6 billion in revenues for universities while many players live in poverty, a protest by National Collegiate Athletic Association (NCAA) football players is quietly spreading across the nation.
Beginning three weeks ago, athletes from schools in the Big 10, SEC, ACC and Big 12 have been sporting #APU on equipment during games. #APU stands for All Players United and is a project of the National College Players Association (NCPA), an organization in existence since 2001 to demand reform of NCAA athletics.
Its stated goals are to "demonstrate unity among college athletes and fans … stand behind individual players being harmed by NCAA rules … direct a portion of over $1 billion in new TV revenue to guarantee basic protections."
The protest started with 28 players from Northwestern, Georgia Tech and Georgia during football games played on Sept. 21, and has spread since then.
Given the culture surrounding big school sports programs, any protest is extremely rare, which makes this all the more remarkable. However with concern over sports injuries and exploitation of college athletes growing, it's not surprising athletes are starting to speak up.
"It's a sign of players coming together all across the nation, not just football players, but basketball players, to have our opinions heard and our needs met," said Kain Colter, quarterback for the Northwestern University Wildcats. "I'm glad it's sparking a conversation.
Colter said players have a right to their opinions. In the highly restricted atmosphere of college sports, he said, the #APU protest represents a challenge to the idea that athletes have to ask for permission to speak.
"It's for the players, it's something started by the players," University of Kansas lineman Keon Stowers said. "I'm definitely 100 percent behind it."
The players are not demanding pay to play athletics. But they do want scholarships to match the full cost of attending school. A recent study by the NCPA and Drexel University School of Sport Management showed the average annual scholarship shortfall resulting in "out of pocket" expenses for players in the Football Bowl Subdivision was $3,285.
The NCPA-Drexel study calculated that college football and basketball players will be denied $6.2 billion they would receive from "fair market rates" as professionals for their play in 2011-2015, indicating the gross level of exploitation.
The players are not only concerned about being exploited, they are also demanding the NCAA do something to reduce concussions and pay for medical treatment of injured athletes.
The players say that some of the NCAA's $1 billion in new network TV revenue should guarantee basic protections including covering medical expenses for players once they leave college, guaranteed scholarships for permanently injured players, brain-trauma reform and establishment of a trust fund to help raise graduation rates.
"The NCAA has not addressed concussion reform at all," said Ramogi Huma, founder of the NCPA. "If you look at the NFL and the NFL Players Association, they've negotiated a lot of good policy and rule changes. They've redirected resources, investing a hundred million dollars in research. The NCAA can be doing the same things."
While the NFL and youth football programs have been forced to acknowledge the impact of concussions, the NCAA has remained silent, refusing to take steps to improve the safety of players.
"Essentially players are being hurt on the job and they are being stuck with the medical bills," said Colter.
The protest erupted as new studies reveal the epidemic of football-related concussions and the long-term effects of repeated brain trauma suffered by players. On Oct. 8, the PBS show "Frontline" ran an explosive documentary, "League of Denial: the NFL Concussion Crisis," exposing how the National Football League covered up for years knowledge it had on the devastating effects of football concussions.
Even President Obama has expressed concerns about the effects of injuries on college football players who lack protections.
"I tend to be more worried about college players than NFL players in the sense that the NFL players have a union, they're grown men, they can make some of these decisions on their own, and most of them are well-compensated for the violence they do to their bodies," said Obama.
The mounting concern and player protest indicates that the concussion crisis and gross exploitation of college football players are issues that will not go away until they are resolved.
Photo: College footbal player wearing All Players United wristband. Nam Y. Huh/AP