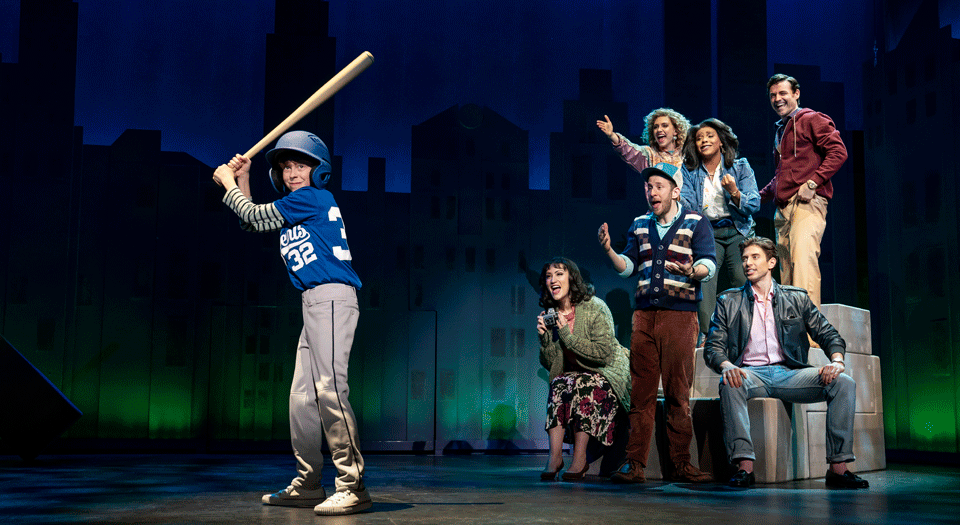 LOS ANGELES—LGBTQ culture in America achieved a singular apotheosis in William Finn and James Lapine's groundbreaking, Tony Award-winning musical Falsettos. The show (seen April 17) is playing now at the Ahmanson Theatre as a stop on its first national tour. The caravan began in Arkansas in February, and after L.A. travels to Chicago (James M. Nederlander Theatre) May 28-June 9, Washington, D.C. (Kennedy Center) June 11-23, and Charlotte, N.C. (Knight Theater) June 25-30. It's exceptionally admirable in every respect.
The musical centers a neurotic Jewish family comprised of Marvin (Max Von Essen), his ex-wife Trina (Eden Espinosa), their shrink Mendel (Nick Blaemire), his boyfriend Whizzer (Nick Adams), his and Trina's 10-year-old son Jason (Thatcher Jacobs, whom I saw, and Jonah Mussolino share the role); and in the second act the neighboring lesbian couple Dr. Charlotte, an internist (Bryonha Marie Parham), and caterer Cordelia (Audrey Cardwell).
Falsettos returned to Broadway in an all-new 2016 production directed by Lapine. The Lincoln Center Theater version was nominated for five 2017 Tony Awards, including Best Revival of a Musical.
The show has an intriguing history as a musical. Curiously, for a show about mostly Jews, it's a three-in-one story. In its original conception it was a trilogy of separate but related one-act musicals, all first staged in New York: In Trousers (1979), followed by March of the Falsettos in 1981, and then Falsettoland (1990). The latter two were eventually put together as Acts 1 and 2 of what is now titled Falsettos.
Stylistically, though Finn and Lapine probably are sick of hearing this for the 12 millionth time, Falsettos draws its esthetic from the work of Stephen Sondheim—no surprise, since Lapine is a frequent collaborator with him (Sunday in the Park with George, Into the Woods, Passion, and the revue Sondheim on Sondheim). He also directed an HBO film Six by Sondheim. Lapine also worked with Finn on several well-known shows, including Little Miss Sunshine and The 25th Annual Putnam County Spelling Bee.
The musical is a milestone in LGBTQ representation. Counting backward, Jason is 10 in 1979, the year Act 1 takes place, meaning he was born about 1969. The Stonewall Rebellion had taken place in 1969, but there were still plenty of gay men, probably a majority, who had not yet come to terms with their sexuality: They married, had kids, and came out. Families and relationships suddenly became a lot more complicated, with an almost infinite range of possibilities making up the modern family. The ties of love and affection can now be sliced and diced in ever more nuanced ways as social and familial relationships expand.
Falsettos confirms what so many LGBTQ people have had to learn, often painfully as the AIDS crisis unfolded. The people you could count on might not necessarily be the family you were born into or grew up with, but the family you created for yourself in your new "out" community.
The year 1981, when March of the Falsettos debuted, bears additional significance: It's when the New York Times first reported a mysterious illness that was killing off gay men. It would come to be called AIDS, or HIV/AIDS disease. Suddenly gay men started valuing their relationships more deeply, and as the death toll climbed, their lesbian friends pitched in to help. By Act 2, it's now 1981, and the Reagans, in heavy, fateful denial about the health crisis that had erupted all over America, are in the White House. Jason is getting ready for his bar mitzvah, which could be the last happy occasion for the traditional family unit of mother-father-son.
Though James Lapine directed, equal plaudits surely must go to Spencer Liff, who choreographed the show. In fact, the printed program devotes a separate article to Liff, who has worked on Broadway but is best known, among his many credits, for his work on nine seasons of So You Think You Can Dance on Fox television. Falsettos has 37 named musical numbers—21 in Act 1 and 16 in Act 2—and it is a dance and movement spectacle from beginning to end.
The through-composed show (no dialogue as such) is a celebration of life, of growth, maturation, acceptance, with poignant longing and aching feeling, and studded throughout with flashy Broadway moves, witty lyrics, gossamer tunes and gorgeous harmonies. The seven actors work off a large cube composed of interlocking styrofoam parts that come apart, tumble down and reassemble in an audacious variety of combinations.
The small band under conductor P. Jason Yarcho does absolute wonders with the score from a platform above and behind the stage.
The lady sitting in front of me saw me taking notes and, sensing that I must know everything, asked me what did "falsettos" mean? Of course, it's the highest register of the male voice—in the soprano range—and the natural range of a prepubescent boy (and man, does that Thatcher Jacobs have a bright future in theatre if he pursues it—I'm sure the same could be said of his alternate Jonah Mussolino). But it's the title of the show, after all, and there is a big production number called "March of the Falsettos" in which the four male characters—Marvin, Mendel, Whizzer, and Jason—all join in a kind of anthem to the many varieties of masculinity, the three adults singing in falsetto to blend with Jason's unbroken voice.
So, men can be children—perhaps even need to be sometimes to recapture the immediacy of emotion that maturity can often dampen. And men can also be childish, petulant, demanding and neurotic. The audience is asked to find a new comfort zone in a world where men and women both are free to take on non-traditional roles, to sing in different registers than they were ever trained for.
Love, found and lost, rediscovered and new, enters our lives, and we wake up one day realizing we never set ourselves up to feel so deeply about the people in our lives. Even the grief that life brings just affirms our deepest humanity, and we wouldn't have it otherwise. These eternal themes live on in Falsettos, whose only dated feature may be its dependency on an overfamiliar brand of self-deprecating Jewish humor (but there wouldn't be a show without it).
All art requires a certain level of suspension of disbelief, and Falsettos presents no exception to the rule. One trust that is dramatically broken is that Mendel the sketchy psychiatrist starts a liaison with Marvin's ex Trina, and Jason is shunted back and forth between these two odd couples. Yet this is maybe the real point: While our sense of identification bends toward Marvin, Jason is truly the central figure around whom all revolves. It is his coming-of-age story, symbolized by the bar mitzvah he imaginatively carries off in his own original fashion, that provides us the comfort of knowing that people, kids included, can be petty resilient if they need to be. In some ways, he may be the most stable and perceptive character in the play (at least among the five "family" members), buffeted about as he has been for years of living without a firm foundation, experiencing exposure to clumsy, awkward, indecisive people and lifestyles that not many kids his age get.
Falsettos plays through May 19 at the Ahmanson Theatre eight performances a week every day but Monday, except: No public performance on Weds., April 24; there's an added 2 pm performance on Thurs., May 16; and no 6:30 pm performance on Sun., May 19. The Ahmanson Theatre is located at The Music Center, 135 N. Grand Ave., Los Angeles 90012. Tickets are available online at www.CenterTheatreGroup.org, by calling Center Theatre at (213) 972-4400, or in person at the Center Theatre Group Box Office at The Music Center. A promo video can be viewed here.
Jane Shere provided some valuable insights to this review.