The International Book Fair is a big deal in Guadalajara – hundreds of publishers and millions of books.  So many students come that it seems like the city must have closed all the schools and commanded their attendance.  At least they read books, you think – then you see that kids looking at the screens on their cellphones are as common as the ones studying the printed page.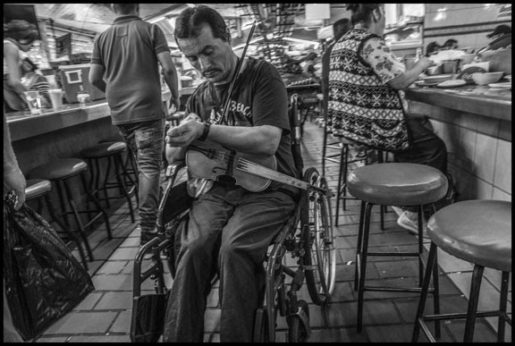 The fair is Guadalajara's official culture.  Behind and around it is the culture of its streets.  A mile away downtown the world's biggest covered market provides shelter for small vegetable and fruit sellers or clothes merchants, still trying to compete with Guadalajara shopping malls – the biggest in Mexico.  In the municipal market ranks of lucha libre superhero masks crowd a display next to bird cages.  Around the corner butcher counters and stands selling aguas, tortas and pozole are the magnet for the country people coming into the big city.
Near the market in the downtown zocalo, in sight of the cathedral, fired teachers set up a protest camp last April and are still living in their tents there today.  Mexico's street culture of social protest erupts even outside the book fair.  One teacher, fired in last year's wave of strikes against corporate education reform, hails passersby with his mic and small loudspeaker for hours on end, handing leaflets to the students who stop to listen.
And behind the cathedral stand the people with no money at all – hands stretched out, extending bowls and hats to gather change and small bills.  It's not the waves of tourists who give, though.  Those same young students with their backpacks full of books put their hands into their pockets to see what they can spare.