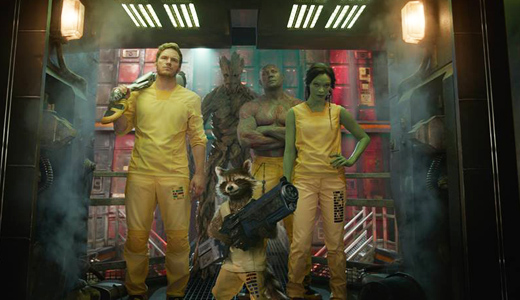 Marvel's Guardians of the Galaxy, the latest entry in their rapidly expanding universe of comic book adaptations, is a good-natured thrill ride full of fast-paced action and utterly ridiculous humor, and it may very well become the "Star Wars" of this generation. Certainly, it's as iconic as those original films were, and – with a talking raccoon and a compassionate alien tree as two of its main characters – quite eclectic.
The plot follows a ragtag group of crooks, Peter Quill/Star-Lord (Chris Pratt), Gamora (Zoe Saldana), Rocket (voiced by Bradley Cooper), Groot (voiced by Vin Diesel), and Drax (Dave Bautista), who are drawn together in an effort to protect a precious item, an orb that contains an Infinity Stone, from a ruthless heretic/religious zealot named Ronan (Lee Pace). If you weren't already predicting it, they eventually evolve into the titular heroes while defending an entire planet from Ronan's powerful warship. It all adds up to a melting pot of space action, lighthearted fun, and swashbuckling adventure (think Raiders of the Lost Ark meets John Carter of Mars – and not the Disney version).
Guardians may very well be the first-ever "feel-good superhero film." Quite honestly, it's one of the most enjoyable films of its kind that I've seen. It unabashedly dispenses with the grittiness of The Dark Knight or the self-deprecating snark of Avengers. And after the strained hyper-realism of recent films of this type, some of which have become buried beneath their own overinflated senses of relevance, it's nice to see something like this, which is willingly whacky and straightforward. It brings back some classic tropes, leading one to realize that it's okay to resurrect them if you can make it fun.
It doesn't hurt to set it all to a 70s soundtrack, either. That literally comes in the form of a cassette tape called "Awesome Mixtape" and played by main character Star-Lord, who at the film's beginning cruises through galaxies on his pirate spaceship, flirting with female aliens and confusing galactic overlords with wisecracks and outdated cultural references. In fact, he goes on to challenge an utterly bemused Ronan to a dance-off toward the film's climax, cutting through a crescendo of drama with the out-of-left-field comedy that really shapes the whole movie. And it works. Guardians knows it's based off a comic book, and it's one of the first adaptations that feels like it was purposely ripped right from the inked pages to the big screen.
I will say that it's noticeable, more so here than in some of Marvel's other films that the studio really tried to keep things as family friendly as possible. It doesn't really hurt the film, save for one or two corny lines out of an otherwise slick script. Rocket, the aforementioned loudmouthed raccoon, is harmlessly funny enough to please the junior astronauts in the audience, but with his Joe Pesci-like personality, it's a laugh riot for us older viewers and seasoned comic book readers, as well.
Marvel took a risk with this one, because unlike Iron Man or Captain America, this is not a comic title that many people are familiar with. It paid off, however, and from the box office to almost every major film critic's website, it's all good news. On the other hand, I have heard one or two reviewers say that Guardians is formulaic and predictable. I would counter that with a suggestion: that some viewers have gotten so used to seeing comic book films struggle to push the envelope (often becoming increasingly convoluted), that they are rather caught off guard when a film comes along that pulls that envelope back instead. Director James Gunn exhibits an honest enthusiasm for simplicity, it's true, but I think the audience appreciated that. It shows that you don't have to reinvent the wheel to make a good popcorn movie, which is exactly what Guardians is.
Guardians of the Galaxy, 2014, 122 mins., PG-13
Directed by James Gunn
Starring Chris Pratt, Zoe Saldana, Bradley Cooper, Vin Diesel, Dave Bautista, Glenn Close, Lee Pace, Michael Rooker, Djimon Hounsou, Karen Gillan, Benicio del Toro, John C. Reilly
With cameos by Josh Brolin, Nathan Fillion, Seth Green, and Rob Zombie
Photo: Guardians of the Galaxy official Facebook page