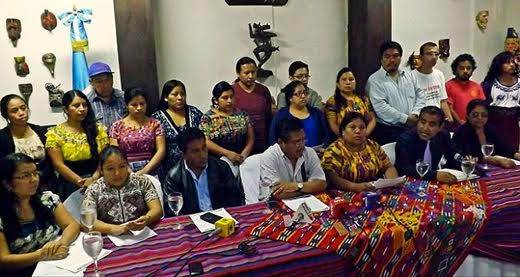 To nobody's very great surprise, a UN monitoring agency and the Guatemalan prosecutor's office Friday accused President Otto Perez Molina of massive corruption. At the same time, former Vice President Roxana Baldetti was arrested as part of the same corruption investigation. This new development comes as Guatemalans prepare for general elections on September 6.
Iván Velasquez, head of the International Commission Against Impunity in Guatemala (CICIG), and Attorney General Thelma Aldana announced joint findings that the person mentioned in intercepted incriminating telephone calls as "el mero mero" (Spanish expression meaning approximately "the main man" or "Mr. Big") is none other than Perez Molina himself, and "la mera mera" ("the main woman" or Ms. Big") is Baldetti. Velasquez and Aldana assured the public and press that they have plenty of evidence in addition to the telephone intercepts. The CICIG is a UN agency set up to deal specifically with the issue of impunity of politicians and officials in this Central American country.
According to the accusations, the arrangement, part of the corruption system called "la Linea" ("the line") was that fifty percent of bribes received from foreign companies wanting to invest in or import to Guatemala would be divided evenly between Perez Molina and Baldetti, and the rest would be distributed among other officials involved in the plot. The total amount thus illegally obtained by all concerned is said to be amount to many millions.
Attention was focused on Baldetti when it was found that her main assistant, Juan Carlos Monzón, was the head of the whole scheme. Monzón is on the lam and Baldetti was then forced to resign. Others who have been arrested include Juan de Dios Rodriguez, the former head of the Guatemalan Social Security Institute, accused of fraud for his role in a sleazy contract for kidney dialysis which cost Guatemala's treasury $14 million and has not produced promised services. Rodriguez is the former personal secretary of President Perez. Arrested in the same scandal was Julio Suarez, at the time head of Guatemala's Central Bank.
Last week the Guatemalan Congress refused to strip President Perez Molina of his immunity from prosecution. Unless that is overturned, he will remain in office rather than go to jail until January of next year.
Earlier this summer CICIG had reported that a large number of Guatemalan politicians and political parties had been receiving campaign money from drug cartels. The presidential candidate who had been identified by public opinion polls as most likely to win the September elections, Manuel Baldizon of the Renewed Democratic Liberty party (LIDER), had been praising the investigations of the Perez Molina administration, but recoiled in horror when CICIG announced that his vice presidential candidate, Edgar Barquin, was also suspected of money laundering for drug cartels, along with several other figures in Baldizon's LIDER political party. h Several other candidates and political leaders in the coming elections have also been implicated.
Moreover there have been serious violations of electoral law and the constitution. Baldizon's campaign has spent far more money on the election than law allows, and was told to stop by electoral authorities, but has not obeyed. In evident violation of the constitution, Zury Rios Sosa, daughter of former dictator Efrain Rios Montt, is campaigning full blast as presidential candidate of the Vision with Values Party on the far right. The Constitution bans close relatives of people who violated the constitutional order (by carrying out military coups), which General Rios Montt did in 1983 when he led a military takeover and carried out a massacre of the indigenous Ixil Maya people. But a court allowed Zury Rios to run anyway.
Because of this incredibly messy situation, a coalition of 72 labor, peasant, indigenous and other people's organizations is demanding that the election be postponed. Esperanza Tubac of the Ajins organizations told the press that the elections cannot be seen as legitimate because of the multiple scandals concerning violations of campaign laws and the constitution. So the coalition is calling for a national general strike and mobilization on August 25, 26 and 27 to support their demands for a postponement. Tubac said those who would be elected on September 6 would be "corrupt persons and thieves".
However, on Sunday August 23, Perez Molina announced that he refuses to resign, while Luis Almagro, Secretary General of the Organization of American States, insists that the elections go forward.
Guatemala, like neighboring Honduras and El Salvador, is the origin of many desperate undocumented immigrants to the United States and therefore the potential recipient of $1 billion in U.S. aid money under the proposed "Alliance for Prosperity." As in Honduras, the massive corruption and abuses of power under Perez Molina might lead to opposition to this funding in the U.S. Congress.
Photo: Coalition, Asamblea Social y Popular (ASP), meeting in Guatemala. Notas periodismo popular, copyleft.