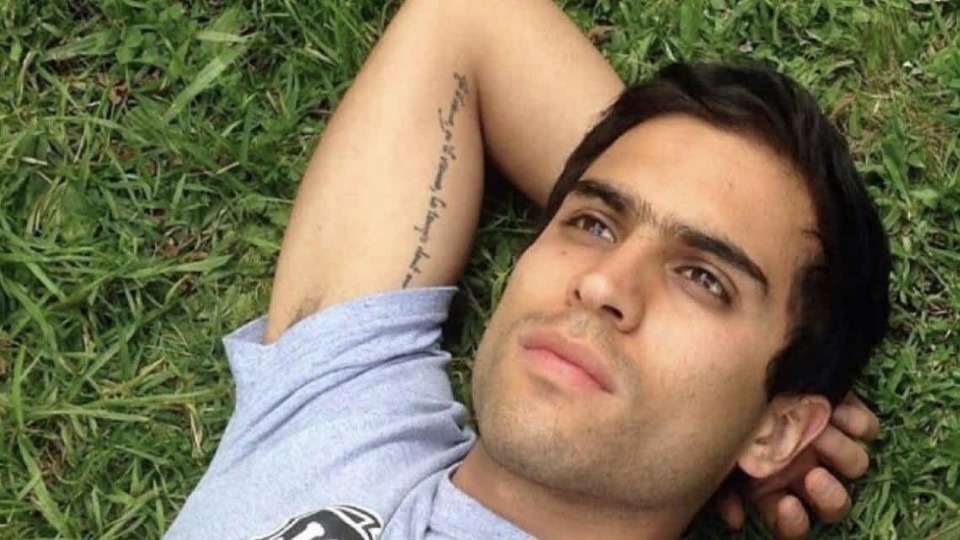 MEXICO CITY—To many Americans, the world of Mexican cinema may be somewhat unknown outside of the realm of "narcoseries." Fact check: Not all great Mexican cinema is rooted around the themes of drugs, immigration, violence, and deportation.
People's World sat down with Axel Arenas just days before he gave a press conference in early January, as the Mexico City district attorney was poised to apologize for Arenas being falsely accused of the 2018 murder of an Argentinian model. Arenas had originally sued for the state to cease the use of his image and persona as part of a crime he did not commit.
Arenas recently starred in the hit Netflix series The Club and this year's Mexican blockbuster, Asphalt Goddess. People's World spoke to Arenas about his life, his roles in the aforementioned series and movie, as well as the implications of the false accusations he has faced in light of widespread racial discrimination and classism in Mexico, including in the film industry.
Axel Arenas was born to a single mother in a working-class neighborhood in the Venustiano Carranza area of Mexico City in 1990. Despite coming from an impoverished family, he attended a public school, where he met a Spanish teacher, Omar Dario Sergio Aguilar Ontiveros, with connections to the theater community in Mexico City.
His mother also pushed him to be involved in theatrical productions as a middle school and high school student, but his real influence came from comedian Adrián Uribe, a former student of Aguilar Ontiveros, who visited his school and expressed to the thespian students that he started out just like them. In fact, he worked as a clown on a street intersection for years before being discovered and moving into stardom.
Axel's inspirations were enough to get him started in grade school, and then eventually he went on to study theater at the Casazul, where ARGOS TV is produced, in Mexico City, after originally wishing to be a writer, a profession his grandfather (a writer in his own right) warned against.
When asked about what forms of discrimination he faced growing up, Arenas stated, "I remember the friend of a girl I wanted to date—a white Mexican from a privileged family—telling me that this woman I was interested in would never pay attention to someone like me, obviously referring to my physical appearance and where I come from….
"To this day, when I walk outside in my nicer neighborhood, sometimes people cross the street so as to avoid crossing paths with me. Sometimes people wonder why I try to get into certain restaurants or clubs; this is a form of discrimination that exists all over Mexico."
During the colonial times in Mexico, a racial caste system implemented a form of colorism that exists to this day, with darker-skinned Mexicans often being referred to as "Indios," or Indians, and those of mixed white and indigenous ancestry known as mestizos.
In fact, Arenas believes that his physical appearance and background were part of the reason he was wrongfully accused of the murder of Karen Ailen Grodzinski, who he had never met before in his life. Not only did he not know Grodzinki on a personal level, but on the date she was killed in 2017, Arenas happened to be vacationing in Colombia. Upon his return to Mexico, he was jailed for nine days for merely matching the altered descriptions of a "darker-skinned, shorter" culprit, a description that actually defines the majority of the Mexican population.
While this real life experience would traumatize anyone, Arenas was able to portray the character of Jonás in The Club by embracing some of the characteristics that were used to accuse him of murder.
"At first, the role of Jonás was problematic to me, and I consulted the role with my historian friend at first. The character has tattoos, a short urban haircut, is the nephew of a domestic worker to a wealthy family, and sells drugs," says Arenas.
"But despite this role being a work of fiction, I was able to use some of my real-life circumstances to portray this character. For example, my mother raised me, two half-sisters, and two stepbrothers as a working woman. Sure, I don't dress like Jonás in real life, but that doesn't mean some of our experiences are not shared."
In his role of Pancho in Asphalt Goddess, a film focusing on a group of female friends in one of the most violent and impoverished neighborhoods on the outskirts of Mexico City, Arenas explained:
"My character's heterosexual romantic relationship with one of the protagonists of the story is irrelevant compared to the lesbian romance of Ramira and Max, a subject still taboo in Mexican culture to this day. The story is about family, friends, love, and the unjust society that our country's women find themselves in."
In addition to Arenas' acting career, he is also currently pursuing a college degree in Philosophy. In the program, he's recently been studying up on the subject of Christian Marxism. When asked about his personal support for the current Morena government's leadership in Mexico, Arenas responded:
"It's hard for me to support López Obrador given the current circumstances of sexual harassment in this country, an issue that the current president has not dealt with seriously. Many of the same economic problems also persist despite a change in the regime."
Arenas provided a special insight not only into Mexican popular culture and cinema but also a different angle of analyzing the special oppression that working-class people of indigenous and mixed ancestry face even after rising to stardom.
When asked if he believes Mexican cinema can change, he said, "People don't want to see dark-skinned actors when they turn on the TV. Unfortunately, this is engrained in our culture. There will always be white actors in movies and television, and many are my friends. It's not their fault that they are white. But at least there is starting to be more of a balance. Change is happening slowly but surely."
In regards to Arenas' ongoing legal trouble, he explained, "I also recognize that I now wield a certain amount of privilege as an actor and as a man. For example, I may have spent more time in prison had I not had access to the lawyers who defended my case. Even as an actor, I am given roles for the same reason I am not given roles."
No matter if we live in Mexico or the United States, we can all identify with the forms of oppression that Arenas has faced, and we must struggle to build a society in which these barriers are broken down in order to ensure that representation truly matters.