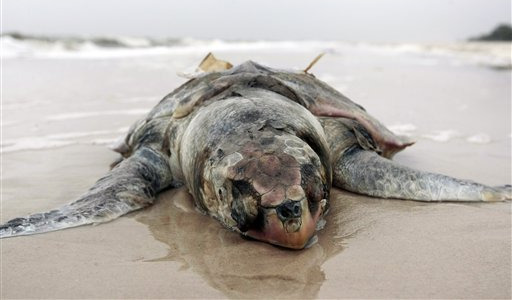 With an estimated 25,000 barrels of crude oil gushing each day from BP's Deepwater Horizon well in the Gulf of Mexico, an environmental group called for an immediate halt to offshore drilling.
Richard Charter, senior policy adviser at Defenders of Wildlife, an expert on oil drilling, told the People's World, "The most important priority right now is unity in the country in response to this unprecedented emergency. We need to unify behind the message: Get a relief well drilled as soon as possible, at any cost by any corporate entity or government agency, to stop this leak."
Charter said in a phone interview, "The Republicans are going to call this 'Obama's oil spill.' That is not relevant. This is not a time for the 'blame game.' This spill is different from an oil tanker that turns over and spills crude. This is an unstopped well leaking oil 50 miles offshore and a mile below the surface."
Five states have already declared an emergency status, with preliminary estimates that the cost to their economies is more than $14 billion, Charter noted.
Calling it a "catastrophe that imperils the entire Gulf Coast," he said, "Offshore drilling has again proven to be unreliable and unsafe. As officials gamble with untested means to stop the flow, oil continues to gush into the Gulf and move towards our beaches, coastal communities, wildlife habitat, and Gulf fisheries."
Forty wildlife refuges along the coast face imminent danger of being engulfed by oil contamination. "Wildlife refuges and estuaries in Louisiana, Mississippi, and possibly the coast of Florida, along with thousands of migrating birds, sea turtles, whales, and dolphins, river otters and many other species lie potentially in the path of the spill," Charter said.
Defenders of Wildlife Executive Vice President Jamie Rappaport Clark, former director of the U.S. Fish and Wildlife Service, said in a statement, "Although we are encouraged by the White House announcement that no new areas will be opened up to drilling until this spill has been fully investigated, Shell has announced plans to move forward with drilling in the Arctic, an area just as ecologically fragile as the Gulf, and where cleanup technology doesn't even exist. It is time for President Obama to reinstate the moratorium on all drilling off of U.S. shores."
She added, "Hopefully this catastrophe will be a wakeup call for Congress to pass comprehensive climate change legislation that moves us beyond drilling along our fragile coastline and towards a cleaner, greener energy future."
President Obama, accompanied by Environmental Protection Agency Director Lisa Jackson, Homeland Security Secretary Janet Napolitano and other officials, toured the disaster zone May 2. Speaking to reporters in front of a moored U.S. Coast Guard cutter, the president said the gushing sea-bottom oil well is an "unprecedented environmental disaster." He added, "The oil that is still leaking could seriously damage the economy and the environment of our Gulf states and it could extend for a long time. It could jeopardize the livelihoods of thousands of Americans who call this place home."
Obama said his administration has "launched and coordinated an all-hands-on-deck, relentless response to this crisis from day one" starting with the Coast Guard evacuation of 115 oil rig workers and the search for 11 workers still missing. Submersibles have detected three leaks in the 5,000-foot-long pipe lying on the ocean floor, he said. Seventy U.S. Navy, Coast Guard and research vessels are deployed in the effort to stop the leak and contain the spill.
"Because this leak is unique and unprecedented, it could take many days to stop," Obama said. "I'm going to spare no effort to respond to this crisis for as long as it continues. And we will spare no resources to clean up whatever damage it caused."
He added, "Let me be clear: BP is responsible for this leak. BP will be paying the bill."
Already the spotlight is shining on the notorious Halliburton, the Houston-based well-drilling outfit once headed by former Vice President Dick Cheney.
Halliburton was responsible for cementing the deepwater drill hole that evidently failed, triggering the explosion that toppled the huge offshore rig and unleashed the gusher. Reps. Henry Waxman, D-Calif., and Bart Stupak, D-Mich., called on Halliburton to provide by May 7 all documents relating to the "possibility or risk of an explosion or blowout at the Deepwater Horizon rig and the status, adequacy, quality, monitoring, and inspection of the cementing work" at the rig.
Already it is known that BP in applying for the lease to drill at the site pooh-poohed danger of a disastrous accident and prepared no plan to deal with one if it occurred.
Photo: In the aftermath of the BP oil rig explosion, a dead sea turtle lies on the beach in Pass Christian, Miss., Sunday, May 2. Researchers from the Institute of Marine Mammal Sciences from Gulfport, Miss., collected a number of dead turtles and will examine them to determine the cause of death. (AP/Dave Martin)