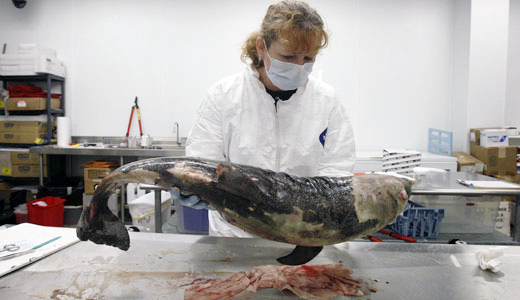 In Barataria Bay, La. (located in the northern Gulf of Mexico), bottlenose dolphins are suffering from severe illnesses – the aftermath of the BP oil spill, according to a report by Click Green.
The bay received prolonged exposure to oil during the Deepwater Horizon disaster, and the ensuing long-term damage is only beginning to be understood by scientists and researchers.
During the months that followed the enormous spill, an estimated 205 million gallons of oil rushed into the Gulf, infecting the water and putting all sealife there at risk.
Last summer, marine biologists with the National Oceanic and Atmospheric Administration conducted physicals on 32 dolphins from that area. Results show many of them are underweight, anemic, have low blood sugar, and exhibit symptoms of liver and lung disease. Nearly half also have exceptionally low levels of the hormones that typically help with stress-coping, metabolism, and the immune system.
The animals are in such poor health, that researchers fear many of them will soon die. And one of the dolphins studied, in fact, was found dead in January 2012.
There has, in particular, been a large spike in the deaths of young dolphins, EcoWatch adds, and a large number of miscarriages have occurred since the BP disaster.
The study was conducted as part of the Natural Resource Damage Assessment, a collective process in which the full extent of the oil spill's environmental damage is to be ascertained. The NOAA is sharing its preliminary results so that veterinarians can care for live stranded dolphins and care for those suffering from similar health problems.
After testing, NOAA opened the Gulf to fishing, and claims it regularly tests fin- and shellfish to check for signs of toxicity to ensure that all seafood that might reach a consumer is safe to eat. However, the Barataria Bay remains closed to commercial fishing, and along the shoreline where the closures are in place, said the report, thick oil is still visible.
The study concluded that the dolphins could easily have been exposed to the oil; accidental ingestion while feeding on whole fish was cited as the most likely cause.
"The results presented today reflect what we know about the health of dolphins in the Barataria Bay area of Louisiana," said NOAA spokesman Ben Sherman in a news release. "They may provide possible clues to other dolphins [that have been] exposed to oil in the northern Gulf of Mexico. However, it is too soon to tell how the Barataria Bay findings apply to the overall [usual mortality rate], or to the health implications for other dolphins exposed to oil in the Gulf of Mexico."
Photo: A veterinary technician handles a dead bottlenose dolphin, one of many collected along the Gulf of Mexico. Patrick Semansky/AP