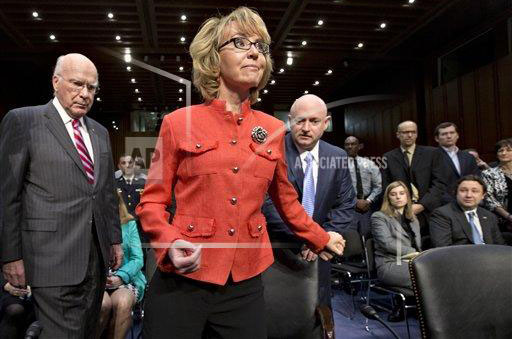 Former Rep. Gabrielle Giffords, D-Ariz., still recovering from being shot in the head two years ago, gave an emotionally charged opening to the Senate Judiciary Committee hearing on gun violence Wednesday. Giffords is partly blind and has difficulty walking and speaking as a result of the injuries she suffered during the January 2011 Tucson shooting, which killed six people and wounded 13.
"Speaking is difficult, but I need to say something important," Giffords told the senators. "Violence is a big problem. Too many children are dying. Too many children. We must do something. It will be hard. But the time to act is now. You must act. Be bold. Be courageous. Americans are counting on you."
Even as the hearing unfolded, a 70-year-old man opened fire at an office complex in Phoenix, in Giffords' home state, killing one man and injuring two others.
A day earlier, 15-year-old Hadiya Pendleton was shot to death, and two of her friends wounded, by a stranger who jumped out of a car, at 2 o'clock in the afternoon in a Chicago park. Pendleton, a member of her school's majorette team, had performed with her team at an inaugural event for President Obama in Washington last week.
An indication of the direction some senators are taking on gun control came in the opening remarks by the committee chair, Sen. Patrick Leahy, D-Vt., and in the comments by the first Republican to speak, Sen. Charles Grassley, R- Iowa.
Leahy devoted most of his remarks to promoting legislation for more comprehensive background checks on gun purchasers, including "straw purchasers" who buy firearms to sell to others who may not pass background checks (criminals, for example). He appeared to distance himself from proposals to curb assault weapons and high-capacity ammunition magazines, even though such measures are part of the plan to curb gun violence announced by President Obama and Vice President Biden two weeks ago.
Leahy made no mention of the bill introduced Jan. 24 by fellow Democrat Dianne Feinstein that would ban the sale and manufacture of 157 types of semiautomatic weapons – commonly referred to as assault weapons – as well as ammunition magazines holding more than 10 rounds.
Giffords' husband, former astronaut Mark Kelly, told the Senate committee that Jared Loughner, Giffords' shooter, had fired 33 bullets in 15 seconds, and was stopped only when he paused to reload his semi-automatic handgun. Loughner's handgun would not have been illegal under the federal assault weapons ban that was allowed to expire in 2004, but the magazine that held more than 30 bullets would have been prohibited.
On the Republican side, Grassley focused on legislation to curb violence in video games. That was echoed by Sen. Lamar Alexander, R-Tenn., who told MSNBC's Chuck Todd, "I think video games is [sic] a bigger problem than guns because video games affect people."
Grassley also argued against a new assault weapons ban, saying that the previous ban was ineffective. Grassley's argument ignored the fact that the earlier ban contained numerous loopholes that gun manufacturers and dealers easily walked through. The expired ban prohibited the manufacture of only 19 gun models and did not bar the sale of previously manufactured weapons or large-capacity magazines.
Republicans and some Democrats are opposing any curbs on assault weapons and high-capacity magazines, and some are even opposing universal background checks for firearm sales.
National Rifle Association head Wayne La Pierre, who also testified Wednesday, argued against expansion of background checks to cover private sales, and repeated his calls for weaponizing schools.
Kelly sharply challenged La Pierre's opposition to expanding background checks..
Giffords' shooter, Jared Loughner, was an admitted drug user and "clearly mentally ill," said Kelly. When Loughner purchased the gun used in the Tucson shootings, "his plan was to assassinate my wife and commit mass murder at that Safeway," Kelly said. Loughner was able to buy the gun from a dealer because of thousands of gaps in the background check mental health records. But even if Loughner had failed the background check, "he would have likely gone to a gun show, or a private seller, and avoided that background check."
"But if we close that gun show loophole, if we require private sellers to complete a background check, and we get those 121,000 records and others into the systems, we will prevent gun crime," Kelly said. "That is an absolute truth. It would have happened in Tucson. My wife would not have been sitting here today if we had stronger background checks."
La Pierre also repeated his call for weaponizing schools, and declared his disagreement with "all of the gun control groups."
La Pierre claimed to speak for "the hardworking, law-abiding, taxpaying American that we're going to make the least capable of defending themselves," while "If you're in the elite, you get bodyguards."
Yet La Pierre arrived at the hearing with a team of bodyguards. "In blatant violation of congressional rules," the Washington Post's Dana Milbank reports, one of bodyguards bumped and body-checked television reporters so they couldn't film LaPierre or question him as he walked.
Photo: Former Arizona Rep. Gabrielle Giffords arrives at the Senate Judiciary Committee hearing on gun violence, Jan. 30. She is escorted by her husband, retired astronaut Mark Kelly, and Committee Chairman Sen. Patrick Leahy, D-Vt., left. J. Scott Applewhite/AP