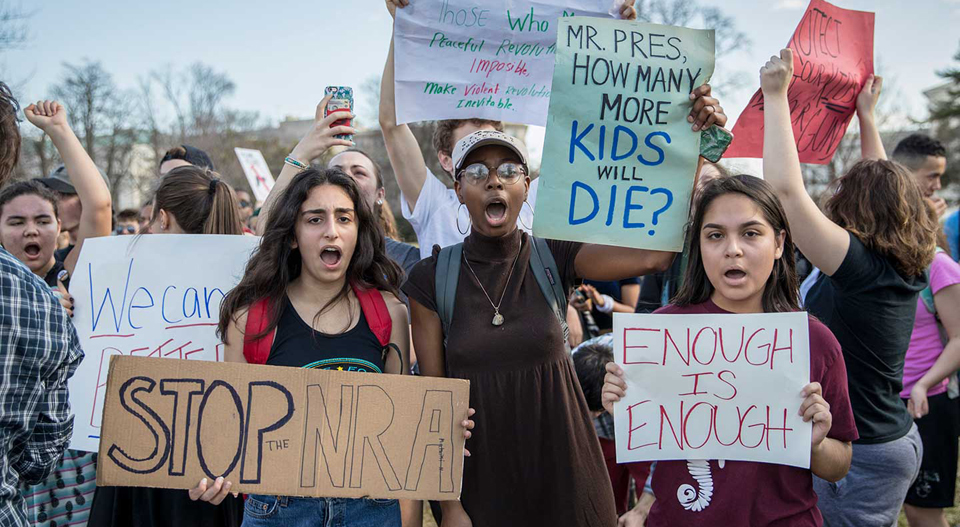 WASHINGTON—When it comes to gun control, Congress' ruling Republicans, with the possible exception of Maine Sen. Susan Collins, still don't get it.
Even as students from Marjory Stoneman Douglas High School in Florida — site of the Valentine's Day massacre that killed 14 of their friends, two teachers and the athletic director – lobbied lawmakers to ban assault weapons, House Speaker Paul Ryan, D-Wis., turned them down. And Ryan wants to arm teachers, too.
Meanwhile, the right-wing chairman of the House Judiciary Committee, Rep. Robert Goodlatte, R-VA., has no plans to hold hearings on a new assault weapons ban 150 House Democrats introduced on Feb. 23. The GOP-run Congress, more than a decade ago, repealed a prior assault weapons ban.
Rep. David Cicilline, D-R.I., crafted the new ban. Backers include Reps. Jan Schakowsky and Luis Gutierrez, both D-Ill. – whose home city, Chicago, has been wracked by gun violence – and Rep. Steve Cohen, D-Tenn., whose hometown, Memphis, was where James Earl Ray assassinated Dr. Martin Luther King almost 50 years ago.
The students have continuing backing from teachers unions. Both Teachers (AFT) President Randi Weingarten and National Education Association President Lily Eskelsen-Garcia vehemently support strong gun controls. Meanwhile, articulate students are warning solons they – and their parents – will remember in November who acted, and who didn't.
"Parents and educators overwhelmingly reject the idea of arming school staff. Educators need to be focused on teaching our students. We need solutions that will keep guns out of the hands of those who want to use them to massacre innocent children and educators. Arming teachers does nothing to prevent that," Eskelsen-Garcia said.
"We owe it to the students and school personnel, who've lost their lives at schools and on campuses across the country, to work together so that we can thoughtfully and carefully develop common sense solutions that really will save lives."
"It's clear who is fighting for the living," Weingarten said, citing historic labor militant Marry Harris "Mother" Jones. The fighters are "the young people who survived the rampage at Marjory Stoneman Douglas High School and are insisting there can be no return to business as usual for anyone doing the gun lobby's bidding."
"Americans must share these kids' determination to do everything possible to prevent further carnage. My union — from our colleagues at Sandy Hook Elementary to those at Stoneman Douglas, including responsible gun owners — is renewing our commitment to end the scourge of gun violence and ensure schools and colleges are safe havens."
"That includes opposing President Trump's reckless, National Rifle Association-inspired call to arm teachers. Teachers' first instinct is to protect kids, not engage in a shootout that would put children in danger."
But while Congress' ruling Republicans dither and don't act, the situation is different in the states and the private sector. And the Stoneman Douglas students are warning lawmakers they – and their parents – will hold elected officials accountable for inaction when the election rolls around in November.
After the head of the gun lobby, National Rifle Association Executive Director Wayne LaPierre, gave a radical and ranting speech against any and all controls – and demand arming all teachers, some two dozen corporate sponsors jumped over the side, cutting all ties with the gun group. One exception: FedEx, which is also known for its anti-union anti-worker stands. The Center for American Progress, which uncovered the original list of NRA corporate supporters, added a confidential FedEx internal memo about the firm's discounts to gun makers and the NRA.
The New York Times reported states, led by Connecticut, Rhode Island, Illinois, Washington and Oregon, are moving towards stricter controls. But almost all Republican-controlled states don't want to ban assault weapons, such as the AR-15 which Douglas murderer Nikolas Cruz used. One GOP-run state, Kansas, wants to let 19-21-year-olds carry assault weapons, but with a permit. Now, you must be 21 to carry an AR-15 in Kansas – and there aren't any permits.
The biggest reversal may be in Vermont. The Times reported its GOP governor, Phil Scott, in a state where hunting is popular, saw no need to change its gun laws – until police there foiled a planned mass shooting in a school, after the Florida massacre.
An upset Scott flipped, saying "everything is on the table" as far as gun control goes. Vermont's legislature is now considering anti-gun laws, including one to yank guns from people "at extreme risk" of harming themselves or others and another to expand background checks.
But that's not what Ryan is saying. And Senate Majority Leader Mitch McConnell, R-Kent., has said nothing at all about gun control for the last five years, since a radio interview in Kentucky. He sends out "thoughts and prayers" after mass shootings.
At his first press conference since Congress returned to Washington, Ryan made it clear the GOP "solution" to gun violence is a combination of mental health assistance and ordering states and others to send names of potentially dangerous people to the Justice Department's national watch list, NICS.
"We shouldn't be banning guns from law-abiding citizens. We should be focusing on making sure that citizens who should not get guns in the first place don't get those guns," Ryan said.
"Of course we have to listen to these kids," Ryan added, praising them for their commitment to lobbying strongly for their stand, but not for the stand itself. "But we have to make sure we protect peoples' due process rights and legal constitutional rights" to bear arms, as the Constitution's 2nd Amendment says.
Like the gun lobby, Ryan did not mention the reason for that right: The need for "a well-regulated militia being necessary to the security of a free state" i.e. a free country.
Ryan also said that "as a parent, I think it's a good idea" to arm teachers – a view both unions strongly oppose. "But as Speaker of the House, we should respect federalism" and leave the arming of teachers "up to local government, school boards and states."  Ryan has three teenaged kids in school in his hometown of Kenosha.
The catch is that when the House passed a NICS bill with that idea last year, the ruling Republicans yoked into a favorite gun lobby cause – ordering all state and local governments to follow "concealed carry" laws approved by the most pro-gun states. The "concealed carry" laws let shooters carry, under their coats and shirts and without licensing, virtually any gun anywhere – including into schools, religious institutions, shopping malls and concerts.
And House Majority Whip Steve Scalise, R-La., himself a survivor of a serious shooting at a congressional baseball game practice last year, asked "What about the laws that are not enforced? He himself" – Cruz – "said he wanted to be a 'professional school shooter.' There are people in the FBI who let this go."
Maine's Collins was the GOP exception. On Feb. 26, she reintroduced her bipartisan "no fly, no buy" bill to ban people on federal "no fly" lists – compiled to stop terrorist threats – from buying guns. The shooter in the Orlando gay night club in 2016, who murdered 49 others, had been on a "no fly" list, Collins said.
"Our bill is based on a simple principle: If you are considered to be too dangerous to board an airplane, then you are too dangerous to buy a firearm," Collins said.
The Marjorie Stoneman Douglas students made clear Ryan's views won't do. The day before their school reopened, several were on Capitol Hill urging lawmakers to control guns – and telling solons they would remember in November if Congress didn't act.
Delaney Tarr, a Douglas shooting survivor, addressed lawmakers in a press conference CNN taped and aired. The student movement for gun control is "created by students, led by students is based in emotion. It is based in passion and it is based in pain," she said.
"The only reason that we've gotten so far is because we are not afraid of losing money. We are not afraid of getting re-elected or not getting re-elected. We have nothing to lose. The only thing we have to gain at this point is our safety."
"We are not here to be patted on the back. We are not here to be told we are doing so much because we know what we're doing and we're doing it for a reason. We're doing it so our legislators, so that our lawmakers will make a change, so that they will take us seriously, so that they will not dismiss us any longer, so they won't reschedule, so they won't push us in another room as they dance around our questions."
"Because we came here prepared and we're going to come to every single meeting with every single legislator, prepared. We know what we want. We want gun reform. We want common-sense gun laws. We want stronger mental health checks and background checks to work in conjunction. We want a better age limit. We want privatized selling to be completely reformed so that you can't just walk into a building with $130 and work out with an AR-15."
"We want change and we know how to get that change…We're going to keep moving forward because we don't have a choice."
"The people in office have failed us and if they continue to fail us, then they will no longer be in office because we will soon be given the ability to vote — and we will vote them out. And the people around us will vote them out. They must do right by us or they will lose their jobs. And we have brought that up to them time and time again."
Tarr wound up with a second warning, after chastising lawmakers for just offering "thoughts and prayers" or "We're going to think about it." "We know that is not true," she stated.
"So this is to every lawmaker out there: No longer can you take money from the NRA. No longer can you fly under the radar doing whatever it is that you want to do. Because we are coming after you. We are coming after every single one of you and we are demanding you take action and demanding that you make a change."