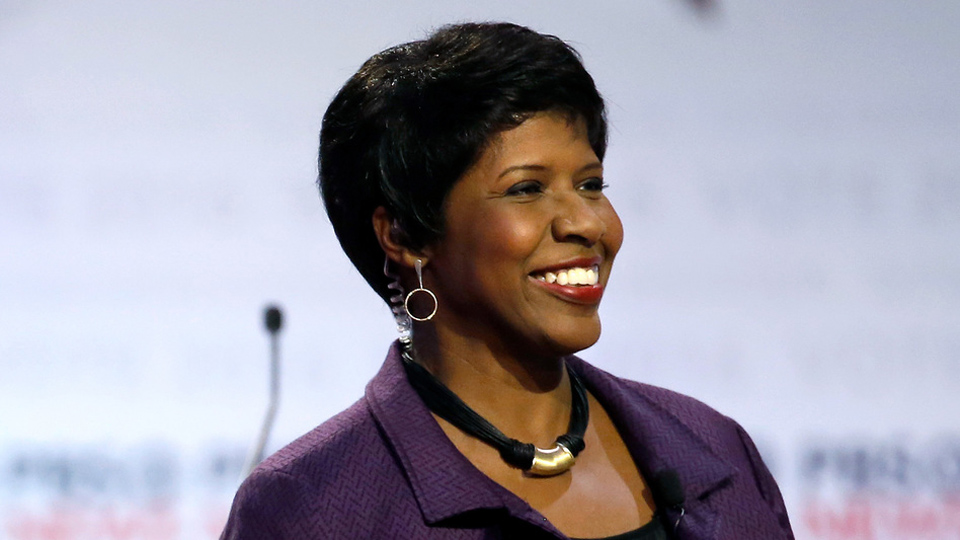 NEW YORK (AP) — Gwen Ifill, co-anchor of PBS' "NewsHour" with Judy Woodruff and a veteran journalist who moderated two vice presidential debates, died November 14 of cancer, the network said.
She was 61.
A former reporter for The New York Times and The Washington Post, Ifill switched to television in the 1990s and covered politics and Congress for NBC News. She moved to PBS in 1999 as host of "Washington Week" and also worked for the nightly "NewsHour" program, the long-format news program originally founded by Jim Lehrer and Robin MacNeil. She and Woodruff were named co-anchors in 2013.
"In the early days, they joked that we dared to be boring," Gwen said of the NewsHour in a recent Reddit Ask me Anything chat. "I think now it's more that we dare to be engaging. And we think enough of the viewers and consumers who come to us for in-depth, fair coverage to make sure we provide cogent, smart analysis. We do it every day, go to sleep, and get up to do it again."
She moderated vice presidential debates in 2004 and 2008 and authored the book, "The Breakthrough: Politics and Race in the Age of Obama." In February, she co-moderated a Democratic primary debate in Wisconsin between former secretary of state Hillary Clinton and Sen. Bernie Sanders of Vermont.
Gwen's death has left her colleagues devastated.
"She was a standard bearer for courage, fairness and integrity in an industry going through seismic change," said the NewsHour's executive producer, Sara Just. "She was a mentor to so many across the industry — a journalist's journalist who set an example for all around her."
And from her co-anchor, Judy Woodruff: "She was not only my dear friend, she was the best partner one can imagine, because she was committed to fairness and to the finest in journalism. You always knew when working with Gwen that she had your back. I'm crushed that she won't be sitting by my side on the NewsHour any more, but her mark on this program and on American journalism will endure."
President Obama touched on Gwen's death at a press conference on Monday, calling her an "extraordinary journalist" who "always kept faith with the fundamental responsibility of her profession."
"I always appreciated Gwen's reporting, even when I was at the receiving end of one of her tough and thorough interviews," said Obama, noting that Gwen was one half, along with Judy Woodruff, of the first all-female anchor team in broadcast journalism.
He added, "She not only informed today's citizens, but she also inspired tomorrow's journalists."
Kevin Merida, who runs ESPN's The Undefeated said, "All serious journalists admired her, but I think Black journalists were especially proud of her. She wore success well, and inspired those who were chasing their own success. To be so good, so grounded, and so beloved — that's quite the trifecta. I will miss her madly, and love her always."
Ron Simon, a curator at the Paley Center for Media in New York, said Ms. Ifill "exemplified the journalistic ideals of Walter Cronkite, excelling in print and then bringing those talents to television. She was, like Cronkite, open to the many dimensions of human experience, she was curious about everything. I link her to that tradition, the journalistic integrity that Cronkite symbolized."
Ifill took a leave from "NewsHour" for a month this spring for health reasons, keeping details of her illness private. Her health failing, she left "NewsHour" again shortly before an election night that she and Woodruff would have covered together.
NBC News' Pete Williams, a former colleague, struggled to keep his composure Monday when announcing Ifill's death on MSNBC. "She had so many awards in her office you could barely see out the window," Williams said.
Ifill began her reporting career in the late 1970s, at newspapers in Boston and Baltimore, as a political journalist at a time when black journalists and black female reporters, in particular, were rare in newsrooms and rarer still on the city hall beat. She recalled getting letters from readers (and once from a colleague) brimming with racial slurs and, in return, receiving shrugs from less-than-understanding editors.
Shortly before moderating the debate between Joe Biden and Sarah Palin in 2008, Ifill brushed aside concerns that she might not be fair because she was writing a book about Obama.
"I've got a pretty long track record covering politics and news, so I'm not particularly worried that one-day blog chatter is going to destroy my reputation," she told The Associated Press then.
Ifill, also questioned why people would assume her book would be favorable toward Obama. "Do you think they made the same assumptions about Lou Cannon (who is white), senior White House correspondent of the Washington Post during the Ronald Reagan administration, when he wrote his book about Reagan?" she said.
In a 2015 interview with the "Washingtonian," after winning an award from the magazine, Gwen summed up the importance of journalism:
"We can't expect the world to get better by itself," she said. "We have to create something we can leave the next generation."
Barbara Russum contributed to this article.