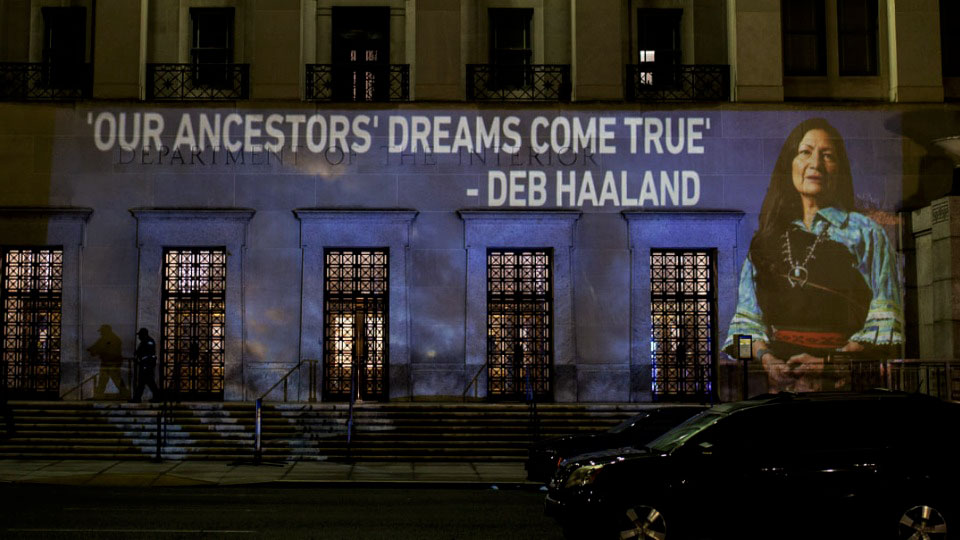 "This is all of our country, this is our mother. You've heard the Earth referred to as Mother Earth. It's difficult to not feel obligated to protect this land, and I feel that every Indigenous person in this country understands that," said Rep. Deb Haaland, President Joe Biden's nominee to be Secretary of Interior. "It's an obligation of mine that I take very seriously. "
Haaland was speaking Feb. 24 before the Senate Energy and Natural Resources Committee on her confirmation hearing's final day. She will make history by becoming the first Native American to serve in a Cabinet position if confirmed. The agency has a long history of pushing programs and policies to exterminate, forcibly assimilate, and remove Native Americans from their land for resource extraction by corporations.
As Secretary of Interior, Haaland would be responsible for overseeing 500 million acres of public lands, one-fifth of the U.S. territory, minerals, national parks, and wildlife refuges. The agency is also responsible for relations with 574 Native American tribal governments and the Bureau of Indian Affairs. Additionally, the Interior is responsible for endangered species and other environmental conservation efforts.
Haaland's nomination got a big boost when Sen. Joe Manchin, D-W.Va. announced his support, despite differences on fossil fuel issues. That likely ensures her confirmation despite opposition from GOP senators closely tied to the oil and gas industry. Biden's executive orders scrapping the Keystone XL pipeline, pausing new leases for oil and gas exploration on public lands, outraged them. As did his order to restore two national monuments' boundaries, Bears Ears and Grand Staircase-Escalante, both sacred Native American sites.
Haaland is a descendent of 35 generations of the Laguna Pueblo Nation in New Mexico. In 2018, she and Rep. Sharice Davids of the Ho-Chunk Nation in Kansas were the first Native American women elected to Congress.
As a co-chair of the Congressional Progressive Caucus, Haaland has been an outspoken advocate for addressing the climate crisis. She was an early supporter of the Green New Deal, opposed the Dakota Access pipeline, and participated in the Standing Rock protest.
Native Americans are ecstatic with the historic nomination. With the nation's history of racism and genocide, it is hoped Haaland will be the first of many Native Americans at the heart of shaping government policy. She would take over an agency racked by four years of scandal, corruption, attacks on public land protection, and the Trump administration's white supremacy and attacks on sacred sites.
"American Indians, we suffer from being erased from history. We were brought to our knees and forced into treaties. A huge majority of people think we don't even exist," said Judith LeBlanc, director of Native Organizers Alliance. "This Department has the most impact on our daily lives. Land use, water use, health care, education, and tribal governance.
"This nomination gives such grassroots pride about the fact that one of our people is being nominated. I'm an elder. I'm 69. I've never seen anything like this. We are being rewritten back into history," said LeBlanc.
Native American tribal communities are experiencing a surge of activism, and they were critical to electing Biden and Vice President Kamala Harris. Their vote was decisive in the battleground states of Arizona and Wisconsin. Tribal communities expect the administration to address deep poverty, skyrocketing unemployment, and a public health crisis made worse by the COVID-19 pandemic. Tribal communities also face an infrastructure crisis, including in the Navajo Nation, where 30 to 40% of residents have no electricity or running water.
Haaland told senators she would carry out the Biden administration agenda. It includes reinstating the annual White House Tribal Nations Conference, nominating judges who understand federal Indian law, and fully funding the Indian Health Service. Haaland called for extending broadband service to all tribal communities and rural areas, extraordinary efforts to address the crisis of missing and murdered Indigenous women, and protection of sacred sites.
Haaland was subjected to despicable anti-Native American racism and misogyny by GOP senators during the hearing, similar to their degrading treatment of other women and people of color nominees. They accused Haaland of being a dangerous radical and lectured her about natural resource and conservation law and her willingness to follow it. Ironically, the same senators refused to uphold the law and convict Trump for inciting a violent insurrection. Tribal communities reacted with outrage to this disrespect.
Haaland would lead the Interior Department to reduce greenhouse gas emissions at a critical moment in the global effort. The Biden administration is aiming to achieve net-zero carbon emissions by 2050. Public lands account for 25% of carbon emissions and curtailing them is critical to reaching that goal.
Haaland acknowledged the current reliance on fossil fuels but also the need to transition to renewables. "Fossil fuels do and will continue to play a major role in America for years to come. I know how important oil and gas revenues are to fund critical services. But we also must recognize that the energy industry is innovating, and our climate challenge must be addressed," she told senators.
Besides pausing new leases for oil and gas wells on public lands, Biden's executive order calls for a review of existing leases. And it calls upon the Interior Department to identify steps to double renewable energy production from offshore wind by 2030. The administration wants to protect 30% of the nation's land and oceans also by 2030.
Haaland would also oversee the proposed Civilian Climate Corps, which is intended to employ young people to restore public lands and waters, accelerate reforestation, improve biodiversity, and improve access to recreation. The idea is modeled after the Civilian Conservation Corps that put millions of unemployed young people to work during the Great Depression. The CCC was known as the "Tree Army," planting over a billion trees and building much of the still existing National Parks infrastructure.
"I carry my life experiences wherever I go," said Haaland. "It's those life experiences that give me hope in the future. If an Indigenous woman from humble beginnings can be confirmed as Secretary of the Interior, our country holds promise for everyone."