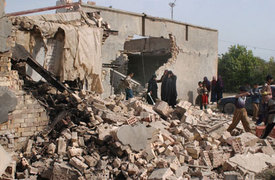 The massacre of Iraqi civilians, including women and children, by U.S. troops in Haditha and elsewhere is having far-reaching repercussions for Iraq and the U.S.
The incidents include the killing of 24 in Haditha last November, 11 in Ishaqi in March, the shooting deaths of two women, one of them pregnant, and the deliberate killing of a man west of Baghdad in April.
The Pentagon has been forced to begin investigations after media reports and videotapes showed that U.S. troops had shot civilians in cold blood, and that the military hierarchy covered up or failed to investigate the killings.
But many wonder if those at the highest levels will be held accountable.
Sen. Jack Reed (D-R.I.), a member of the Senate Armed Services Committee, questioned whether the administration would try to "say it was just a few Marines or a few soldiers," or would "see if this is part of a larger systemic problem."
"George Bush is the person who put these guys in that situation," Celeste Zappala, whose son Sherwood Baker was killed in Iraq in 2004, told the World. "I think it's the height of hypocrisy to somehow talk about how they will be brought to justice. I'd like to see George Bush be brought to justice for having set off this terrible immoral war."
These are not new tragedies for Iraqis. Iraqi Prime Minister Nuri al-Maliki said violence against civilians has become a regular phenomenon by occupation troops who "do not respect the Iraqi people."
"They crush them with their vehicles and kill them just on suspicion," he said.
Salam Ali, a spokesperson for the Iraqi Communist Party, said the Haditha massacre underscored the wide Iraqi resentment against the U.S. occupation. "Americans have been behaving in an arrogant way, with total disregard for human life. This is not new," Ali said. But "with so much death and tragedies every day," he added, "people are numb." In escalating violence, 40-50 Iraqis are being killed daily — in one day last week, the number was 80.
Iraqi blogs are filled with stories of sectarian killings, kidnappings, ethnic cleansing, and attacks against men wearing shorts or women going out with their heads uncovered. Many put the U.S. occupation at the root of the escalating violence.
One blogger offered a common Iraqi perspective: "I can not forget among tens of crimes I had seen during my coverage to the war of 2003 till now committed by the U.S. Army, I recalled it as the U.S. Congress is investigating Haditha massacre, a good step to shed light on the atrocities perpetuated by the U.S. soldiers in Iraq."
He continued, "But it would be better, if the Congress begins an investigation for the U.S. Army crimes committed against the Iraqis since 1991 till now. And, if the Congress really wants to be fair with the Iraqi people, it should open an investigation for the sectarian war ignited by U.S. in Iraq due to its deadly committed mistakes in Iraq because sectarian war crimes are exceeding all kinds of massacres now."
Iraqi government leaders say they will do their own investigations. Maliki called for talks "to redefine the obligations of coalition forces," and said the incidents would affect decisions on how long to allow U.S. troops to remain in Iraq.
Vice President Tareq al-Hashemi called for formation of "a neutral commission involving the United Nations and a joint Iraqi-American committee" to investigate the "horrendous crimes," and said they make it necessary to consider "setting a timetable for the withdrawal of foreign troops from the country." The U.S. and Britain have strenuously resisted setting such a timetable.
The U.S. occupation is operating under UN Security Council Resolution 1546 passed in June 2004, which specified a political process leading to formation of a constitutionally elected government, after which the "mandate" for the occupation expires. That process has been completed.
The Haditha incident "highlights the need to speed up the ending of the occupation," Ali said. "It provides the Iraqi government — if it has the political will — with leverage to extract a new deal based on a withdrawal timetable" and also putting some curbs on U.S. forces in the meantime. "This should be a priority of the new government," he said.
"The saddest part of all of this is that war eventually erodes people's humanity," said Zappala, an advisory board member of Gold Star Families Speak Out, an organization of family members of troops killed in Iraq. "We're seeing the results of soldiers who have given everything they've got and yet they're on their second and third deployment. They suffer with stress with the terrible situation. In the end they will be held accountable for what they've done, but this administration still is shrinking from its own accountability."
"It's a terrible, terrible tragedy. I want to see the troops brought home as soon as possible," she said. "The longer we stay, the more kinds of catastrophes there will be."