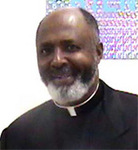 BERKELEY, Calif. — A standing-room-only crowd packed St. Joseph the Worker Roman Catholic Church Sept. 9 as U.S. and Haitian activists called for continuing solidarity with the Haitian people's struggle for peace, justice and democracy. They also urged an end to Bush administration policies that led to the U.S. abduction of democratically elected President Jean-Bertrand Aristide in February 2004 and the two-year regime of interim Prime Minister Gerard Latortue.
A theme throughout the evening was the need for the United Nations to switch from military occupation to helping build the country's infrastructure.
Father Gerard Jean-Juste, a leader in Haiti's peace and justice movement and a former political prisoner under Latortue, was greeted with standing ovations both before and after his remarks. Emphasizing that he supports Haiti's new President Rene Preval, elected last February, Jean-Juste said Preval is "moving very slowly" to provide services to the poor, return unjustly fired people to their jobs, and secure President Aristide's return from exile. Noting that Preval "is apparently under big pressure from a sector in the international community," he added, "We have to keep the resistance movement in good shape so President Preval and his government can move in the direction we workers want him to follow."
Jean-Juste emphasized the importance of peaceful resistance, saying that though many nonviolent demonstrators were killed under the post-coup interim government, "we kept marching until our messages were heard far away."
He urged Americans to participate in the November elections: "The more you organize before Election Day, the more peaceful country you will get, and the more peace we can have in our region and around the world."
Pointing out that the United Nations' military mission, Minustah, hasn't ended violence, misery and hunger, Jean-Juste called on the UN to provide tractors and trucks to rebuild the country instead of tanks and weaponry.
In a brief conversation after the program, he said, "What we expect of international organizations is that they help us alleviate misery by assisting with infrastructure and helping people achieve a greater standard of living." Noting that Aristide's government provided people with food, shelter and other basic needs, he added, "The moment we have a government that will help the people, they get rid of it."
"No matter how hard we work in Haiti, it's nothing unless we make our country safe for democracy in Haiti," Brian Concannon, director of the Institute for Justice and Democracy in Haiti, told the crowd. Although Haiti's executive and legislative branches have made at least partial transitions with the election of Preval and the new Parliament, he said, "almost no transition" has occurred in the justice system, which was systematically stacked under Latortue.
Concannon, whose organization defends activists jailed for speaking out for democracy, urged pressure on the Haitian government, on Washington, and on "individual actors" in the justice system "to make sure they obey the rule of law." He added, "We need to keep going until the democratic transition is absolutely complete."
He highlighted the need for additional members of Congress to join the present 57 sponsors of H Res 888, introduced by U.S. Rep. Maxine Waters (D-Los Angeles), to relieve Haiti's crushing debt burden.
Calling his work "pragmatic solidarity," Dr. Paul Farmer, head of Partners in Health, also stressed the role of solidarity. "We'll continue our efforts to serve large numbers of people living in poverty," he said, "but it's really people like this audience who will make the difference, because the problem is more in Washington than anywhere else."
Farmer said Partners in Health, which operates eight facilities in central Haiti, anticipates over 2 million patient visits this year alone.
During the evening, great appreciation was expressed for the role of members of the Congressional Black Caucus, including U.S. Reps. Maxine Waters and Barbara Lee, as well as for the work of the Haiti Action Committee — organizer of the event — in helping to build solidarity. Father Jean-Juste received certificates of appreciation from Berkeley Mayor Tom Bates and Barbara Lee.
mbechtel@pww.org