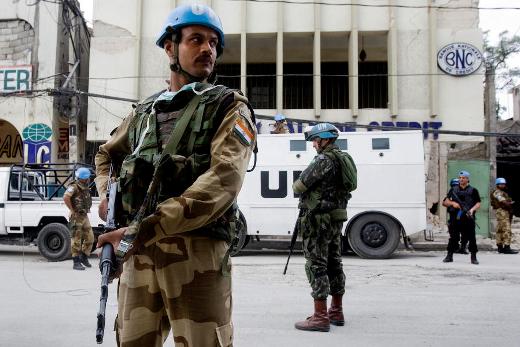 The cholera epidemic in Haiti has now spread to the capital, Port au Prince, and has killed over 1,000 people while sickening up to 19,000.
Now street protests have arisen against the United Nations peacekeeping force that has been in Haiti since 2004, with protesters blaming troops of the Nepalese contingents of the "Blue Helmets" for the epidemic.
On top of this crisis, there will be very controversial and problematic elections on November 28.
The cholera epidemic which began a couple of weeks ago in the Artibonite Valley and now has spread to the capital, Port au Prince, is being blamed by rumors on the Nepalese United Nations Stabilization Mission in Haiti, part of the United Nation's military contingent. Cholera had not been seen in Haiti in many years and is known to be a mostly in Asia.
Though MINUSTAH – The United Nations Stabilization Mission in Haiti – has denied that the Nepalese brought cholera into the country, rioting against the U.N. mission started on Monday, November 17 in Cap-Haitien on Haiti's northwest peninsula and other places. Three civilian protesters are reported to have been killed.
And to top it all off, there are going to be elections on November 28. These elections, to choose a new president, 10 of the 30 senators, and all of the 99 members of the lower house, had originally been set for February 28. However, the massive disruption caused by the earthquake forced a postponement. But reconstruction has been going very slowly, so the country is still disrupted and it is going to be very difficult to carry out the election without problems.
To make things worse, a number of political parties and their candidates have been denied the right to run. Aristide's party, Fanmi Lavalas, is among them. The reasons given are technical. Support which would have gone to a Fanmi Lavalas candidate might instead go to another candidate, Henry Ceant, who has been holding big rallies to which many Aristide supporters have been thronging http://www.forumhaiti.com.
Haitian-American musician Wyclef Jean has also been denied the right to be on the ballot as a presidential candidate, on the grounds that he has been living mostly in the United States for several years. However, there will be 19 candidates in all. In Haiti there is a requirement for a runoff if no candidate for president gets a majority the first time round.
The current president, Rene Preval, appears to have lost popularity due to perceived slowness in coping with the earthquake crisis.
There is background as to why the anger towards the "Blue Helmets." The United Nations Stabilization Mission in Haiti, or MINUSTAH, was sent there after the 2004 overthrow of President Jean-Bertrand Aristide.
Many Haitians and others suspect that both the French and U.S. governments were complicit in the overthrow, and Aristide supporters accuse MINUSTAH of being biased against them.
Aristide now lives in exile in South Africa, but his supporters have not ceased to demand his return. While president, Aristide abolished the army, which had a record of coup plotting and human rights violations, and which had also overthrown him in 1991. In the resulting power vacuum, numerous armed street groups developed, which have often clashed with MINUSTAH forces.
MINUSTAH's 7,000 peacekeeping "Blue Helmets" have been under mostly Brazilian command, and include troops from that country, Argentina, Bolivia, Chile, Canada, Croatia, France, Guatemala, Jordan, Nepal, Paraguay, Peru, the Philippines, Sri Lanka, Uruguay and the United States. There are civilian and police personnel from an even greater number of countries.
In January 2006, MINUSTAH's Brazilian commander, General Urano Teixeira da Mata Bacellar, committed suicide. The previous year MINUSTAH forces had been accused of attacking supporters of President Aristide and his political party, Famni Lavalas, with a number of deaths to civilians (up to 80, by some accounts).
So the MINUSTAH troops were unpopular with Haiti's poor to begin with. In January of this year, MINUSTAH itself suffered heavily from the massive earthquake which may have caused the death of as many as 300,000 Haitians. Its civilian head at the time and a number of its military and civilian personnel were killed.
The desperation of the Haitian people is rising because only a small amount of the aid promised in the wake of the earthquake has been deployed, because hundreds of thousands of people are still living in tents and squatter camps, and because more misery was caused when Haiti was sideswiped by Hurricane Tomas with its torrential rains. The spread of the cholera epidemic adds to this.
This will be an angry election.
Photo: An officer from the Indian Formed Police Unit, working with Brazilian UN peacekeepers, helps to secure the perimeter of a bank in downtown Port-au-Prince, Haiti, Jan. 19, 2010. (Marco Dormino/UN)