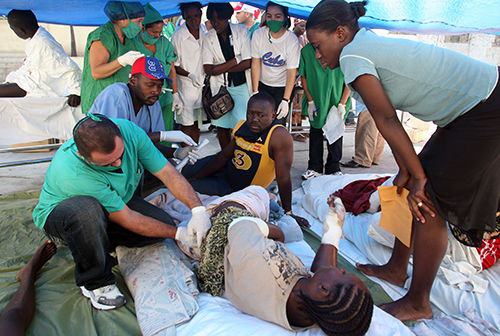 In a move to aid relief efforts in earthquake-devastated Haiti, the U.S. State Department says it's prepared to assist over 400 Cuban doctors there with much needed medical supplies.
Last week Cuba announced it would allow U.S. aircraft evacuating the injured from Haiti to cross its airspace, saving critical flight time.
Both moves, many note, could lead to new opportunities for the countries to work together and set a new tone for U.S.-Cuba relations.
Darby Holladay, a U.S. State Department spokesman told TPMmuckcraker, "The United States has communicated its readiness to make medical relief supplies available to Cuban doctors working on the ground in Haiti as part of the international relief effort."
Over half a million Haitians have lost their homes since the earthquake struck the Caribbean island Jan.12. Up to 200,000 people are estimated to be dead and at least 193,000 are injured, reports say.
If relief efforts in Haiti strengthen U.S.-Cuba ties the Obama administration's goal of moving relations between the two nations off their old cold war footing would become more realizable, observers say.
Obama has ordered federal agencies to put the Haiti disaster at the top of their agenda and has already committed to $100 million in U.S. assistance. Around 12,000 U.S. military personnel have been deployed in and near Haiti to help in the relief efforts.
On Friday the UN General Assembly held a special session devoted to the Haiti tragedy.
Pedro Nunez Mosquera, Cuba's permanent representative to the UN, said cooperation and assistance to Haiti should be maintained over time and based on respect for its sovereignty and territorial integrity, with strict adherence to the policies of non-intervention and non-interference in its internal affairs.
The Haitian people need support to overcome poverty and underdevelopment that they suffered under years of colonialism, neocolonialism, military intervention and imposition of dictatorship, he said.
Meanwhile, Cuba reports that since the earthquake over 400 of its doctors have treated more than 18,000 with injuries and have performed surgery on more than 17,000 individuals.
Mosquera said 240 Haitian medical students training in Cuba joined the Cuban doctors in Haiti. He said there are about 660 young people from Haiti currently studying in Cuba for free and over 500 of them are studying medicine.
Haiti and Cuba signed a medical cooperation agreement in 1998 and before the recent quake there were about 344 members of the Cuban medical brigade providing primary care to people in Haiti, also for free. Obstetrical services and operations to restore the sight of Haitians with various eye diseases were also performed.
Earlier this week Cuba sent another team of physicians along with food, medicine, plasma, and other items.
Immediately following the quake Cuban doctors opened up make-shift clinics in their residences and even led efforts to establish a number of hospitals to help the injured.
Sarah Stephens is the director of the Center for Democracy in the Americas, a Washington-based organization that advocates closer relations with Cuba.
The Obama administration's efforts to assist Cuban doctors in Haiti could form the foundation for broad Cuban-U.S. cooperation, she wrote in the Huffington Post.
As U.S. aid and military teams arrive in Haiti, "the U.S. government should make it clear that our personnel should cooperate, coordinate, and work with the Cuban medical personnel in Haiti," said Stephens.
"They know Haiti, they've been providing health care in Haiti since 1998, and they have been running a highly effective medical response since the earthquake occurred," she adds.
If Cuba is willing to cooperate with the U.S. in the air then we should cooperate with Cuba on the ground with initiatives that reflect both countries' shared interests in helping the Haitian people, she said. It only makes sense that the U.S. offer the Cuban doctors medicines and other necessary assistance to help with their medical relief efforts, she notes.
Stephens adds global leaders are calling for a summit to coordinate global responses to the Haiti crisis.
"That summit could take place in Cuba, which is ideally located," she writes. "If it doesn't happen there, Cuba should be invited and encouraged to play a leadership role in the coordination of response efforts."
Stephens claims that if George W. Bush were still president, such cooperation and joint efforts between the U.S. and Cuba would most likely not occur.
After Hurricane Katrina struck New Orleans, Cuba's government offered to send 1,586 doctors and 25 tons of medical supplies to help, what Stephens calls an insufficient response to the suffering of American citizens on our own Gulf Coast.
"But Bush being Bush, his administration not only declined the offer but insulted the qualifications of Cuban doctors."
Cuba is known worldwide for its impressive universal health care system and has a decades' long commitment to international cooperation with other countries in the face of national disasters.
Stephens points out that the U.S. should be good Samaritans and not be silent or sarcastic about what Cuba has to offer.
"We have seen the better angels of Obama's nature, and we're hopeful that he would seriously consider cooperating with the Cuban government especially if it meant saving Haitian lives," she said.
This tragedy is about Haiti, not Cuba or Obama, says Stephens. But if the U.S. and Cubans work together in a joint effort to aid Haitians, such moves "would set a new example for U.S. diplomacy that will return long-standing benefits to our nation and our relationships across the Western Hemisphere. And possibly even set a new tone for the U.S.-Cuba relationship. We need it," she writes.
Last year Obama promised to recast Washington's tense ties with Cuba. He slightly eased the longstanding U.S. trade embargo, lifting restrictions on Cuban-American travel and remittances to their homeland. Talks were also initiated on migration and a possible resumption of postal service.
Photo: AP