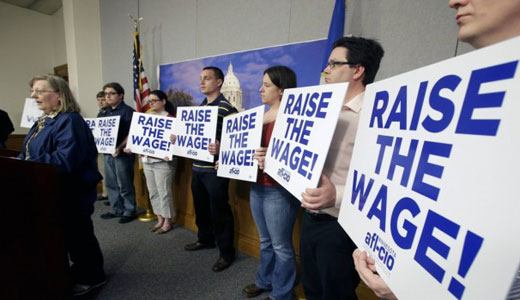 WASHINGTON (PAI)-The Senate will vote on raising the minimum wage, in three steps of 95 cents each to $10.10 hourly in 2016, after it returns from the Martin Luther King Birthday recess later this month, Senate Labor Committee Chairman Tom Harkin, D-Iowa, predicts. That leaves advocates little time to campaign for the hike.
In a Jan. 14 session at the Economic Policy Institute, Harkin said Majority Leader Harry Reid has promised him a vote then. But Harkin spoke before the Senate got tangled up, again, in whether to restore extended benefits for the long-term jobless.
Harkin and Rep. George Miller, D-Calif., discussed their minimum wage proposal at the EPI session, where the pro-worker think tank released a letter from 140 economists, including eight Nobel Economics Prize winners, calling for a minimum wage hike. The federal wage, now $7.25 an hour, hasn't risen since 2009.
The legislation would raise the wage to $10.10 in three steps and then index it to inflation after that. It also would raise the minimum wage for tipped workers, in 10 steps, to 70 percent of the federal minimum. The tipped wage, which goes to servers and other workers who rely on tips, is $2.13 hourly and hasn't risen in 21 years. Employers are supposed to make up the difference between $2.13 and $7.25, but often don't.
One of every 20 U.S. workers makes the minimum wage or less, federal data show. More than half are working women. Most are adults.
Harkin may get his vote, but he may not get the 60 votes he needs to prevent a filibuster by the GOP. Republicans are demanding concessions to provide enough votes to break a filibuster against the minimum wage hike. "We've already negotiated in terms of implementation and expensing of write-offs for small business," two GOP demands, Harkin said. "We're not going to go back to the well and be nickel-and-dimed down."
Harkin may get a vote, but Miller may not even get that. He tried to get the GOP-run House to vote on the $10.10 minimum last year and lost on a party-line vote.
But Miller told the crowd that an election year offers a better opportunity, as Republicans facing constituent worries about income inequality and declining wages – and who now see college-educated workers and once-highly paid adults having to take minimum wage jobs – may not want to look bad politically by opposing the raise.
"Their leadership may struggle to prevent it. But, at the end of the day, I don't think you'll want to take it home" and say you oppose a minimum wage hike, he said of the GOP. In an election year, 2006, a GOP-run Congress passed the last hike.
Photo: Jim Mone/AP