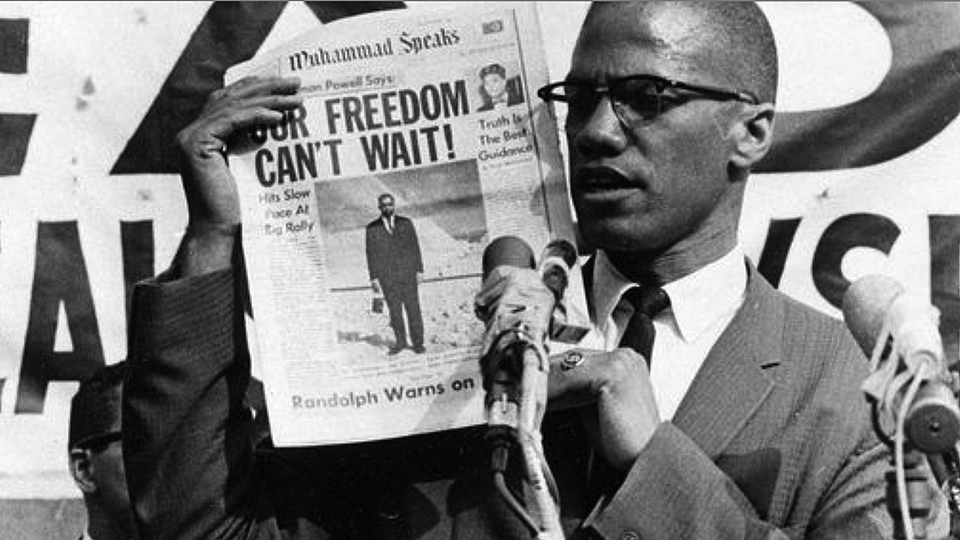 "The only way we'll get freedom for ourselves is to identify ourselves with every oppressed people in the world. We are blood brothers to the people of Brazil, Venezuela, Haiti … Cuba — yes, Cuba, too."
— Malcolm X
NEW YORK CITY — On May 19,2005, the Harlem community said a big "happy 80th birthday" to its most famous son, Malcolm X/El-Hajj Malik El-Shabazz, by dedicating the historic Audubon Ballroom, where Malcolm X gave his last speech as a memorial to him and his work.
The Malcolm X and Dr. Betty Shabazz Memorial and Educational Center opened to a chorus of drumming from the Olatunji brothers in the company of Malcolm's daughters Ilyasah, Gamilan and Malaak Shabazz, dignitaries, associates and comrades.
The center will illuminate the vision of Betty Shabazz, who died in 1997, to promote global understanding of her husband's main contribution to humanity — the universal battle against all forms of discrimination. It was at the Audubon that Malcolm's Organization of Afro-American Unity held some of its most important public events. Malcolm X was assassinated at the Audubon on Feb. 21, 1965.
Opened in partnership with the City of New York, Columbia University, and The Schomburg Center for Research in Black Culture, the center will be dedicated to fostering empowerment through awareness of the history and contributions of Africa, and African people around the world, as well as the international quest for human rights.
"This memorial represents an important chapter in our nation's history and is a significant achievement both for the Shabazz family and for Columbia University," Columbia University President Lee C. Bollinger said.
Ilyasah Shabazz said that in keeping with her parents' mission, the center would seek to instill a sense of pride in African culture and history by recognizing the brilliance of people who challenged historical injustices. "It's our responsibility to make sure that we preserve and document our history to empower future generations," she said.
Although after Malcolm's murder he had vowed never to set foot inside the Audobon, again, chief aide Benjamin Karim attended the memorial event, confident the center will enlighten new generations about Malcolm's tireless efforts for justice.
The opening of the center is a culmination of community struggle to ensure that the site is transformed into an institution of civil rights and justice. On several occasions the building had been marked for demolition or sale but Malcolm's widow refused to allow that and did much to see the center to its fruition, including selecting much of the memorabilia and conceptualizing the artwork that now decorates the center.
"As my father who was a communist used to sing about another guy named Joe Hill … I dreamt I saw Joe Hill last night," said Abdul Abdullah Razaad, Malcolm X's personal bodyguard, pointing to the living legacy of Malcolm X. "People who have been in the presence of Malcolm will know how much of a profound influence he was."
State-of-the-art multimedia kiosks created by Columbia University's Digital Knowledge Ventures will be a permanent feature of the center. The presentation includes almost 100 minutes of short videos, never-before-seen photos, historic scenes of Harlem, travel photos taken by Malcolm and postcards he wrote to friends. It also includes interviews with scholars and friends.
Also on Malcolm X's birthday, the Schomburg Center launched "Malcolm X: A Search for Truth," an exhibition in commemoration of the anniversary. The exhibition is partly based on the collection of Malcolm X's papers and memorabilia rescued from auction in 2002, which his family placed on deposit at the Schomburg. This exhibition will provide the first opportunity for the public to view significant aspects of this collection and will eventually be moved to the Malcolm X and Betty Shabazz Center. The center will officially open to the public this summer.