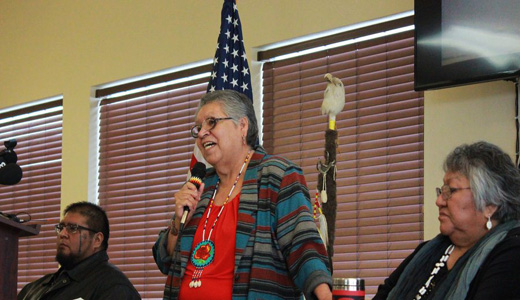 My first prediction of 2016: the armed takeover of the federal wildlife refuge in Harney County, Oregon, will be remembered as a spectacular failure for the Bundy-led right-wing militia grouplet. They have little support among local residents for their call to arms. The local community does not want them there.
That includes supporters of the Hammonds, the two ranchers who went back to federal prison to serve the full five years required for a federal arson conviction. Many might assume that their white supporters would be rallying around the cause because they are bound by their whiteness.
But according to a report by The Nation, residents of Burns, Oregon, next to the Malheur National Wildlife Refuge, "are poor, white and conservative. Not a single one of them has joined the Bundy militia."
And, by the way, the Hammonds have said through their lawyers, they don't support the insurrection either.
The local community also includes members of the Burns-Paiute Tribe whose ancestors were, as tribal Councilman Jarvis Kennedy said in a Jan. 6 press conference, "killed and ran off" the same land the Bundys claim for their anti-government cause.
"We weren't removed. We were killed and ran off our land. Marched in the snow out there. Hundreds of miles to forts. When they finally let us go we didn't have no place to go. Our land was already taken. They gave us 10 acres at the city dump. Think about that. Think about those little kids … those elders. Would you want to be out there? Walking. Marching."
Kennedy was describing the long and bloody story of genocide carried out by the U.S. government, colonial settlers and commercial interests. This is a pattern the Bundys and their militia movement fit into perfectly.
"We don't need these guys here," Kennedy continued. "They need to go home and get out of here. We as Harney County people can stand on our own feet. We have our own rights. And we're hardworking people."
If there is any group in the United States of America who has the most righteous grievance against the federal government on land ownership and management, it is the Native peoples.
Councilman Kennedy said the people in the area have the kind of intelligence, tenacity and toughness to make "something out of nothing."
"We, as Harney County residents, don't need some clown to come in here and stand up for us. This community is hard working. We made something out of nothing here," he said.
"We survived without them before and we'll survive without them when they're gone."
What few jobs do exist are with the government either in the schools or the wildlife refuge itself, and therefore people are temporarily out of work.
The Nation's Zoe Carpenter wrote, "'The lady that cleans the refuge-she's out of a job,' points out a former BLM employee who was playing a lottery game at Central Pastime. 'Everybody's shut down. It's really unfortunate that somebody's agenda is bigger than the whole community.'"
In rural areas around the country, it is often government entities that serve as a local economic engine either through direct government jobs, including the military, schools and postal service, or through services to other sectors like agriculture. Land and the great outdoors also serve as rural job creators.
In other words, you shut down the government by force, you shut down the community.
The Bundys and their kin did not find some modicum of support amongst a population that – in general – has no love for the feds. And that is a great testament to the common sense and basic decency of the people in the area.
Since the 1990s, the federal government's ownership of land has actually decreased, according to a congressional report. Most of it came from the federal Bureau of Land Management's transfers to the Alaskan state government, Native tribes and Native corporations.
If you notice the Bundysdo not mention returning land to Native tribes. Instead Ammon Bundy says their goal is "to get the logger back to logging, the rancher back to ranching."
Or, in other words, private hands, like paper giant Georgia-Pacific, owned by the infamous Koch brothers. (Ask Wisconsin about Koch Industries and their logging and mining operations there.)
In fact, here's my second prediction of 2016: the militiamen will NEVER call for federal land to be returned to Native control.
Let me explain. Whether armed and or unarmed, the "vast right-wing conspiracy," as Hillary Rodham Clinton famously called it, see federal Western lands as a way to make the wealthy wealthier, and not to right a historic wrong or to keep public lands public.
For example, the American Lands Council is a group whose sole mission is to grab Western lands from federal to state control. They are supported by donations from local governments (Republican-run) and from groups like Americans For Prosperity, a Koch-run outfit.
The American Lands Council just issued a statement saying, in part, that they totally support the Hammonds and taking back the land from what they call "federal mismanagement" but not through armed force.
Yet this group is in cahoots with some of the worst of the far-right white supremacist groups, according to an October 2015 human rights report.The report links ALC to anti-Native groups seeking to grab tribal lands and water, mineral and other rights.
Although ALC states it does not seek control over Native lands, its mission is of "general concern to Indian Country," the report states, because states are seen as "often hostile to tribal interests and less committed to upholding treaty obligations than the federal government."
The vast right-wing conspiracy did not conspire too well on the takeover. Seems the Bundys overplayed their hand and now their allies are running for cover. With their Republican billionaire buddies in Washington, D.C., and Donald Trump trumpeting their cause, they thought the Harney County community would rally to their side.
Lucky for the country, the hardworking people of the county have been holding their ground.
Photo: Burns-Paiute tribal chairperson Charlotte Rodrique talks to reporters about the armed occupation of the Malheur refuge. | Manuel Valdes/AP