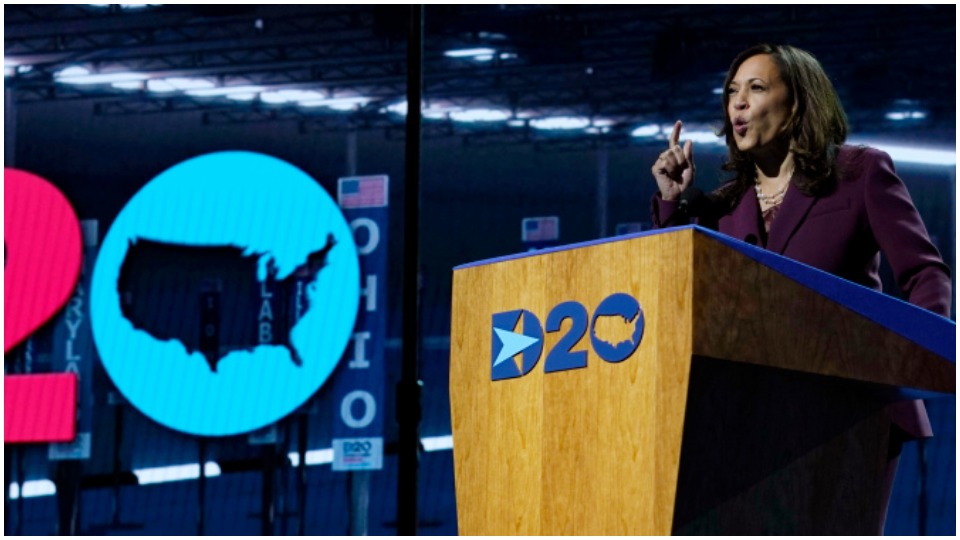 WILMINGTON, Del.—Several big Democratic figures graced television screens for the party's virtual national convention on Wednesday night, but the finale was left to Sen. Kamala Harris, D-Calif. The history-making first Black woman ever on a major-party ticket, Harris used her acceptance of the party's 2020 vice-presidential nomination to introduce her personal story and tie it into that of the country. She also took aim at the current occupant of the White House. "I know a predator when I see one," she said of the Republican.
Harris, also the first South Asian descendant on a major party ticket, combined personal history and praise of the women whose shoulders she stands on—suffrage crusaders and her immigrant mother—with her own critique of Trump.
The daughter of a Jamaican father and an Indian mother told the nation of her own personal history, which exemplified that of the millions of migrants who have come to the U.S. seeking better lives. Her nomination was unopposed.
But her history also exemplified the movement for civil rights and human rights. After all, her father and mother met at a civil rights demonstration in California, and they kept up their campaigning until they split when Harris was five.
"In the streets of Oakland and Berkeley, I got a stroller's-eye view of people getting into what the great John Lewis called 'good trouble,'" campaigning for civil rights and human rights, the senator said. Lewis, a civil rights icon and congressman from Atlanta, died several weeks ago.
And Harris's laudatory words about the suffragists came just a day after the centennial of ratification of the Constitution's 19th Amendment, which extended the right to vote to women. Even then, Harris noted, Black women had to keep fighting for the vote in the Jim Crow South.
Fighting back against a predator
Harris, too, took a shot at Trump, but from a criminal justice perspective, drawing on her stints as San Francisco District Attorney and California Attorney General, before entering the U.S. Senate in 2017.
"I've fought for children and survivors of sexual assault. I've fought against transnational criminal organizations. I took on the biggest banks, and helped take down one of the biggest for-profit colleges," which was cheating its students, before her own slam at Trump: "I know a predator when I see one."
Drawing another contrast with Trump, Harris said Biden and she sees the U.S. "as a beloved community where all are welcome, no matter what we look like, where we come from, or who we love." Those were further critiques of Trump's anti-migrant, anti-Black, anti-Hispanic, and anti-gay tweets, pronouncements, and policies. Trump continued his Twitter tirades, in all caps, especially against Obama, during the two speeches.
"Today…that country feels distant," Harris elaborated. "Donald Trump's failure of leadership has cost lives and livelihoods." And, in an understatement, she added, "What we're doing right now isn't working" to end the coronavirus pandemic.
"We are a nation that's grieving. Grieving the loss of life, the loss of jobs, the loss of opportunities, the loss of normalcy. And yes, the loss of certainty."
The numbers bear her out. As of the morning of Aug. 20, 5.53 million people have tested positive for the coronavirus in the United States since the pandemic was officially declared on March 13, and 173,193 have died.
"And while this virus touches us all, let's be honest, it is not an equal opportunity offender. Black, Latino and Indigenous people are suffering and dying disproportionately." The share of Black and brown dead outstrip their share of the U.S. population, statistics show.
"This is not a coincidence. It is the effect of structural racism."
That racism extends beyond the virus to "inequities in education," technology, reproductive choice—a slam at GOP denial of women's rights—job security, transportation, "excessive use of force by police" and anti-Black bias in the whole criminal justice system.
Drawing the analogy with combatting the virus, Harris declared, "There is no vaccine for racism."
The history Harris cited has driven at least 10% of the country into the streets to demand an end to structural racism. People, including Harris, have peacefully marched and protested since the May 25 Minneapolis police murder of unarmed Black man George Floyd and subsequent murders of Breonna Taylor in Louisville, Ky. Harris name-checked both in her speech.
The Trump response has been troops, often from ICE and the Border Patrol, though not identified, sent to Democratic-run cities, including Portland, Ore., Chicago, St. Louis, Kansas City, and Cleveland, to attack demonstrators.
It also includes D.C., where Trump's troops tear-gassed and fired pepper bullets at peaceful protesters to clear the streets near the White House so Trump could wave a Bible upside down in a photo-op in front of a historic church. Trump's Attorney General, Bill Barr, sent them, or so he said.
The man who named Harris to the #2 ticket slot, presidential nominee Joe Biden Biden, has said he decided to make this run for the White House, his third, after Trump's endorsement of neo-Nazis. Trump called the group, who rioted in Charlottesville, Va., three years ago, killing peaceful counterprotester Heather Heyer and injuring up to 36 others, as "some very good people." That got the usually calm former VP mad.
Biden joined her onstage afterwards, as did the two candidates' respective spouses. The four waved to delegates applauding and flashing signs on camera from their homes around the nation. Biden will give his acceptance speech, from his hometown, Wilmington, Del., to close the convention on Aug. 20.
United message for change
Other speakers hit their own high points during the evening, though none matched Harris or former President Barack Obama who preceded her—decisions that were probably intentional.
Sen. Elizabeth Warren, D-Mass., used her speech to demand universal paid child care for all, with good wages for the child care workers, most of whom are usually Black women, though the senator didn't say so. Drawing on personal history, Warren said she was in despair on the verge of having to quit her first job, teaching kids in elementary school, which she loved, because she could not do that and care for her baby, too.
Warren called her Aunt Bee and broke down. Her aunt's response was to show up at her door two days later "with seven suitcases and a Pekingese named Buddy" to care for the baby while Warren worked. "And she stayed for 16 years." "But not everybody has an Aunt Bee," which is why the U.S. needs well-funded child care, Warren declared.
That child care funding is just one provision of HR6800, the HEROES Act, a central part of House Speaker Nancy Pelosi's address before headliners Obama and Harris.
Like the Protect The Right To Organize Act, the comprehensive pro-worker labor law reform bill, HR6800 is among the 405 bills the Democratic-run House has OKd under her leadership, which were then killed by Senate Majority Leader Mitch McConnell, R-Ky. He refuses to allow debate on any of them, much less votes.
"Who's standing up for you, and who's standing in the way?" Pelosi asked of such a Republican record. "Mitch McConnell and Donald Trump. "So here's our answer: We will remember in November."
"Let's get rid of Donald Trump's heartlessness."
Election Day is November 3.