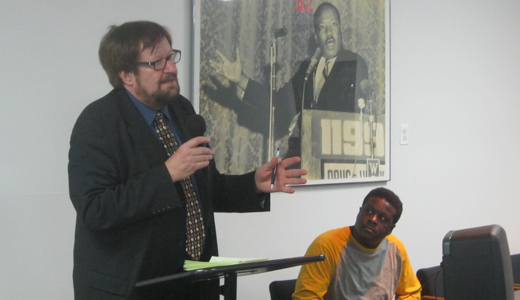 HARTFORD, Conn. – Big changes require big struggles, and "May Day 2016 — Fighting for Our Future" set a powerful and inspiring framework for the labor battles and elections this year.
An enthusiastic and diverse crowd at the King Davis Labor Center in Hartford on May 1 gave a standing ovation to People's World editor John Wojcik, whose eloquent and hard-hitting speech quoted extensively from Albert Parsons' last statement made in 1886 before being hanged on a frame-up charge. He had been accused of murder following a huge rally for the eight-hour work day in Chicago's Haymarket Square.
Parsons used his statement to expose the corporate-owned media for trying to discredit the workers' movement by creating hysteria around the lie that he threw a bomb at a time and place where he was not even present. Wojcik made the connection to the role of the mass media today in promoting the interests of giant corporations and politicians like Donald Trump, emphasizing the great need and role of the People's World to tell the workers' side of the story.
"In today's battle for what we believe and what we know is right, unity and resolve are very important," said Wojcik quoting Albert Parsons, "The people will not be deceived."
The annual People's World celebration included a panel discussion which called upon the Connecticut state legislature to reject an austerity budget with layoffs and cuts in public services and instead increase taxes on the top 1 percent. A large scroll petition signed by all present was delivered to the speaker of the house the next day.
Tom Connolly, vice president of CSEA Retirees and a member of Better Choices for Connecticut, listed specific choices that could bring in revenue and create savings as an alternative to a budget "that hurts working people and poor people." He concluded with a quote from Martin Luther King, Jr.: "Never adjust to economic conditions that take necessities from the many to give luxuries to the few."
Although the austerity budget was not passed that week, the legislature did pass the budget in special session soon after. Next steps in this struggle are now being planned.
Ciro Gutierrez, a building cleaner and member-leader of SEIU 32 BJ who came to the United States from Peru for a better life, exemplified the international struggle for workers' rights, citing the struggle for the eight-hour work day which was won in Peru in 1918. Speaking of the hardships of income inequality on workers today, he upheld the Fight for $15 minimum wage victory in New York state and called for making this an issue in the 2016 presidential election as part of the effort to defeat Donald Trump. He also urged support for a Janitor's Bill of Rights, and for inclusion of security guards under the Fair Labor Standards Act.
Panelist Alexandra Marks, a New Haven high school student, received a standing ovation after presenting the work of the YCL and New Elm City Dream in the Jobs for Youth-Jobs for All campaign. She presented a slide show of all the marches, rallies and actions held since 2011, emphasizing that in a survey they took, 85 percent of youth said jobs would reduce violence. Among the victories won is funding to re-open the Q House, a community center in the African American community that had been closed for a decade. "We are fighting on!" she said, calling for participation in the Yale Unions' rally on May 5 for job security.
A slide show, "May Day Around the World," depicted common workers' struggles on every continent. It focused on countries in Latin America, where unions, peasant organizations and indigenous people are defending popular governments against corporate right wing attacks; and in Europe, where workers and young people are battling years of austerity imposed by the German and other powerful bankers.
Also highlighted were the low-wage workers' April 14 demonstrations for decent pay and work schedules, taking place in dozens of countries and in 320 cities in the U.S., including Hartford.
The concluding message was that, as workers around the world confront similar conditions, "this same globalization also gives rise to international solidarity, as it becomes clear everywhere that multinational capital is our common enemy. The international solidarity we have seen this May Day gives us hope for the future. Workers of the world, unite!"
"I loved the slide show because it let me know that what we are facing is not just here, and that there are people like us organizing for change everywhere," said a 14-year-old YCLer.
In his remarks opening the panel, SEIU 32 BJ leader Alberto Bernardez captured the essence of May Day when he paid tribute to low wage workers forced to work multiple jobs today, "worked to death by corporations who only give employees a few hours work each week so they don't have to pay healthcare." These workers, said Bernardez, are continuing the international struggle for workers' rights, dignity and peace, called for when the holiday was established 130 years ago.
Prior to the event, Wojcik spent several days touring Connecticut, where he attended Workers' Memorial Day and met with union and community leaders and elected officials, including a round table discussion with five members of the New Haven Board of Alders who are also union members and leaders in their unions..
Photo: Editor John Wojcik speaks at People's World "Fighting for Our Future" May Day rally in Hartford, Conn. Art Perlo | PW