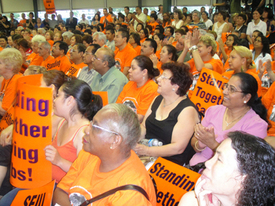 DES PLAINES, Ill. — In an unprecedented display of hope, struggle and unity, more than 600 workers at the Hart Schaffner & Marx factory here joined with union leaders and elected officials in a rally June 29 to celebrate a major victory that will save nearly 4,000 jobs nationwide and keep the Chicago-based company open for business.
"I feel great," said Ruby Sims, president of Local 39 of Workers United, an affiliate of the Service Employees International Union, which represents the Hartmarx workers. Sims has worked at Hartmarx for 32 years. "We finally got a buyer approved by a judge and now we will be able to work and keep our jobs," she said.
"Now we can hold our heads high because there is a light at the end of the tunnel, especially for people who have been working here for decades," she said. "This factory is like home away from home to many of us. Workers everywhere need to be organized and during times like these it's good to know your brothers and sisters in the union got your back."
Joe Scalise, originally from Italy, is president of Workers United Local 61 and has been employed at Hartmarx for 42 years. "The last six months have been very scary for many of us here," he said. "Everybody was worried about losing their jobs, but now we are all very happy and excited." Scalise continued, "Now we can go back to our members and let them know that our jobs are secure. When we stick together and stand behind our union and fight, we know we can achieve victory."
Hartmarx Corp. is a major Chicago men's suit manufacturer that has been in business since 1872. The company has plants here and in Rock Island, Ill., as well as a warehouse in Indiana. Hartmarx also employs more than 450 at the Hickey-Freeman factory in Rochester, N.Y.
The company is the largest maker of men's tailored clothing and one of, if not the only, men's topcoat manufacturer in North America. The business has become known for making suits worn by President Barack Obama. Obama wore one of the company's tuxedos at his inauguration.
The company filed for Chapter 11 bankruptcy protection in January after its main creditor, Wells Fargo, a $25 billion recipient of federal bailout money, reduced credit to the business. The bank preferred to liquidate Hartmarx rather than restructure and continue operations.
The workers in Des Plaines and Rochester voted unanimously in May to occupy their factories if the bank sold the company to new owners who wanted to shut it down.
Now, Hartmarx Corp. will stay open as a result of an agreement through bankruptcy court that will allow an acquisition by British equity firm Emiresque Brands and its partner SKNL North America. The new owners will finalize the deal July 7 and plan to keep the business operating.
"It's a great day when I can look at the workers here whose faces have changed from despair to hope," said Jorge Ramirez, secretary-treasurer of the Chicago Federation of Labor. "This is not only a victory for the workers but also a victory for the entire community," he said. "These hard working men and women were not looking for a bailout, they just wanted to keep their jobs. Their victory is a beacon of hope and a model for future union battles."
Noel Beasley, manager of the Chicago-Midwest Regional Joint Board and executive vice president of Workers United told the crowd, "We have gone from 'yes we can' to 'yes we did!" Beasley said the Hartmarx struggle was in large part due to the example of the Republic Windows and Doors workers who occupied their Chicago factory last winter and won a major victory. "The workers at Hartmarx picked up the gauntlet and stood up to Wells Fargo and promised to sit in if they didn't back off," said Beasley.
Illinois State Treasurer Alexi Giannoulias congratulated the Hartmarx workers, saying, "We are sending a strong message that saving our economy is a two-way street. The hard working people here at Hartmarx are a testament to the American spirit."
"You are my heroes," he said.
Reps. Jan Schakowsky and Phil Hare, both Illinois Democrats, addressed the workers.
Hare spent 13 years cutting linings for men's suits at the Rock Island plant and said the suit he was wearing was made at Hartmarx. One of the proudest moments of his tenure in Congress is coming here and knowing the good, decent men and women and their families are going to have their jobs and their health care, he said. "I can't thank you enough for your courage and your strength."
Schakowsky said that when her great aunt migrated from Russia decades ago she worked at Hartmarx. Her aunt was one of the women who walked out on the job back then for her basic rights and helped formed the union there.
"Clearly many of you today have come from all parts of the world to work hard and support your families," Schakowsky said. "My heart is overflowing with pride and gratitude. You have sent a positive message of victory to workers all over the country that when you stand together, you win. And you won."
plozano @ pww.org