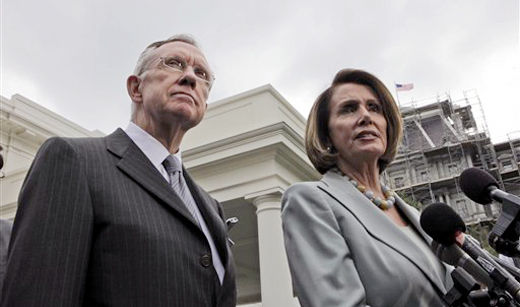 Senate Democrats yesterday came close to, but then backed off from, unveiling an $85 billion dollar "bipartisan" jobs bill that contains many planks drawn up by their Republican colleagues.
Among the Republican planks in the draft are payroll tax breaks for employers who create new jobs and a variety of measures to aid small businesses.
The draft Democratic Senate Majority Leader Harry Reid said was ready for debate and a vote by the end of this week includes ideas inserted by Republican Sens. Orrin Hatch (Utah) and Charles Grassley (Iowa), both of whom participated in the negotiations..
Republican lawmakers, despite that participation, said they were not ready for a "quick" vote. Hatch and Grassley warned that even they would vote against the bill if other Republicans did not support it. The Republican stalling makes it likely that no action will be taken until Congress returns Feb. 22 after a President's Day recess.
The GOP tactic of participating heavily in negotiating a bill and then walking away and voting against the legislation they helped draft is a repeat of how it handled the health care debate last year. Hatch and Grassley were also involved then. Despite the joblessness crisis, the GOP seems to only play games with legislation.
The compromise measure the GOP is now stalling is missing key components of the jobs bill that has been passed in the House. It does not include additional funds for states or stimulus money for infrastructure that the House bill has.
The compromise does include, however, a three-month extension of unemployment insurance and aid to help unemployed workers buy insurance from their former employers.
Labor and its allies have described the bill emerging in Congress as inadequate and have called for massive jobs programs to rebuild infrastructure, and beef up public services, among other things. Progressive economists have called for solutions along the lines of the massive public works programs instituted during the Great Depression of the 1930s.
Amazingly, Reid is trying to build additional support in the Senate and says he is "making progress" in negotiating with GOP leaders. Plus, the GOP doesn't want Democrats getting too much credit for any legislation that may alleviate the crisis. "Democrats shouldn't advertise the package as jobs legislation," said Republican Sen. Jon Kyl, "because it's just extending a bunch of tax policy and related items that we need to do."
There are reports, meanwhile, that House Speaker Pelosi was not happy with the emphasis on business tax cuts at the recent meeting with lawmakers at the White House. At that gathering the administration's economic advisers Christina Romer and Larry Summers defended the proposal to give employers a $5,000 credit for each new worker they hire as well as help with Social Security taxes. Various sources have told the press that Pelosi countered that "no one" she's "consulted with believes that the [Senate] plan will actually lead to the creation of new jobs."
Photo: Senate Majority Leader Harry Reid and House Speaker Nancy Pelosi. Pablo Martinez Monsivais/AP