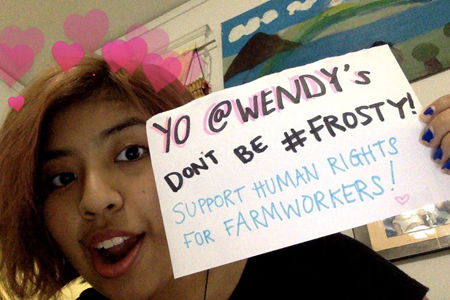 Across the country, storefronts are filling up with red hearts, chocolates, and roses. And, of course, the fast food chain Wendy's isn't missing out on the advertising hook, inviting couples to celebrate their romance with an ice-cold frosty or a square burger.
But of the largest fast food corporations in the country, Wendy's alone is the only one that has refused to join the Fair Food Program.
Meanwhile, ever creative in its own right, the Fair Food Nation is crafting its own colorful Valentines message for the reluctant object of its affection. But rather sending a love note, Fair Food activists are sending Wendy's a clear call to action: Stop breaking our hearts, Wendy's! Join theFair Food Program!
To make sure that message is heard from coast to coast, we need your help! In addition to the time-honored traditions of hand-delivering a manager letter or putting in a call to Wendy's headquarters, there are many creative ways to join the fun for this weekend's Valentine's Day Weekend of Action, both on and offline.
Here are just a few ideas for taking action from the Alliance for Fair Food website:
♥ Write a Valentine's Day-themed message on a piece of paper to Wendy's about joining the Fair Food Program and #FairFoodNation
♥ Take a selfie or a group photo with your message
♥ Email your photo to organize@allianceforfairfood.org with your name and/or Twitter handle OR post it onto the comments section of this Facebook Event.
Tweet at Wendy's:
@FairFoodProgram!
#HappyVDay, @Wendys! Don't be #frosty & join the @FairFoodProgram! Farmworkers #EarnedIt!
@Wendys, the #FairFoodNation calls on you to find your heart this #VDay! Join @FairFoodProgram!
Hey @Wendys! We can't be together until you get with the @FairFoodProgram!
The Alliance for Fair Food is a national network of people working in partnership with the Coalition of Immokalee Workers for farmworker justice.
Photo: Take a Wendy's #selfie.