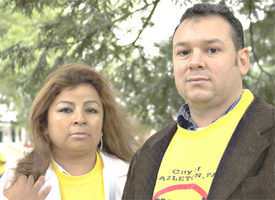 HAZLETON, Pa. — Since the end of the 19th century, when workers from eastern Europe flocked to this area to work in the coal mines, Hazleton has been a city of immigrant workers. These workers joined the Mine Workers Union and the area was the site of great labor struggles. This included the 150,000-strong strike of 1902 where President Theodore Roosevelt wanted to intervene but was forced to call a meeting between the union, companies and government officials, effectively recognizing the union. (The 1970 film based on the struggles of the Irish coal miners, "The Molly Maguires," was filmed a few miles away.)
After the five-month-long strike ended, a government commission investigated the conditions of the immigrant coal miners. The famous civil liberties and labor lawyer Clarence Darrow represented the immigrant workers. George Baer, president of the Philadelphia and Reading Railroad, representing the employers in the commission's hearings, callously proclaimed that the immigrants coal miners "don't suffer."
"Why hell," he said, "half of them don't speak English."
Back to the future
One does not have to imagine what the immigrants of the 1902 thought when they heard about Baer's comments. We can be sure it is similar to what today's immigrants are thinking in Hazleton after the mayor proposed and the City Council majority passed an ordinance that would criminalize undocumented immigrants and anyone who does any business with them. The ordinance also makes English the "official language" of the city and prohibits the use of any other language for city business.
Rudy Espinal, originally from the Dominican Republic, and his Colombian wife decided to try to make a fresh start in Hazleton five years ago after the bread company he worked for in New York laid off people following the terrorist attack on Sept. 11, 2001.
Espinal was able to start a small business. He knew the area because "I've had family here since 1995 and we would come to visit.
"They claim they did not make the ordinance thinking of any particular peoples," he said, his voice trailing off as though he couldn't bring himself to state what many are saying is obvious — that the ordinance is directed at all Latin American residents of Hazleton and not just the undocumented immigrants.
More than cash, credit to buy
When members of Espinal's family moved to Hazleton, the number of Latinos was small compared to today. The 2000 Census showed Hispanics making up 4.5 percent of the population in this central Pennsylvania city. Today it is estimated that Latinos constitute 30 percent of a city that has grown from 23,000 in 2000 to over 30,000 today.
"This is the first time in the history of the country that you need more than money to just buy something," complained Espinal, who fills out income tax returns and sells real estate. "If you go to any part of the United States, all you need is cash or credit to buy something. If you need to buy gasoline here, you will need to show identification just because you are in Hazleton."
Espinal said the ordinance "is making many people leave town, people who have done nothing wrong who are being treated like criminals" because of an inhospitable climate. "Yet the quality of life is better here now" because of the immigrants in the area, his wife added.
Immigrants – good for community
Father John Ruth, a priest at St. Gabriel's Church, was sent to Hazleton to minister to the growing Spanish-speaking Catholic population in the city by Scranton Catholic Diocese Bishop Joseph Martino. (Martino, coincidentally, was saying mass in Scranton in Italian as part of La Festa Italiana held there during the Labor Day weekend, as Latinos from Hazleton and elsewhere were protesting the anti-immigrant ordinance.) The bishop "was here in the city recently to show his solidarity with the Latinos," Ruth emphasized.
Ruth took issue with the thinking of some that business losses were good because it meant that the undocumented were leaving.
"I was in a store just a month ago and the owner told me that his customers were leaving. The ultimate eventuality is it's going to hurt the community, it can only hurt the city, taxes will suffer. This is not a winning situation."
A Mexican business owner noted that the city had been in an economic slump until Latinos, like himself, started opening stores, auto repair and other businesses in what has now become know as the Latino business district.
"There are over 100 new businesses here," he said. "My store was the fourth Hispanic business here." He added that the anti-immigrant ordinance is making the city look bad, noting that press from as far as Japan have been coming to interview people here. The Hazleton Hispanic Business Association, to which this business owner belongs, is party to a federal suit against the city initiated by the Puerto Rican Legal Defense and Educational Fund and the ACLU.
Bringing life to a dying town
Bienvenida Piña looked out over the streets in front of her home. "When I came to this town, one could park anywhere because the streets were empty of cars. Today the streets are crowded in the evening after work," she said.
Piña, who came to the U.S. as an undocumented immigrant herself but is now a U.S. citizen, said that the new wave of Latino immigrants in the city has helped develop it economically. "When I came here a house [like mine] could be bought for $25,000. Now they cost $70,000.
"And who is it who are buying the houses?" she asked rhetorically. New home "construction is taking place in the mountains" outside of Hazleton, she said, pointing to the hills as she spoke.
Piña noted that while living in Puerto Rico she learned a saying from the people of that Caribbean nation dominated by the U.S. as a colony. "Puerto Ricans say, 'And your grandma? Where is she?'" to highlight the multiracial character of the Puerto Rican nation.
"Here in this town we have to ask, where is your grandmother? Because here these [Americans] with blue eyes are from Poland, are from Italy, are from who knows where, and I'm Dominican. But our blood is the same [color] as theirs. We are both citizens. We are all immigrants."
Like others interviewed, Piña agrees to deporting "people who are proven to have committed crimes, but not a working person who gets up early in the morning to go to work, to go study. These are the people who develop a town. The undocumented buy rice, buy beans, take their clothing to the laundry, pay for gas, water, electricity and pay taxes."
Piña said that there has been a rise in police presence from the time she arrived in town. "When I came here, you hardly saw a police car pass. Now you see police cars all the time, as though people were criminals." Piña, who is a packing house worker, said people were coming to Hazleton to work. She ended asking, "What do they want? To live in the backwardness they had before? Remember that we are all immigrants. What country did your grandma come from?"
Migrating from New York City
Milton Rivera, who is also Dominican, echoed what others are saying. He also came because in New York City "it's too difficult to live with high rents, high car insurance" for a factory worker like himself. "People who come to work, to find a better life for their families should be supported instead of trying to get rid of them," he said, while pointing out that many families are "moving to nearby towns" or returning to New York. And it's not just the undocumented, he added. Despite this, "there are still people arriving daily," he said.
One of these is Luz Cabrera. She left the Washington Heights area of New York City and "came to live here because people told me it was an easier place to raise children. However, after coming here I found there is a lot of discrimination against Hispanics. We have not come here to cause harm, but to work and have a better life."
Cabrera said that while she knew people were fighting the ordinance, she was "too busy with looking for work and getting my kids into school to pay attention to the news or to be part of the community groups."
Not everyone who has recently come to Hazleton is from the East Coast. María Delgado, originally from Honduras, who moved to Hazleton five years ago from Los Angeles, said she was dumbfounded by the recent events against immigrants. "I don't know what moves them" to pass such an ordinance, she said.
Julio Alberto, from El Salvador, who came to Hazleton eight years ago because this is where his sister-in-law is from, thinks the motive for the ordinance is "[Mayor Louis] Barletta wants to win the election and wants to win the American vote." If true, the mayor may be acting contrary to his own political interest, since the Latino organizations in Hazleton are united in registering new Hispanic voters, according to local community leader Dr. Agapito Lopez.
Forward motion
Railroad baron George Baer may no longer be among the living, but from the looks of it, it seems as though his chauvinistic spirit still roams the hills of and is being channeled by Mayor Barletta and the majority of the City Council. Nevertheless, as María Delgado told this writer, "We need to support one another. We need to go forward and not take even one step backwards."
José A. Cruz (jacruz@pww.org) is editor of Nuestro Mundo, the Spanish-language pages of the People's Weekly World.