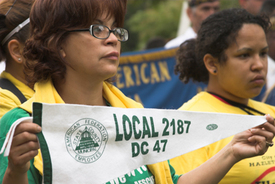 HAZLETON, Pa. — Several hundred Pennsylvanians joined local residents in a Sept. 3 rally here organized by labor, Latino and religious groups to oppose a city ordinance that would make it illegal to sell goods or services to, rent to, hire or aid undocumented immigrants.
The ordinance, which has drawn international attention for its harsh anti-immigrant provisions, would also make English the "official language." It would all city business to be conducted in English, making it difficult for non-English-speaking residents, including citizens, to get city-provided services.
The rally in the city's Memorial Park, characterized as a "prayer vigil" by Latino community leader Dr. Agapito Lopez, came two days after the city agreed to delay implementation of the ordinance because of a lawsuit filed in federal court by the Puerto Rican Legal Defense and Educational Fund, the American Civil Liberties Union and others.
Anna Arias, who heads the Hazleton Area Latino Association and, along with Lopez, sits on the Governor's Advisory Commission on Latino Affairs, told the crowd that the goal of the area's Hispanic residents in seeking to defeat the ordinance is to build "one community" and to heal the divisions the ordinance has caused.
The Rev. Miguel Rivera, head of the National Coalition of Latino Clergy and Christian Leaders, said in Spanish: "We want to send a message of peace, but we don't want to send a mistaken message to the city officials. Just because we come in clerical garb … does not mean that we are going to permit injustice against our people, our brothers."
Rivera told the protesters that the rally seemed like "heaven" compared to a protest march through Riverside, N.J., two weeks prior, which he described as "hell" because opponents of immigrant rights lined the march route and pelted marchers with eggs and tomatoes. Riverside, which passed an ordinance similar to Hazleton's, is also being sued in federal court by local residents, Rivera's organization and a local church.
The Hazleton rally was originally slated to be a march to City Hall but that was changed because of rumors there would be a Ku Klux Klan counter-demonstration. While the KKK failed to show, there was one local resident who provocatively circled the park and at one point yelled epithets at the protesters. The KKK did hold an anti-immigrant rally of 30 in Gettysburg, about 100 miles southwest of Hazleton, which was overshadowed by 200 counter-demonstrators.
The Hazleton suit filed by the PRLDEF and ACLU argues that the Hazleton ordinance is unconstitutional in at least three respects: immigration is a federal matter, not a state or local one; the "English only" provision violates free speech; and the burdensome requirements on business and property owners to comply with the ordinance is a violation of their right to due process.
The suit, filed in the U.S. district court in Scranton on behalf of 11 Hazleton residents and business owners and four organizations, also notes that under the ordinance "some immigrants whose status may be unresolved are deemed to be 'illegal aliens' in Hazleton," even though these immigrants are "lawfully in this country under federal law."
Further, the suit argues, businesses may have to use "improper gauges such as color of skin and foreign accents" to determine whether they can conduct business with someone, facing businesses and landlords with the option of violating state and federal anti-discrimination laws or the ordinance.
Two plaintiffs in the suit, Pedro Lozano and Humberto Hernandez, say they have lost tenants because of the ordinance. They also say they have no way of determining whether an individual is an "illegal alien." Because of this, they could unknowingly rent to someone in violation of the ordinance and thus be fined more than $1,000 a day and lose their business licenses for five years.
Hazleton, formerly a coal mining and textile town, is located about 100 miles northwest of Philadelphia. It has enjoyed an economic resurgence in the last five years with the arrival of new immigrants who have set up businesses there. Its population is around 30,000.