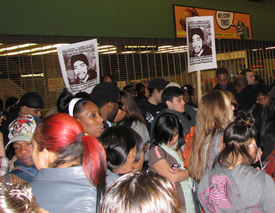 OAKLAND, Calif. — In the wake of the shooting of unarmed Oscar Grant III, 22, by Bay Area Rapid Transit policeman Johannes Mehserle early New Years morning, a broad movement is growing for far greater citizen involvement in reviewing and determining police department policies.
Grant, a resident of nearby Hayward, was returning home with friends after watching New Years Eve fireworks in San Francisco. The shooting, said to have followed a scuffle on a BART train, took place as Grant, an African American, lay face down on the Fruitvale BART station platform, surrounded by police. Videos taken by witnesses show several young men sitting on the platform, not apparently resisting. Grant appears to be cooperating before two officers push him face down, followed by the shooting. Grant died several hours later.
Speaking last week on radio station KPFA, Dereca Blackmon, co-founder of the newly formed Coalition Against Police Executions, described the scene: "Our understanding is that the BART police were not present when the alleged altercation happened on the train. The train doors opened, they went in and just grabbed random individuals, accosted them, threw them against the wall. Oscar Grant pleaded for his safety and the safety of others around him and ultimately lost his life in trying to cooperate. The video clearly shows him with his hands in the air and reports say he was pleading not to be tasered before he was shot. He spoke of his four-year-old daughter and asked for mercy and he was given none."
Though in the days after the shooting, BART's management and Board of Directors were sharply criticized for responding too slowly, the board held three public hearings between Jan. 8 and Jan. 12.
Addressing the BART Board Jan. 12, Tracie Cooper, whose 22-year-old son was with Grant on the platform and witnessed his murder, demanded that all the officers involved be held accountable. "We always taught our children to submit in any encounter with police," she said, "and that's exactly what they did. They submitted to them, and one of our children was killed, murdered by a police officer. I don't think it's just that one police officer who was responsible, it was the whole team."
Speaking later with reporters, Cooper said Grant, her son and the other young men "were like brothers." They had grown up together, she said, going to the same schools, playing baseball together, vacationing together with their families. Now, she said, her son and the others are suffering from post traumatic stress disorder. "They were in a war. They were held against their will and had to watch their best friend be executed." Though she and her son are very close, she said, she can't get him to talk with her. "He's very angry. He can't understand why this happened."
Cooper said after their initial interrogation on the train platform, none have been contacted by BART or by Alameda County District Attorney Tom Orloff.
Ignoring community pressure to file charges promptly against Mehserle, Orloff initially claimed he would need two weeks to build "an air tight case." After BART police presented him their report this week, he said he might move more quickly. But Mehserle, who resigned from the force last week without making an administrative statement, was arrested Jan. 13 in Nevada on suspicion of murder.
At its Jan. 12 hearing, the BART Board announced it is establishing a four-member police review committee, headed by BART Director Carole Ward Allen, whose district includes the Fruitvale BART station.
At press time, CAPE was working with clergy and other community leaders to prepare for a national day of nonviolent action Jan. 14, with rallies in 13 communities including Oakland, with the theme, "Praying for peace, working for justice." Blackmon told a Jan. 13 press conference the Oakland demonstration was "in solidarity with a police accountability movement that has sprung up all over the country, as a result of a long history of police oppression in this country." Among demands are Mehserle's arrest, suspension of the other officers involved and establishment of a citizen's police review board.
Blackmon said the Oakland organizers have had "an enormous response" from around the country and the world. "There are Oscar Grants all over this country, and we stand in solidarity with all the mothers and families that have lost their children in unjust police actions. We want accountability for all police forces around the country."
Among community leaders pressing for charges against the BART officer and involvement of the state attorney general or the U.S. attorney's office is Alameda County Supervisor Keith Carson. Carson, who has called the killing "an execution," said it is also essential to work out a "community-engaged process around public safety and law enforcement."
Also last week, two San Francisco-based state legislators, Sen. Leland Yee and Assemblyman Tom Ammiano, said they would immediately introduce legislation to ensure an independent oversight body is established for BART. "Complaints and grievances against BART police officers have been investigated and adjudicated internally without any independent review," they said. "This is a classic case of the fox guarding the hen house."
mbechtel@pww.org