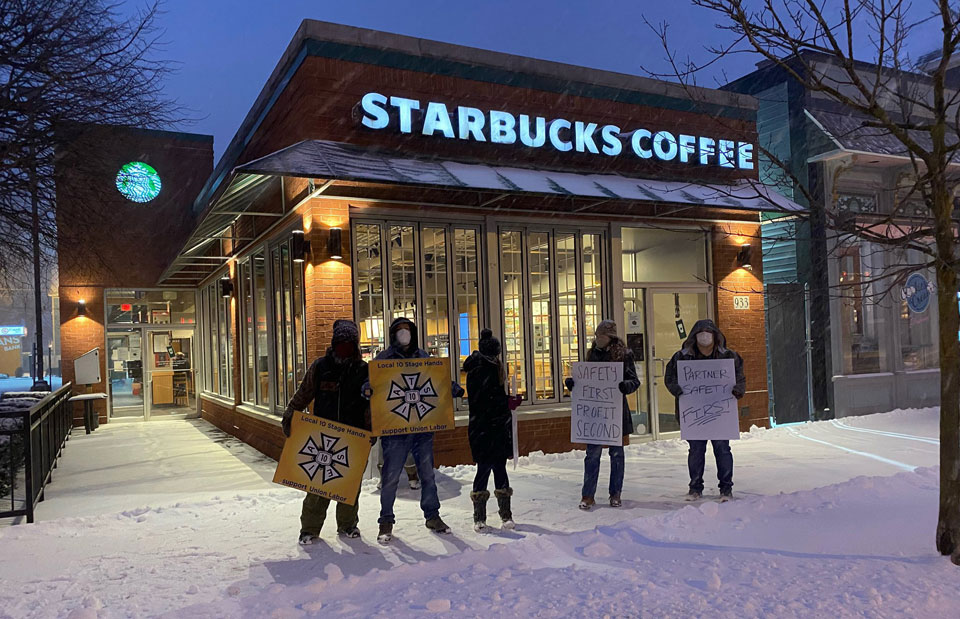 WASHINGTON—The head honchos at more than one-third of the nation's lowest-paying firms—including Amazon, Maximus, and Starbucks, which are battling unionization drives—jacked up their own total compensation, right in the middle of the coronavirus pandemic, a new report says.
Executive Excess 2022 by the Institute for Policy Studies (IPS) reveals the gap between those rich CEOs and the rest of us is even wider at the low-wage companies than it is overall. It was 670-1 at those firms in 2021, up from 604-1 in 2020. By comparison, the 2021 pay ratio for all CEOs at Fortune 500 firms was 299-1, the AFL-CIO Executive Paywatch says.
Even worse, IPS reported, in 49 of the 300 lowest-paying firms, the ratio of CEO compensation to worker pay was more than 1,000-1. In 69, CEO compensation rose while median nominal worker pay, not adjusted for inflation, fell.
"The conventional wisdom holds low-wage workers benefited economically during the pandemic. But despite all this pay-increase buzz," 106 of the 300 lowest-wage firms did not have their workers' paychecks keep pace with last year's 4.7% inflation, IPS reported.
"By contrast, at the corporate top end, CEO pay last year soared 31% to an average $10.6 million at these same 300 low-wage firms."
The widest gap between a boss and his workers occurred at—where else?—Amazon.
CEO Andy Jassy—successor to Jeff Bezos, who still owns the monster warehouser and retailer—garnered $212.7 million in 2021, 6,474 times the median take-home pay of Amazon workers, $32,855.
That Amazon workers' median is the point where half the workers are above and half below. But the half who are below are so far below that the independent Amazon Labor Union (ALU) in New York won a unionization vote at the firm's LD8 warehouse on Staten Island, despite rampant and expensive company labor law-breaking.
ALU is campaigning to organize other Staten Island warehouses, while another new independent union has launched an organizing drive at the Amazon warehouse in Raleigh-Durham, N.C.
Further, the Retail, Wholesale and Department Store Union (RWSDU) continues to fight rampant Amazon labor law-breaking, aided and abetted by an expensive union-buster, at the firm's giant warehouse in Bessemer, Ala. The law-breaking cost RWDSU recognition election wins there in both 2021 and this year.
Starbucks CEO Howard Schultz received $20.425 million in compensation last year, IPS reported. That was 1,579 times the median pay of Starbucks workers. Workers United is helping an intensive grass-roots organizing drive by Starbucks workers from coast to coast, which has now reached more than 300 stores.
In addition to union-busting—which hasn't worked—Starbucks just declared the ultimate in retaliation: Closing the first unionized store in the college town of Ithaca, N.Y. Workers United filed a labor law-breaking (unfair labor practices) complaint against it with the National Labor Relations Board.
Amazon and Maximus, which is battling the Communications Workers organizing drive at its call centers in Alabama and Mississippi, also share another characteristic besides high ratios of CEO pay to worker pay: We, the taxpayers, subsidize such executive excess through federal contracts. They aren't the only firms that get such handouts, just the two largest.
In feeding from the federal trough, Maximus boss Bruce Caswell beats Amazon's Jassy: Caswell's pay is less (7.9 million), as is the ratio compared to his workers (208-1). But the firm's earnings from the feds i.e. from us is more: $12.3 billion over the last 42 months. That beats Amazon ($10.33 billion) among the 300 firms which short their workers the most.
The report, produced by longtime labor writer Sam Pizzigati and colleagues Sarah Anderson and Brian Wakamo, calls for a cap on CEO pay and especially, with conditions, on CEO pay to firms with federal contracts. It also recommends a ban on stock buybacks and other tactics honchos use to enrich themselves. The government banned quick CEO stock buybacks until 1982, IPS notes.
"President (Joe)  Biden could leverage the power of the public purse against outrageous CEO compensation by making it hard for corporations with huge pay gaps to land lucrative government contracts," IPS recommends. "The Patriotic Corporations Act could serve as a model."
That measure, HR4186 by Reps. Jan Schakowsky and Danny Davis, both D-Ill., "would grant preferential treatment in contracting to firms with pay ratios of 100 to 1 or less, among other benchmarks, including neutrality in union organizing," IPS says.
Schakowsky has introduced that legislation, or a variation of it, for more than 14 years. It's gone nowhere, despite the majority of public support, which IPS reported.
"We cannot continue to burden U.S. taxpayers with the subsidization of corporations whose practices are dangerous or unjust," Schakowsky said in reintroducing it last year for this Congress. "We deserve employers who exercise just behavior and whose actions will move the country forward.
"The privilege of receiving taxpayer dollars should go to companies that are helping to build and strengthen this country, not the ones whose behavior is harmful to U.S. society or the planet."
IPS also recommends taxing excessive corporate pay, as San Francisco and Portland, Ore., now do. San Francisco is a major corporate headquarters, while Portland is home to Nike's corporate offices. Nike is on the low-pay list, with CEO compensation of $32.9 million—fifth-highest among the 300—and a CEO-worker pay ratio of 913-1.
IPS said federal legislation imposing an excessive pay tax "came into play during the Build Back Better" negotiations on Democratic President Biden's expansion of the social safety net. But a Senate Republican filibuster threat prevented even the start of debate on the BBB.
"Higher tax rates on companies with wide CEO-worker pay gaps create an incentive to both rein in executive pay and lift up worker wages, all while generating significant new capital for vital public investments," IPS's Pizzigati, Wakamo, and Anderson say in their report.
Besides Amazon and Maximus, the report on high pay for CEOs of low-wage firms also includes others noted for their hostility to workers and unions. Those include, but are not necessarily limited to: Walmart (CEO compensation of $25.67 million, #9 among the 300, and a 1,013-1 CEO-to-worker compensation ratio), McDonald's ($20 million, 2,251-1), Dollar General ($16.62 million, 935-1) and Darden Restaurants ($10.13 million, 567-1). McDonald's was one of at least 13 fast food firms on the lowest-paying 300 list.
Another notable firm on the high CEO compensation-lowest worker pay list is XPO Logistics. Its former CEO, Trumpite Postmaster General Louis DeJoy, awarded his old firm a $120 million federal contract last August. His successor, Bradley Jacobs, received $22.04 million in compensation in 2021, 486 times XPO's median worker's pay.
And the new CEO at Mondelez International, Dirk van de Put, got $16.13 million in compensation, 520 times that of a Mondelez worker.
His predecessor, Irene Rosenfeld, became infamous for throwing hundreds of Bakery Confectionery and Tobacco Workers and Grain Millers members out of jobs by moving an Oreo cookie production line from Chicago's South Side to Monterrey, Mexico.
Rosenfeld moved the machines, minus people, to Monterrey, to increase profits and because the Chicago workers wouldn't accept a contract that reduced pay and pensions to Mexican levels. The bad publicity helped crater Mondelez's profits, leading to her retirement after an 11-year stint in the firm's top spot.
The entire report is here.