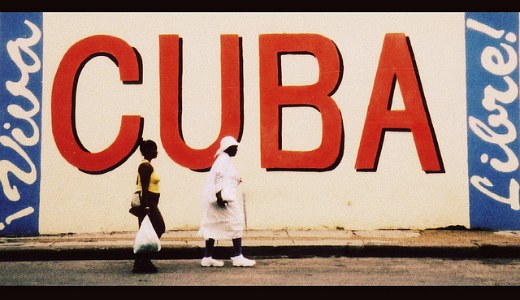 For most Americans, visiting Cuba is inconceivable. Not so for travelers from the rest of the world. The Caribbean country's stunning beaches, colonial architecture, vintage cars, and vibrant musical culture attract more than 2 million tourists a year from Europe, Latin America and elsewhere.
Indeed, until the Cuban Revolution and Washington's decision to isolate the country, Cuba was a top destination for American tourists. The island, after all, is close enough that 61-year-old endurance swimmer Diana Nyad plans to swim a 103-mile route from Cuba to Florida as soon as sea conditions appear optimal.
Yet, for more than five decades it has been off-limits to most U.S. tourists because of the economic embargo and travel ban, the two outdated policies that dominate U.S.-Cuban relations.
You need not brave the sharks that populate the Straits of Florida to go to Cuba, however. The Obama administration loosened the longstanding restrictions on travel to the country last year, enabling Americans with relatives in Cuba to travel there as often as they wish or send as much money to their Cuban relatives as they'd like.
Earlier this year, the regulations changed again. For the first time since 2005, any U.S. citizen can travel to Cuba – provided he or she is part of an authorized program with a license from the Treasury Department's Office of Foreign Assets Control. No longer do you need to be part of an official research project to experience this fascinating country.
So far, the agency has granted fewer than 10 organizations expanded licenses to bring U.S. citizens to Cuba. Even so, Rep. Mario Diaz-Balart (R-FL) introduced an amendment that would reduce even Cuban Americans' ability to travel to Cuba. The amendment passed out of committee and has support from many other pro-embargo stalwarts in Congress.
Why do the new regulations have embargo supporters quaking in their boots?
Behind the travel ban, which most scholars consider unconstitutional in the first place, is the belief that dialogue between U.S. and Cuban citizens would diminish the American will to continue punishing Cuba with a full embargo. But the Cold War is long over and Cuba isn't a threat to American national security. Furthermore, public opinion polls indicate that the overwhelming majority of Americans disagree with the embargo and its restrictions on American liberties.
Between 1999 and 2005, more than 1,000 U.S. citizens traveled to Cuba on faith-based delegations with Witness for Peace, a nonprofit organization dedicated to educating U.S. citizens about the effects of U.S. policy on Latin America, to see for themselves the impact of the senseless embargo. Since 2009, Witness for Peace has led delegations with hundreds of U.S. citizens to Cuba under the auspices of professional research delegations. But now you don't need to be a scholar, journalist, or member of any other particular profession or religion to join one of our delegations.
When compared with the embargo as a whole, being granted the ability to travel with a pre-approved license may seem like small potatoes. But it's no coincidence that some U.S. lawmakers are trying to tighten travel restrictions for Cuban Americans, even as Witness for Peace and other organizations are planning expanded travel opportunities. The Obama administration has threatened to veto any legislation that would reverse its changes to Cuba travel policies.
As more and more U.S. citizens travel to Cuba, more and more people will return to the United States with stories of how the embargo makes no sense – for Cuba or for the United States. As this evidence piles up, the demise of the embargo itself can't be far off.
Sharon Hostetler is the Executive Director of Witness for Peace, an organization with 30 years of experience leading delegations of U.S. citizens to Latin America. This article originally appeared in Other Words, a project of the Institute for Policy Studies. Photo: flippinyank // CC 2.0