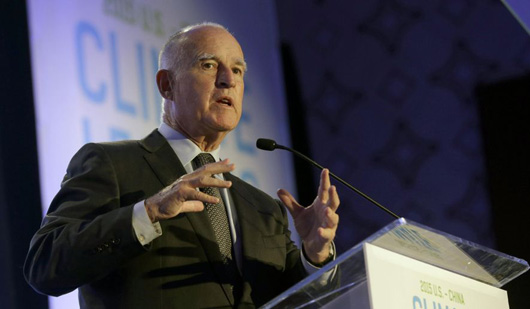 With the 2016-17 budget proposals he unveiled Jan. 7, California Gov. Jerry Brown launched a debate that will continue in the state legislature until mid-June: How much of the state's $3.3 billion in unanticipated new revenue should restore funding to human needs programs slashed during the Great Recession, and how much must instead go to a "rainy day" fund ratified by voters two years ago.
The governor said he is calling for "significant increases" for education, health care, environment and infrastructure spending in the $123 billion 2016-17 general fund. In line with his longstanding cautious approach to budgeting, he would deposit $2 billion more in the "rainy day" reserve fund approved by voters two years ago.
Among Brown's proposals:
● Adequate funding for Medi-Cal (the state's Medicare program), through a revised tax on managed health care programs that will assure continued federal funding while having almost no impact on health plan premiums.
● K-12 per-pupil spending of $10,591 – nearly $3,600 more than was spent during the Great Recession, while University of California and California State University tuition remain at current levels. An Education Week Quality Counts report released last week ranked the state's current K-12 spending 46th in the nation.
● A decade-long, $36 billion-plus program to improve infrastructure and expand public transit.
● A $3.1 billion cap-and-trade spending plan to cut greenhouse gases that will support clean transportation, cut short-lived climate pollutants, protect natural ecosystems and benefit disadvantaged communities.
● The first cost-of-living increase in a decade for aged, blind and disabled people receiving Supplemental Security Income/State Supplemental Payment (SSI/SSP) grants. Grants now set at $889 per month for individuals and $1,496 for couples would rise to $906 and $1,727 respectively.
Although the U.S. Census Bureau says that taking into account regional differences in wages and living costs, California's 24.3 percent poverty rate is the country's highest, funding for human needs has been cut back and held down for years. As the economy has improved, a three-way struggle has emerged between liberal Democrats and people's movements pressing for significant increases, a governor committed to budgetary caution, and a Republican minority opposing most increases in taxes and spending.
That division is emerging again.
Anthony Wright, who heads the broad Health Access coalition of consumer advocacy groups, pointed out that Brown's budget "largely continues recession-era cuts," and doesn't restore needed funds to public health and Medi-Cal funding or raise provider reimbursement rates.
Over a third of Californians – some 13.5 million – now rely on Medi-Cal for their health care.
Wright's message resonated with California Medical Association President Dr. Steve Larson, who called Medi-Cal funding a priority for the CMA.
Already before the legislature is SB 10, by state Sen. Ricardo Lara, D-Bell Gardens, to extend Medi-Cal coverage to all income-eligible Californians regardless of their immigration status. Lara's bill extending coverage to all the state's children passed the legislature last year, but extending that coverage to adults was held over until the current legislative session.
Sarah de Guia, who directs the California Pan-Ethnic Health Network, said Brown's proposal "misses important opportunities to invest in California's new majority communities of color." As an example, she cited the need to restore dental benefits, and urged extension of health coverage to undocumented adults.
Most Republicans oppose funding increases for human services including health care, and any new taxes. But bipartisan support does appear to be emerging for greater services for disabled Californians.
SEIU California president Laphonza Butler said that with seniors and disabled people bearing the brunt of the state's fiscal crisis for years, and with new resources available, "It's long past time to live up to the promise of dignity for all, regardless of age and ability." She emphasized increasing support for people using In-Home Supportive Services, a program still feeling the effects of sharp cuts during the financial crisis.
Another big issue attracting at least some bilateral support is funding for affordable housing.
Even before Brown delivered his budget message, Senate Democrats, backed by some Republican lawmakers, proposed a $2 billion bond measure to fund housing for homeless people with mental illnesses. With almost 30,000 long-term homeless people, California has over a third of the nation's homeless population.
With the governor's 2011 action ending redevelopment funding for affordable housing, and his veto last year of a measure to provide tax credits, funding for affordable housing has been virtually wiped out.
Shamus Roller, who heads Housing California, noted that the state "has the nation's highest poverty rate, highest number of people experiencing homelessness, and the second highest housing costs," but Brown's budget "provides no new help for the many people struggling to stay in their homes." He said that since 2007, nearly 70 percent of the state's funding for housing "has vanished in large part because of actions championed by Brown."
The increased spending on K-12 education was one bright spot in the discussion, with California Teachers Association President Eric Heins encouraged by the budget's use of revenues "to continue paying back schools from the years of devastating cuts."
At the same time, California Faculty Association President Jennifer Eagan said that while CFA is pleased with Brown's proposed increase in state university funding, her organization wants to make sure that "tuition and tax dollars are spent on the university's core mission – teaching – rather than on increasing the size and salaries of the university's administration."
Among many other issues: higher funding for infrastructure and early childhood education, better environmental quality in economically disadvantaged areas, greater support for legal aid, larger and faster increases to in SSI/SSP grant levels, and much more funding for criminal justice reform including returning many people incarcerated for minor nonviolent offenses to their communities.
Photo: Gov. Jerry Brown. | Nick Ut/AP