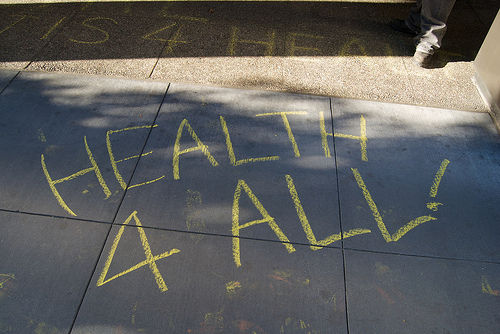 WASHINGTON-Fighters for health care reform, both inside and outside Congress, hailed passage by the House of Representatives late Sunday night of a reform bill that extends health insurance coverage to 32 million uninsured people, outlaws denial of coverage for preexisting conditions, and limits insurance company premium increases.
The vote was 219 to 212 with not a single Republican voting yes. The 178 Republicans were joined by 34 "Blue Dog" Democrats in voting no.
Just before the roll call vote, House Speaker Nancy Pelosi, D-Calif., said the House was making history, "joining those who created Social Security and Medicare…" With passage of this bill, she added, "being a woman is no longer a 'pre-existing condition.'"
Rep. Jim Clyburn, D-S.C., a member of the Congressional Black Caucus and the third ranking leader of the House called the bill "the Civil Rights Act of the 21st Century."
AFL-CIO President Rich Trumka greeted the bill's passage as a "momentous step toward comprehensive coverage." The legislation, he added, "is not a baby step or half measure, it is a solid step forward to set our country on a path to health care that actually works for working families."
The lawmakers were voting to approve the bill approved last Christmas Eve by the Senate. Moments after approving the bill, the House approved a "Reconciliation bill," a package of measures that dramatically improves the Senate version. A Senate vote on the Reconciliation package is expected Wednesday under rules that allow passage by a simple majority.
Tuesday, President Obama is scheduled to sign the bill into law and then fly to Iowa to muster popular support even as the Republican right plans to campaign in the midterm elections on a promise to repeal the new laws. The GOP lawmakers unleashed a torrent of venomous lies to block it.
Teabaggers were outside the Capitol Building denouncing the bill as "Socialism" and "Communism." Some goons accosted members of the Congressional Black Caucus, hurling the "n" word at them. One Black member was spat on by these Klan elements.
The AFL-CIO pointed out that the health care bill "survived a $100 million lie-and-distortion campaign by Big Insurance to kill it, the same kind of scare tactics these groups have aimed at health care proposals for six decades."
The labor movement made four million phone calls and one million emails in support of the bill. Working America, an AFL-CIO affiliated group went door to door talking with 210,000 people and collected 30,000 petition signatures for the bill.
In Aliquippa, Pa., members of the United Steelworkers (USW) staged a sit-in in the office of Democratic Rep. Jason Altmire to protest his decision to vote no. Rick Galiano, president of USW Local 9305 said, "We busted our humps working for Jason Altmire and many other politicians who time and again promise they will work for us….We are tired of the broken promises."
Health Care for America NOW media spokesperson Jacki Schechner was exultant. "This is a really tremendous first step," she told the World in a phone interview. "We still need to get the Reconciliation package through the Senate and the President needs to sign it into law. But we've managed to accomplish something that has eluded us for decades which is giving the American people the security of good health care they can afford, so people will not go bankrupt when they get sick or lose their health coverage when they need it the most."
Schechner added, "We launched this drive over a year ago and the heart and soul of the campaign was in the field," she said. "We have a tremendous grassroots network that put everything they had into this and it really worked."
Photo: http://www.flickr.com/photos/ari/ / CC BY-NC-SA 2.0