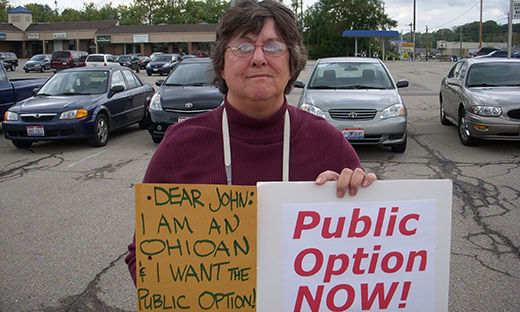 In a sign that when labor and its allies put up a fight they get results, a group of influential Democratic senators called yesterday on Senate Majority Leader Harry Reid to include the public option in the reconciliation process on health care reform.
A letter to Reid by Colorado's Sen. Michael Bennett was cosigned by other Democratic senators including John Kerry, Sherrod Brown, Jeff Merkley and Kirsten Gillibrand.
"We need to put consumers in charge by giving them more choices and ending these shameful practices that work for insurance companies, but not for people," the letter said. "The current health care reform bill is a historic step in extending coverage and controlling costs, but we need to take the final step to include a public option. With majorities in the House and Senate we can use the reconciliation process to include a public option in the final bill."
An aid to Sen. Bennett said use of the reconciliation process to revive the public option would be in keeping with long standing practice in the U.S. Congress. He said the reconciliation process has been used frequently in the past for "just this kind of urgent, publicly mandated legislation."
The budget reconciliation process was used when Congress passed the Children's Health Insurance program (CHIP), Medicare Advantage, and the Consolidated Omnibus Budget Reconciliation Act of 1985 (COBRA).
Republicans, of course, are determined to continue their fight against health care reform. Their hope is that fear of budget deficits can crush what appears to be a recent surge in public support for meaningful health care reform.
Rep. Dave Camp, the ranking Republican on the House Ways and Means Committee made it clear yesterday that his party, despite approval of a health care reform measure by both Houses of Congress, will continue to push for dumping reform altogether.
"I think what we have to do is keep it on policy," said Camp, "and really continue to describe that we have listened to the American people, and anyone listening to the American people would say scrap this bill and begin again, and let's begin again by focusing on lowering costs."
The latest polls show, however, that Camp and the rest of the GOP are out of touch with majority opinion on the issue.
The New York Times/CBS News poll of Feb. 11 says that 62 percent of Americans were "not willing for the government to decrease spending in such areas as health care or education" and 44 percent said Democrats were more likely to improve the health care system than Republicans (27 percent).
A Jan. 27 CBS News poll said that 67 percent of those polled generally approved of President Obama's plans for dealing with health care.
Photo: http://www.flickr.com/photos/progressohio/ / CC BY 2.0