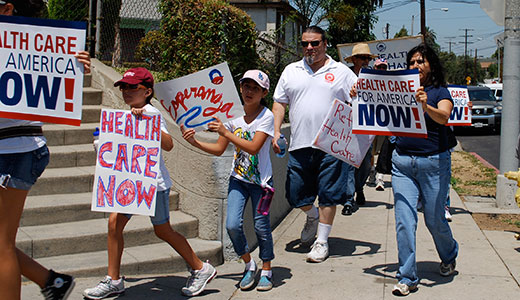 As the U.S. House of Representatives prepares to vote next week on repealing national health care reform, the California Public Interest Research Group (CALPIRG) has just released a report detailing what would happen to Californians if repeal happens.
And Health Access, a statewide coalition advocating for consumers, is detailing ways the federal law is already helping state residents.
Among the consequences cited in "The Cost of Repeal: Examining the Impact on California of Repealing the New Federal Health Care Law":
Insurers could deny coverage to nearly 6.5 million Californians with pre-existing health conditions, if they apply in the individual market.
Almost 200,000 uninsured young adults would lose the chance to buy health insurance through their parents' plans.
Repeal of reformed state health insurance marketplaces, or "exchanges," set to start operating in 2014, would ultimately lead to premiums as much as 20 percent higher for the same coverage. Under full repeal, small businesses could not pool their buying power through the exchanges, and nearly half a million California small businesses would lose tax credits covering up to 35 percent of the average small business health care costs. Repeal would also reduce workers' ability to change jobs or open small businesses, possibly slowing job creation in the state by over 52,000 jobs a year in 2019.
Nearly 3.5 million Californians would also lose new health insurance affordability tax credits.
Cost-saving reforms in the Affordable Care Act could save businesses over $3,000 per worker, according to a report commissioned by the Business Roundtable.
Repeal would cut out new funding for over 1,000 new or expanded community clinics.
CALPIRG also points out that rather than raising costs for consumers, requiring all residents to purchase a qualifying insurance plan has actually lowered premiums in Massachusetts because people didn't wait until they were sick or hurt to become insured.
The federal law's requirement that all people with incomes up to 133 percent of the Federal Poverty Level be covered by Medicaid will not increase the burden on states, CALPIRG said, because the federal government will cover all additional costs for five years, and 90 percent after that. "This increase in federal Medicaid dollars will bring $44.7 billion to California by the year 2019," the report said, "providing a critical boost to the state's economy."
CALPIRG also refuted the claim that those covered by Medicare Advantage policies will be hurt by reduced federal subsidies to privately run insurance companies. The report noted that overall, premiums for such programs have already been slightly lowered for 2011.
Last year the California legislature passed a number of laws to provide a foundation for implementing the health care reform in the state.
Blogging on www.health-access.org just before the New Year, Health Access California Executive Director Anthony Wright listed additional patient protections that became effective Jan. 1, "as a result of laws passed in 2010 that build off the new health care law." Children can no longer be denied coverage for pre-existing conditions, he noted, and if such children are signed up during an open enrollment period, they can't be charged more than twice the premium any other child is charged.
Now, health insurers must "give more notice and more justification of their rate hikes in a more public way," Wright said. Recission, or canceling a policy after the policyholder is ill, is now banned. New policies can't have cost-sharing provisions for preventive care, and young adults can stay on their parents' insurance until age 26.
Wright also noted that California was the first state to pass legislation to implement the federal reform by setting up a new health insurance exchange. When activated in 2014, the exchange will provide individuals and small businesses with standardized benefits, the ability to comparison-shop and the cost savings that come with group purchasing, along with subsidies to afford coverage.
Photo: Californians march for health care reform in Los Angeles, July 2009. OFA California CC 2.0