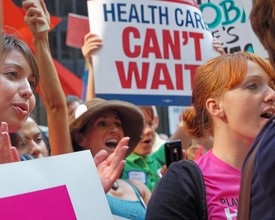 'Astroturfers' stand on sidelines, insurance insider blows the whistle
CHICAGO – "To protest against health care is like protesting against air," said one woman who had stopped after work to attend the Aug. 4 health care reform rally here.
She was talking about the twenty or so anti-health reform protesters stationed across the street and holding signs like "Just say no to socialism" and "Keep the change" who were trying to drown out the 700-800 people rallying for health care reform.
But seasoned rally speakers like Democratic lawmakers Jan Schakowsky and Danny Davis, Gov. Pat Quinn and state Treasurer Alexi Giannoulias (who is running for U.S. Senate) fired up the crowd – preparing people for "the fight of their lifetime."
This is a "battle of biblical dimensions," Rep. Schakowsky roared. On one side is an industry that makes "enormous profits" while leaving 50 million Americans uninsured, she said.
But on "our side" are millions of Americans who want health care reform NOW! she said. Plus, she added, "our side has the distinct advantage of not making stuff up," an obvious reference to the far-right and lobbyist-funded "front groups" like Patients United Now, which is reportedly paying people to go around and tell their so-called health care stories.
Schakowsky urged the crowd to organize for the next five weeks like never before. She urged support for the reform bill HR 3200 with a strong public health insurance option. All four of the five bills that have come out of House committees "can be improved," Schakowsky said, but the insurance lobby fears most "competition from a public plan that would lower costs and doesn't make CEOs rich." The "public option" would be a government-administered program that would compete with private insurance.
The health care reform plan referred to as "single-payer" will also come up for a vote on the House floor in September, a concession won from all the negotiations with the more conservative Democrats known as "Blue Dogs."
"And I will vote yes!" Schakowsky vowed.
Perhaps the most under-reported part of the Aug. 4 rally – meant to coincide with President Barack Obama's birthday, (and, yes, Happy Birthday was sung) – was an unassuming man who once was a powerful insider of a multi-billion dollar insurance company.
Wendell Potter, former head of public relations for CIGNA-turned whistleblower, said after 20-years of knowing what went on in the insurance suites, "I finally had the guts to tell Congress." Potter testified in June to the U.S. Senate Committee on Commerce, Science and Transportation, after which Big Insurance hurried into damage control mode.
"Folks, this is evil," he said about the industry that is based on "Wall Street greed."
Potter said it was "unacceptable" that companies routinely deny coverage and company "bureaucrats like me" know they will be fired if they OK a procedure.
"The health insurance industry is pulling out all the stops to kill meaningful reform. Their main objective is to kill the crucial public insurance option and to force all of us to buy overpriced policies from them. Their greed knows no bounds. We must not let them win," he said.
While the anti-reformers yelled about not wanting to pay for others health care and long lines, Karen Ertl, and her husband Richard, of Park Forest, Ill., stood calmly at the front of the rally. Proudly wearing her work ID from the Railroad Retirement Board, she said she's not selfish. "I want everyone to have the same kind of benefits I have as a federal employee. The same kind Bob Dole denied that he had."