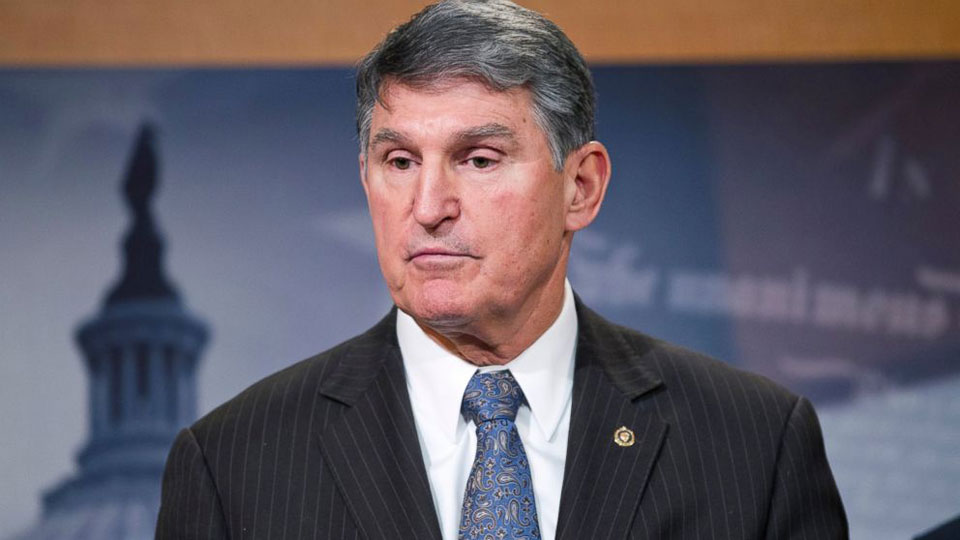 WASHINGTON—A budget deal brokered between Senate Majority Leader Charles Schumer, D-N.Y., and key dissident Democrat Joe Manchin of West Virginia would let Medicare negotiate lower drug prices with Big Pharma, impose a minimum 15% corporate tax on billion-dollar firms, and allot $369 billion for energy security and to battle climate change.
As a result, Democratic President Joe Biden accepted this Inflation Reduction Act, with those provisions and a little more. He realized it was the best he could get out of an evenly split Senate, blessed the agreement, and urged lawmakers to quickly OK it.
Biden wasn't the only person involved in the long battle over what began as his Build Back Better plan– but got constantly whittled down–to accept the final compromise. The AFL-CIO, many green groups, and other progressives did, too. So did congressional Democrats, seeking a big-ticket success to prove to voters that they can govern even with a slim majority and should retain power this fall.
"With this agreement, we have a chance to make prescription drugs cheaper by allowing Medicare to negotiate lower prices," Biden said after phone talks with the two lawmakers on July 27. The measure, officially a budget "reconciliation" bill, has enraged Republicans because it can't be filibustered. It would cut Medicare's spending on prescription drugs for the elderly by $288 billion.
"And we can lower health insurance costs for 13 million Americans, by an average of $800 a year, for families covered under the Affordable Care Act," Biden said. He has a big stake in that area. As Vice President, Biden lobbied the ACA through a reluctant Senate more than a decade ago, when the measure topped President Barack Obama's legislation list.
"We will improve our energy security and tackle the climate crisis–by providing tax credits and investments for energy projects" including clean energy. "This will create thousands of new jobs and help lower energy costs in the future," Biden predicted. Analysts said its clean energy tax credits and other measures would cut carbon emissions by 40% by 2030.
The $739 billion measure aims to cut the federal budget deficit by $300 billion over 10 years, also satisfying Manchin. That cut will help fight inflation, Biden stated. Rising prices are currently the #1 problem on voters' minds heading into the mid-term election.
"And we will pay for all of this by requiring big corporations to pay their fair share of taxes, with no tax increases at all for families making under $400,000 a year," the president declared, repeating his oft-promised vow not to raise taxes on the middle class.
The AFL-CIO and Service Employees President Mary Kay Henry both praised the agreement, though Henry regretted the omission of federal subsidies—and $15 an hour wage standards—for child care, home care, and elder care workers, most of them women of color. Axing that aid was a Manchin demand earlier in the long-running saga.
Need help for working families
"Congress understands we urgently need economic solutions that offer real help for working families," the AFL-CIO said. "Taking steps to lower health care costs and address our broken tax code that allowed the extremely wealthy and the biggest corporations to avoid paying their fair share will deliver fundamental economic change in our nation.
"The energy provisions will leverage more than $1 trillion in private investment, create millions of jobs, and cut climate pollution by 40%. Importantly, the tax incentives as currently written include labor standards and domestic content requirements, which would create good-paying jobs in construction and manufacturing. These actions will spur the clean-energy transition we need to address the climate crisis."
"Congress must advance the Inflation Reduction Act as quickly as possible," Henry stated. She said it would cut the costs of healthcare premiums and make prescription drugs "more affordable for millions of families while finally holding big pharmaceutical companies accountable." She promised SEIU would continue to fight for aid for the workers.
Henry also praised the measure's "large-scale investments to address the crisis of climate change, which is disproportionately impacting our members, many of whom live in the most vulnerable communities."
That money and projects "will create hundreds of thousands of good union green energy jobs. Even better, it will be paid for by raising taxes on giant corporations that have made record profits by increasing prices and holding down our wages."
Frank Clemente of Americans for Tax Fairness singled out "the 15% minimum tax on the biggest corporations [which] will end the scandal of them going tax-free some years." Plus, the measure "extends three more years of access to affordable healthcare" via the Affordable Care Act's subsidies to low-income people. Manchin agreed to both provisions.
The corporate taxes also include an excise tax to fund Superfund toxic waste site cleanups nationwide, the Oregon State Public Interest Research Group noted. "This bill would reinstate one of several 'polluter pays' taxes allowed to lapse 26 years ago," it added.
Manchin had his own explanation for why he agreed to the deal: Common sense.
"It is common sense a domestic corporate minimum tax of 15% be applied only to billion-dollar companies or larger ensuring America's largest businesses are no longer able to operate for free in our economy. It is wrong that some of America's largest companies pay nothing in taxes while freely enjoying the benefits of our nation's military security, infrastructure, and rule of law," he said.
Manchin also blessed the climate change provisions, as long as all fossil fuels are in an all-of-the-above energy policy that funds every source from wind to oil to coal to solar to nuclear to gas. Coal is still a heavyweight West Virginia industry. Coal barons are among his big campaign donors.
He called that policy "commonsense solutions through strategic and historic investments that allow us to decarbonize while ensuring American energy is affordable, reliable, clean, and secure.
Manchin, however, did not pass up the chance to at least indirectly attack environmental activists and the Green New Deal.
"We must stop pretending that there is only one way to combat global climate change or achieve American energy independence," said Manchin, the Senate Energy Committee chair. "This legislation ensures the market will take the lead, rather than aspirational political agendas or unrealistic goals," the senator said, in a not-at-all subtle blast at the Green New Deal.
Biden was pleased
Biden was, nevertheless, pleased. "This is the action the American people have been waiting for," he said. "This addresses the problems of today–high health care costs and overall inflation–as well as investments in our energy security for the future."
Biden hopes the compromise will give him a political boost heading towards the midterm elections, by showing he and congressional Democrats can accomplish what voters really want.
But Biden's endorsement and the Manchin-Schumer legislative deal still left one key question: What will Kyrsten Sinema, D-Ariz., the other holdout among the Senate's 48 Democrats and two independents, do?
She's been mum so far. Sinema was left out of the Schumer-Manchin talks, Axios reported. Her communications director told Axios she won't comment until she's had a chance to study the Inflation Reduction Act. She ducked Capitol Hill reporters' questions.
In past statements, Sinema has wandered back and forth. Last October, she said she could back the corporate minimum tax. Before that, Sinema opposed any tax increases on individuals—including the rich—and businesses. If she returns to that stand, her "no," combined with caustic criticism and outright hatred of the bill by Senate Minority Leader Mitch McConnell, R-Ky., plus 49 other GOP "no's", would sink this bill, too. And override Manchin.
Sinema's silence gives her constituents, and the country, a chance to bend her ear. Congress plans a month-long recess in August, though it may stay to pass the legislation, first. If Sinema goes home to Phoenix, Flagstaff, and Tucson, her voters get a chance to lobby her. And non-Arizonans can chip in with phone calls and e-mails. They may have to.
"There are no plans yet" to demonstrate at Sinema's offices, said Fred Yamashita, the Arizona AFL-CIO Executive Director. Arizona is particularly suffering these days from the effects of climate change so it is hoped that she will feel pressure to support the measure despite its inclusion of tax hikes on big corporations.
Another problem that could hold up immediate passage of the bill is that the Senate does not have proxy voting. All the Democrats have to be present and right now COVID has just kept Manchin at home and Democratic Sen. Dick Durbin of Illinois has reported that he too has tested positive for the disease.
Up until now, Manchin has vocally and successfully torpedoed prior versions of the legislation, starting with the original $2 trillion Build Back Better measure. That House-passed bill was designed to handle climate change, improve the frayed social safety net and even impose higher fines on labor lawbreakers. Manchin kept bargaining Biden down and erecting new roadblocks to it, including eliminating a long extension of the child care tax credit, a key Democratic goal.
That credit, which ran out last December 31, helped families weather the financial hit of job losses due to the coronavirus-caused business depression. It cut child poverty by 30%, the Center for Poverty and Social Policy calculated. It's not in this bill.