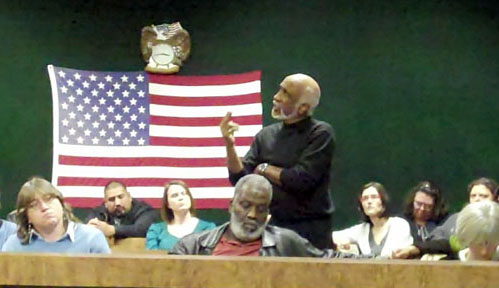 The North Texas Workers Rights Board, an adjunct of Jobs with Justice, held public hearings on the jobs crisis recently at Judge Luis Sepulveda's courtroom in Dallas. Religious and community leaders heard testimony from three unemployed people, a leader of Central Dallas Ministries, and the organizer for Jobs with Justice.
Jorge Ortega talked about coming here from Mexico in 1963. While working as a busboy, he enlisted in the military and served through the Vietnam era. Afterward, he used his GI Bill to get an advanced degree in business from the University of Texas at Dallas. All along, he knew that something was not right in this country: "I saw that something was very wrong because of the way they treat the workers. There was segregation everywhere, Blacks were in the back of the bus." He concluded by remarking "We must overcome this disunity."
Eddie Ortega talked about the special jobs problems that young men have if they have prison records. He had served his time 15 years ago, but was still hindered when trying to get any work that paid more than $7.50/hour. Katharein Magdalena talked about the special problems that unemployed women, such as herself face every day.
Reverend Gerald Britt, Jr, of Central Dallas Ministries talked about the differences in job opportunities in various urban areas. While Dallas has had a construction boom, almost none of it took place in the Southern half. Britt pointed out that poor workers have longer days because they have to travel north, where the work is, and return home late in the evenings.
Gene Lantz of Jobs with Justice said that the AFL-CIO is calling for 10 million government-created jobs immediately, and that it was the only possible hope for economic recovery. He said that March 12-26 were target weeks for public actions, and challenged the audience to come up with the best possible public events.
The audience participated in discussion during the second half of the event. Univision Television covered the proceedings. Reverend Dr. Joerg Rieger, head of the Workers Rights Board and host of the event, summarized, "If what we are doing here is the beginning of a movement, then we are doing well."
Photo: Jim lane
Ernest McMillan made a point from the audience at the Workers Rights Board hearing.