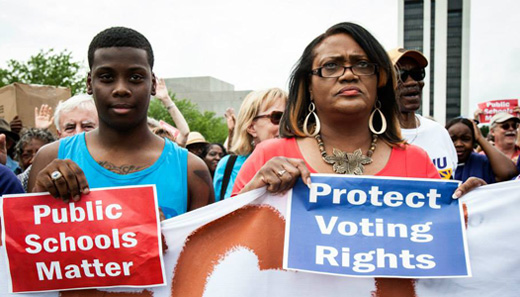 WINSTON-SALEM, N.C. – On behalf of the NAACP and a host of labor and allied groups, today a legal team began arguments in federal court to stop the worst effects of H.B. 589, North Carolina's restrictive voting law.
The groups are seeking a preliminary injunction to prevent the law from disenfranchising voters in the November 2014 midterm election. Alleging that the measure violates Section 2 of the Voting Rights Act, along with the 14th and 15th Amendments of the U.S. Constitution, they aim to demonstrate how the measure disproportionately impacts North Carolina's African-American voters – intentionally burdening these communities' right to vote.
The arguments will be heard by Judge Thomas D. Schroeder of the U.S. District Court for the Middle District of North Carolina. With several individual and organizational plaintiffs, North Carolina legislators, election officials, statisticians and social science experts scheduled to take the stand, the hearing is expected to last at least one week.
"The hearing in North Carolina is one with national implications," said Rev. Dr. William J. Barber II, president of the North Carolina NAACP. "North Carolina was the first state to pass a restrictive voting law after the 2013 Supreme Court decision to weaken the Voting Rights Act, and it reveals the kind of bills that may be passed in southern legislatures without preclearance. This bill was never about integrity of the vote; it's about politicians seeking to suppress the voices of certain voters. This week's hearing represents a fight for the voting rights of North Carolina, the South and indeed the nation."
"Because our case will not go to full trial until 2015, this week's preliminary injunction hearing presents a critical opportunity to block some of the worst voter restrictions in the country before the 2014 elections," said attorney Irving Joyner. "Over the coming days, we will show how H.B. 589 stands to prevent hundreds of thousands of North Carolinians from accessing the ballot, and that lawmakers knew the disparate impact on voters of color – yet passed it anyway."
The far-reaching H.B. 589 targets nearly every aspect of the voting process: who can vote, where they can vote, when they can vote, and how they can vote. Among other provisions, it shortens the early voting period by a full week, eliminates same-day registration, prevents out-of-precinct ballots from being counted, expands the ability to challenge voters at the polls, ends a successful pre-registration program for 16- and 17-year olds, and requires strict forms of voter ID.
According to North Carolina's own data, these policies have a disproportionate impact on voters of color. For example, African Americans in North Carolina use same-day registration and early voting at higher rates than white voters. In 2012, 70 percent of African Americans who voted did so during the early voting period, compared to 56 percent of the voting population overall. While African Americans make up about 22 percent of the state's voting population, they account for 41 percent of voters who use same-day registration; more than one-third of voters who do not have a non-expired state-issued photo ID; and about 30 percent of those who cast out of precinct ballots. African Americans are also statistically more likely to use pre-registration opportunities.
"Even with all of the statistics and legal arguments about North Carolina's voter suppression law, this case is about voters," said Advancement Project Co-Director Penda D. Hair. "Throughout the hearing we will lift up their stories because so much is at stake. Once a citizen loses their right to vote, they can't get that vote back again, so we want to ensure that these voices are heard in court now."
Photo: 2013 Advancement Project became partners with the North Carolina NAACP and the Moral Mondays movement. Advancement Project Facebook page.