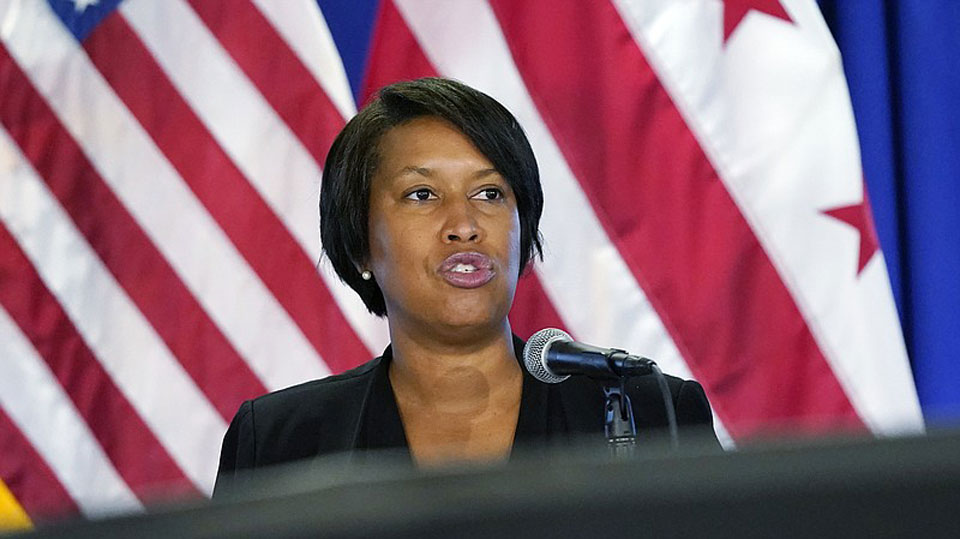 WASHINGTON—If the right to vote is fundamental to U.S. democracy, then the right to vote for people to represent your state in Congress is a key part of it—and that's the argument that, for the second straight Congress, advocates of statehood for Washington, D.C., and its 715,000 plus residents brought to Capitol Hill on March 21.
Led by D.C. Mayor Muriel Bowser (D), D.C. native and longtime Delegate Eleanor Holmes Norton, D-D.C., and Wade Henderson, executive director of the Leadership Conference on Civil and Human Rights, they made the case that equal rights demands equal representational rights, just like the other 330 million people in the 50 states. HR51, Norton's D.C. Statehood bill, would erect that representation.
Admitting D.C. as a state is a longtime goal of local activists, especially those immersed in equal rights, such as Norton, a longtime civil rights crusader and, before joining Congress, head of the federal Equal Employment Opportunities Commission.
Backers got D.C. statehood through the House in the last Congress. But it was one of the 400-500 bills then-Senate Majority Leader Mitch McConnell, R-Ky., who is white, refused to even permit hearings on, much less Senate debate. Statehood has popular support, though, with 54% approval in a recent poll.
As might be expected, this time congressional Republicans bleated that admitting D.C. as a state, with two senators and one voting representative, would advance the Democratic Party's "radical" agenda, given that 76.4% of D.C. voters register as Democrats to 5.7% who are GOP.
Republicans, in and outside the hearing room, avoided their own elephant in the room: Race.  Its former Black majority no longer exists. The 2019 census estimates show D.C. as 46% Black, 36% non-Hispanic white, 11% Spanish-speaking, and 7% others.
It also has more people than two predominantly rural, very white states, and its residents pay more in federal income taxes, gross, than those in 21 states, Norton said.
"D.C. residents have fought in every American war, including the war that led to the creation of the nation, the Revolutionary War," Norton told her House Oversight Committee colleagues at the start of the March 21 hearing. "Servicemembers from our nation's capital have helped get voting rights for people throughout the world, but continue to come home without those same rights or even the same rights of those with whom they served."
"Today, it is my great honor to serve in the city where my family has lived without equal representation for almost two centuries," she continued. "Congress can no longer allow D.C. residents to be sidelined in the democratic process, watching as Congress votes on matters that affect the nation with no say of their own, or watching as Congress votes to overturn the laws of the duly elected D.C. Council with no say of their own."
Norton's own title reveals the capital's status. She's been a House member for decades, but she's a delegate, not a representative. Unlike her representative colleagues, she can't vote. That voting ban also slams House delegates from U.S. territories and the commonwealth of Puerto Rico.
"Full democracy requires much more,' said Norton, who is Black. "D.C. residents deserve full voting representation in the Senate and the House and complete control over their local affairs. They deserve statehood."
"Congress has two choices.  It can continue to exercise undemocratic, autocratic authority over the American citizens who reside in our nation's capital, treating them, in the words of Frederick Douglass, as 'aliens, not citizens, but subjects.'  Or it can live up to this nation's promise and ideals, end taxation without representation and pass HR51," the current D.C. Statehood bill.
While the Republicans ducked the race issue—claiming D.C., unlike states, lacks heavy industry and car dealerships, among other absurd lies—Henderson, also a longtime Black D.C. resident, took it on head-on.
"The right to vote is meaningless if you cannot put anyone into office. Washingtonians have been deprived of this right for more than two centuries—often on grounds that had nothing to do with constitutional design, and everything to do with race—and remain so today," he said.
Indeed, a footnote in Henderson's prepared remarks quoted an obviously racist statement from white Sen. John Morgan, D-Ala., explaining why Congress took away D.C.'s elected government in the 1870s. It did so, Morgan said—in 1890—because lawmakers had "to burn down the barn to get rid of the rats…The rats being the Negro population and the barn being the government of the District of Columbia." Even then, D.C. had a higher proportion of Black residents than any non-Southern state.
"Until D.C. residents have a vote in Congress, they will not be much better off than African Americans in the South were prior to Aug. 6, 1965, when President (Lyndon) Johnson signed the Voting Rights Act into law," Henderson said. "Until then, the efforts of the civil rights movement will remain incomplete."
The AFL-CIO, national unions, and constituency groups have not posted recent formal statements for or against D.C. statehood. The Metro Washington Central Labor Council did when Norton unveiled H51.
Their endorsement made the same points Norton, Bowser, and Henderson did and added one other: In states, governors control—and can call out—the National Guard to help in disasters or emergencies. Bowser had to ask the U.S. Army to call out the D.C. National Guard when thousands of insurrectionist Trumpites invaded the Capitol on Jan. 6.
The Army sat on her request for hours, then passed it to GOP Oval Office occupant Donald Trump. He ignored it. Finally, VP Mike Pence, a former governor under siege himself in the invasion, gave the OK, hours late.
While D.C. statehood is likely to pass the House, along party lines, again, the Senate is another matter. It would need 60 votes there to pass, and Sen. Mike Rounds, R-S.D., signaled implacable opposition from the Senate's 50 Republicans. His state has 884,000 people, the Census Bureau estimates, and 81.5% are non-Hispanic whites.
Rounds claimed "The Founding Fathers never intended for Washington D.C. to be state. #DCStatehood is really about packing the Senate with Democrats in order to pass a left-wing agenda." He cited the voter data. His comments were bombarded with critical tweets.
One came from longtime investigative journalist James Fallows, who cited South Dakota's creation in 1890. "The Founding Fathers also never intended there to be a Dakota Territory, or split it in two," Fallows tweeted. "The only reason Sen. Rounds has a state (SD) to represent is the late-19th-century political deal to split the territory, explicitly to pad the number of likely GOP Senate seats."