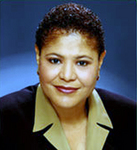 LOS ANGELES — A standing room only crowd came out June 25 to discuss how the immigration issue affects the African American community.
In a previous article in the People's Weekly World, editorial board member Rosita Johnson wrote: "When oppressed groups cooperate, the entire working class benefits." And that is exactly what is happening in Los Angeles.
Union leaders, community leaders, dignitaries and working-class people came to the meeting hosted by Assemblymember Karen Bass to learn about the immigration issue from another perspective: that of immigrants from Africa.
There are approximately 550,000 African immigrants residing in Los Angeles County. Many of them are here without proper documents. They work in the shadows in fear of deportation at any time.
Mulu Alemayehu, an immigration attorney representing immigrants from African countries, said that the real problem with immigration today is the Real I.D. Act. This law has had a detrimental impact on African immigrants. The act requires that asylum seekers must prove their identity.
This is clearly impossible, he said, because the authorities responsible for providing documentation are the same police officials that torture and rape those seeking asylum. Alemayehu said, victims of torture are asked by the U.S. government to obtain legal documents from their oppressors. In some countries, ethnic cleansing is official government policy. Many who seek asylum here are forced to do so using false documents. The Real I.D. Act also requires that there be corroborative evidence of torture or rape.
Since Sept. 11, 2001, immigrants from majority Muslim countries, like Somalia, find their visa applications denied without cause other than the fact that they are Muslims.
Maria Elena Durazo, secretary-treasurer of the Los Angeles County Federation of Labor, said that in the hospitality industry there are almost no African Americans employed. There are plenty of Asian and Latino workers, but no Black workers, she said.
Durazo said the hospitality industry is not hiring Black workers. "This must change." Unite Here, the union that organizes hospitality workers, has demanded, as part of contract negotiations, an active program to outreach, recruit, train and hire African American workers into jobs with good pay and health care.
Durazo said the Immigrant Workers Freedom Ride, inspired by civil rights activists Rep. John Lewis (D-Ga.) and the Rev. James Lawson, envisioned a society with access to free, quality public education and health care.
Roy Young, consul general of Belize in Los Angeles, praised Bass for her leadership. He said that immigrants have a duty to become citizens and "we should honor Karen, join the union, and participate in the political life of the United States."