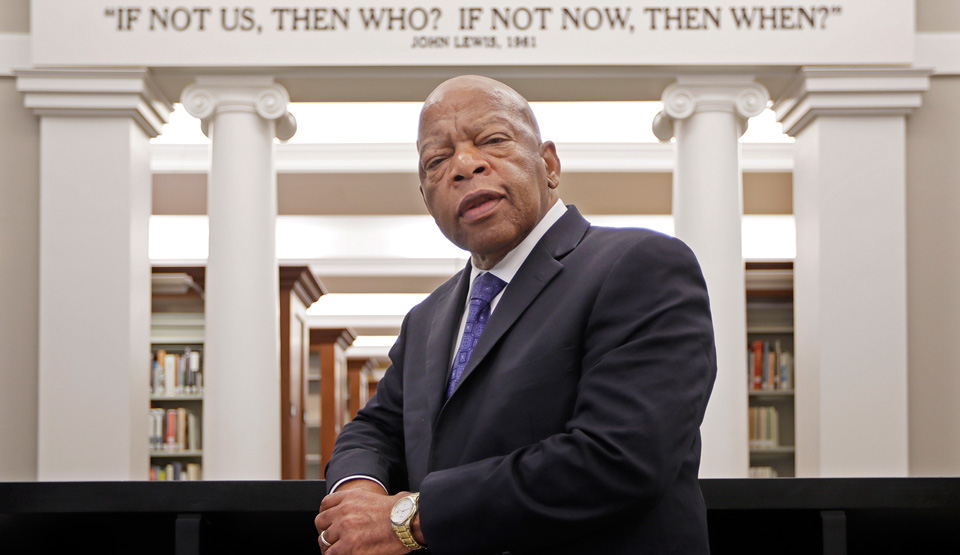 WASHINGTON – The nationwide movement to resist the Trump Administration has spread from communities across America to the U.S. Congress. As of this writing, journalist Joshua Holland reports that 52 Democratic members of Congress have announced they will boycott the inauguration of President-elect Donald Trump. According to The Fix online newsletter at the Washington Post, that number is growing by the hour.
Rep. Hakeem Jeffries of New York, a member of the Congressional Black Caucus, told Politico, "You can guarantee this will cause people to organize [the resistance] with even greater intensity. This will make it even more likely that additional members skip the inauguration."
Last December, Representative Luis Gutiérrez of Illinois, became the first member of Congress to announce he would not attend Trump's swearing-in.
He recently explained why in a speech on the floor of the U.S. House.
Gutiérrez said, "I could not look my wife, my daughters, or my grandson in the eye if I sat there and attended, as if everything that the candidate said about women, Latinos, blacks, Muslims, or any of those other things he said in those speeches and tweets … is okay or erased from our collective memory."
Instead, Gutiérrez said he will attend the Women's March on Washington.
The number of members of Congress planning to join Gutiérrez in boycotting the inauguration swelled after John Lewis of Georgia last week announced he won't attend.
In an interview on NBC Lewis said, "I don't see this president-elect as a legitimate president."
Trump responded with tweets that demonstrated the racism permeating his thinking.
"Congressman John Lewis should spend more time on fixing and helping his district," Trump tweeted, "which is in horrible shape and falling apart (not to mention crime infested) rather than falsely complaining about the election results. All talk, talk, talk – no action or results. Sad!"
The Hill newsletter reported that GOP Senator Ben Sasse of Nebraska, answered Trump's tweet by stating "John Lewis and his 'talk' have changed the world."
In his attack on Lewis, Trump did not address Lewis' concern about the involvement of Russia in the presidential election.
Furthermore, as it happens, the district that Lewis represents in Atlanta has one of the lowest crime rates in the city and incudes the thriving downtown area.
Lewis was a courageous Civil Rights Movement leader in the 1960s as chairman of the Student Nonviolent Coordinating Committee. He was often arrested and beaten by police. He is credited with being one of the main leaders who led the successful fight for passage of both the Civil Rights and Voting Rights acts.
Moreover, from the time he entered Congress in 1987, Lewis has brought together religious leaders and both Democratic and Republican lawmakers for tours to sites in the South important to the Civil Rights Movement.
Following Lewis' lead, members of Congress who are boycotting the inauguration have each made public their reasons for not attending.
For example, Rep. Keith Ellison of Minnesota, co-chair of the Congressional Progressive Caucus and the first Muslim American elected to Congress joined the boycott on Martin Luther King Day, January 16. Ellison made his announcement in a tweetstorm, saying "No question I am standing with John Lewis and the millions of people around the country who have been targeted by Donald Trump.
"I will not celebrate a man who preaches a politics of division and hate," Ellison said. "I won't be attending Donald Trump's inauguration."
And before Representative Karen Bass of California made her announcement, she reached out to her constituents in a Facebook Live and Twitter poll on January 15.
"So here we are, a day before the anniversary of Martin Luther King's birthday, and our president-elect, yesterday, insults one of the nation and the world's most premier civil rights leaders in a petty tweet," she told viewers on Facebook Live.
"You know, we're a few days away from the inauguration, and I know what my heart tells me and what my head tells me, but I want to know what you tell me. What do you think? Should I participate in the inauguration?"
After 24 hours of voting, with over 4,000 votes cast on Twitter, more than three-fourths of respondents told Bass she should not go. She confirmed to the Fusion online newsletter that she, too, would not be attending.