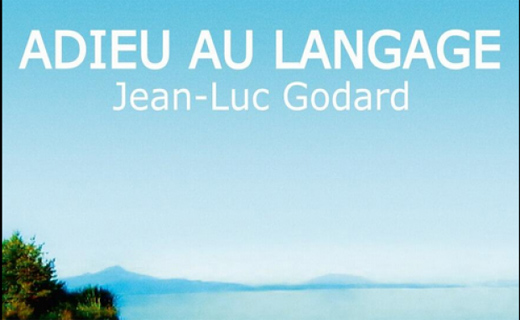 During the 70-minute Goodbye to Language (Adieu Au Langage), its soundtrack fades in and out, but to paraphrase TV's 1960s sci-fi series "The Outer Limits:" "There is nothing wrong with your screen. Do not attempt to adjust the picture" – because the effect is deliberate. True to form, this is a Jean-Luc Godard production, after all.
I haven't the slightest clue as to what Godard's latest film is about, and God(ard) only knows if the 84-year-old filmmaker does. Goodbye to Language is completely indecipherable to moi, just as his 2010 film Socialisme was (seriously, comrades, can anybody please explain what that movie remotely had to do with socialism?). Indeed, just about every post-1982 Godard work has defied comprehension and description. Could this Nouvelle Vague motion picture pioneer be any vaguer and more opaque?
Now that this obligatory disclaimer is out of the way, however, please permit me to add that I nevertheless quite enjoyed Goodbye to Language. Godard's 43rd film, and his first shot in 3D, is full of visually striking, shimmering, arresting imagery, and truth be told, is quite beautiful to behold.
This barrage of picture and sound contains some sort of love triangle, including graphic nudity, and a lead actor is completely naked (if furry) throughout Language. That's because this protagonist is a dog, portrayed by Godard's own pet, Roxy. There are stunning images of Roxy, whose snout is quite glorious in 3D, and who provides a kind of animal's eye view on the doings of us mere mortals. Press notes don't reveal whether or not Roxy uses the Stanislavsky Method, and the mutt isn't granting (or grunting) any interviews. But Roxy is a good actor with a naturalistic technique, although it should be noted that this thesp speaks with a canine accent.
Language is full of the Godardian leitmotifs and techniques that he has hurled onto the screen for more than half a century, since his first 2D feature, 1960's Breathless and earlier shorts. There are titles, jumpy cuts, clips from Hollywood flicks, lots of philosophical ruminations, mutterings about Mao and Che, a male/female couple striving to transcend alienation to find love (see Godard's recently re-released 1965 masterpiece Alphaville), the aforementioned full frontal nudity and more.
Interestingly, Language ends with verbal references to the Marquesas Islands, located in Paris' overseas territory of French Polynesia. There is some sort of murder mystery, perhaps terrorism (hey, if you haven't seen it yet your guess is as good as that of the initiated), overbearing, omniscient state oppression and so on, but much of it is off-screen, oblique, fragmented, hard to piece together. Or maybe it's just all in the viewer's poor muddled head?
Jean-Luc Godard is widely regarded as French, but in fact he is part Swiss, and the "genius of Rolle" has lived in the French-speaking canton of Vaud (where Charlie Chaplin spent the last quarter century of his life) near the banks of Lake Geneva (Lac Leman) for decades. In 1960 Godard married his leading lady Anna Karina in Switzerland (they have long since parted ways, on- and off-screen). The New Wave trailblazer has made many films in Switzerland, as early as 1963's Le petit soldat, which was shot in Geneva.
Language was shot largely in Vaud, including Nyon. For some reason it includes recurring shots of the Belle Epoque-era Savoie, a paddle-steamer that sails from Geneva around Lac Leman. Goodbye to Language won the Cannes Film Festival Jury prize and the U.S. National Society of Film Critics award for 2014's film of the year, and was nominated for the Progie Award for Best Progressive Picture and Best Progressive Foreign Film by the James Agee Cinema Circle.
To be sure, Language isn't every moviegoer's cup of Tinseltown tea. Most popcorn munchers at the multiplex keen on explosions, exposition, plot, dialogue, escapist action and other Hollywood movie conventions will probably prefer to spend their greenery elsewhere.
But for those hardy few who favor the avant-garde, experimental, poetic, philosophical and challenging, Godard's newest film is essential existential viewing, must-see cinema by one of our movie masters, as he transports serious cinéastes beyond art's outer limits. One muses that Language is speaking its own language and is as hard to understand today as Breathless' jump cuts were difficult for 1960 audiences to grasp. I for one may not have understood Language, but I sure liked it.
This opulent treat for the eyes features Héloïse Godet, Kamel Abdelli, Richard Chevallier, Zoé Bruneau, Christian Gregori, Jessica Erickson, and Roxy, and is in French with English subtitles. Goodbye to Language is playing from January 23-29 in a rare, week-long exclusive engagement at the Aero Theatre, 1328 Montana Avenue, Santa Monica, CA. Watch for national release.